Ever found yourself eyeing up the kitchenware just as often as the cakes on the Great British Bake Off? I know we have. The vibrant farmhouse chic style of the famous tent, with its innovative designs and appliances, leaves us green with envy year on year, and the main source? Mason Cash. 
Providing all the kitchenware for the Bake-Off, Mason Cash is a British institution. With its origins dating back to the 1800's, the company was at the heart of the English ceramics industry and have been designing and innovating since. Their iconic mixing bowl was designed in 1901 and has endured the test of time, remaining a staple piece in any kitchen. They're committed to creating high quality, functional and beautiful products to bring joy into the kitchen while helping you cook smarter. Just in time for the return of our favourite series, we've paired up with Mason Cash to bring you some recipes to make you excited to be back in the kitchen.
Salted Caramel Cookies
For an easy option that still packs a punch, cookies are a perfect place to start for novice bakers. Filled cookies are the ultimate afternoon treat and an easy way to wow without slaving away for hours.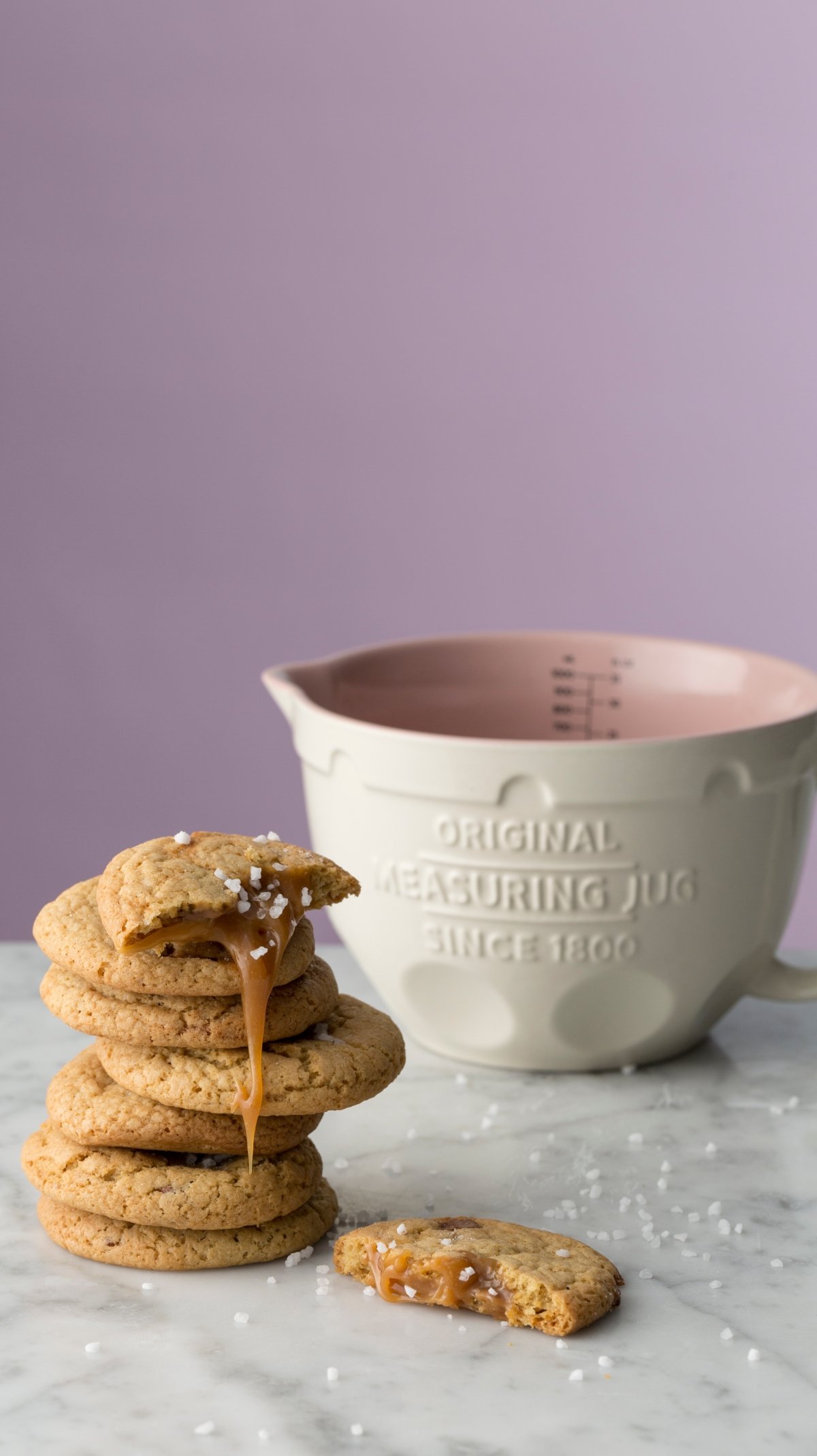 Ingredients
350g plain flour

1 tsp bicarbonate of soda

250g brown sugar

50g caster sugar

170g unsalted butter

3 eggs

2 tsp vanilla extract

320g chocolate chips

1 tsp sea salt

Caramel sauce
Step 1
Preheat the oven to 180ºC (gas mark 4).
Step 2
Beat the flour, sea salt and bicarbonate of soda together and set aside.
Step 3
Separately, melt the butter and mix with the brown sugar and caster sugar until fully combined. Add the eggs, one at a time, beat, then add the vanilla extract.
Step 4
Combine with the dry ingredients and fold the chocolate chips into the mixture and beat to a cookie dough consistency. Divide the mixture into small balls (around 2 tbsp-size balls) and press your thumb into the middle to create a small well. Here, you can pour in the caramel sauce, or press in a fudge or caramel sweet of choice.
Step 5
Close the dough over the filling and roll gently into a ball in your palms. Place the balls onto a greaseproof lined baking tray and bake for 12-15 minutes. During this time the balls will spread and flatten into a cookie shape. Once baked, transfer onto a cooling rack, then enjoy!