As we head into the festive season, the time has come to prepare the kitchen and the home for welcoming friends, family and the odd stranger into the warmth of our homes. These days, the Christmas period is extended far beyond a few hectic days around Christmas Day and often means several weeks of catching up with friends and family you might not necessarily see on the day itself. The festive period offers an opportunity to entertain guests in relaxed and often unexpected ways, trying out new seasonal dishes in informal gatherings and sharing your home space with those closest to you.
As part of its new Taste of the City collection which draws inspiration from the energy, passion and diversity of urban kitchens, Le Creuset has teamed up with cook and food writer Anna Barnett for some tips on hosting during the festive season and, of course, some delicious new recipes. Anna is a big fan of large relaxed gatherings, regularly hosting pop-up supper clubs and eclectic parties from friends at the converted Hackney pub she shares with her husband and close friends.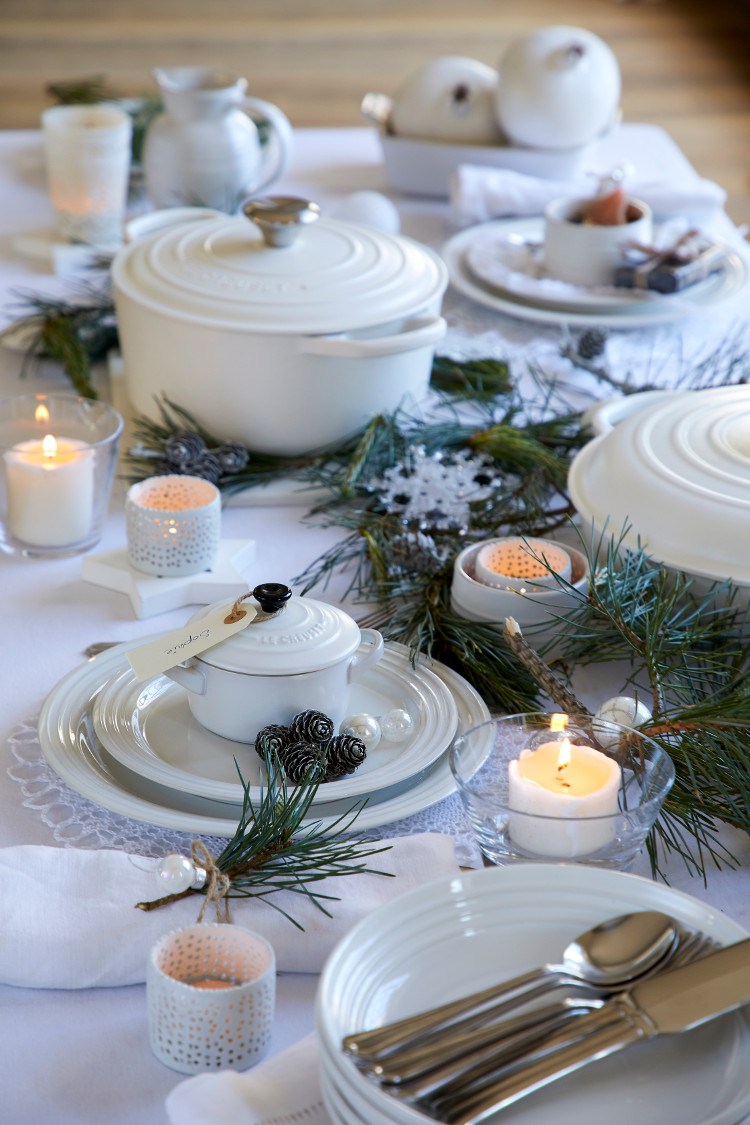 Anna Barnett's Tips on Hosting the Perfect Festive Gathering
Make some dishes that actually taste better the next day (such as my Beet Bourguignon). It takes a lot of the pressure off. As you can cook them in advance and just take out of the fridge to heat up when you're ready.
Serve everything on big platters and in bowls that can be passed around the table rather than serving food on individual plates which is so time-consuming to get ready. It's better to let people help themselves.
Mix things up—I always include a great vegetarian dish or two when I'm cooking for a crowd. Even the most die-hard meat eaters rarely notice and tuck in with enthusiasm.
Ash for help! Don't do it all yourself—get guests to bring a dish, lay the table, serve the drinks… it all helps to make the atmosphere feel warm and convivial.
Think about the accompaniments to your main dishes…. Everything from great side dishes to vibrant fresh salads. I also bring out a huge selection of condiments, pickles and chutneys that bring it all to life.
Have a selection of containers to hand so people can take home a goodie bag of leftovers afterwards—if there's anything left, of course…
Always make more (and even more!) roast potatoes than you think you'll need. They are undoubtedly everyone's favourite and will always go down a storm.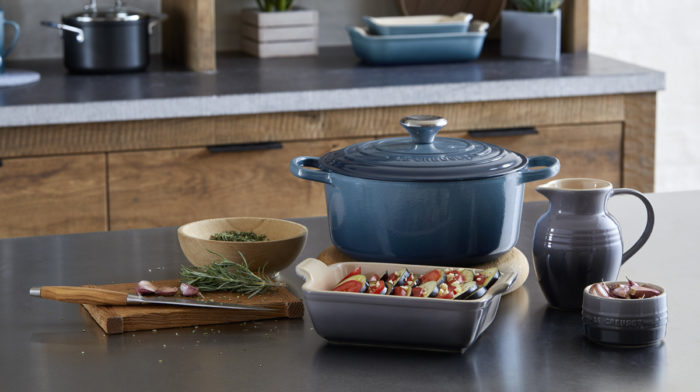 Inspired by vibrant urban living, Le Creuset's sleek new collection brings urban style to your kitchen with its new 'Taste of the City' campaign.
Anna Barnett's Festive Recipes
(Click to view)
Beet Bourguignon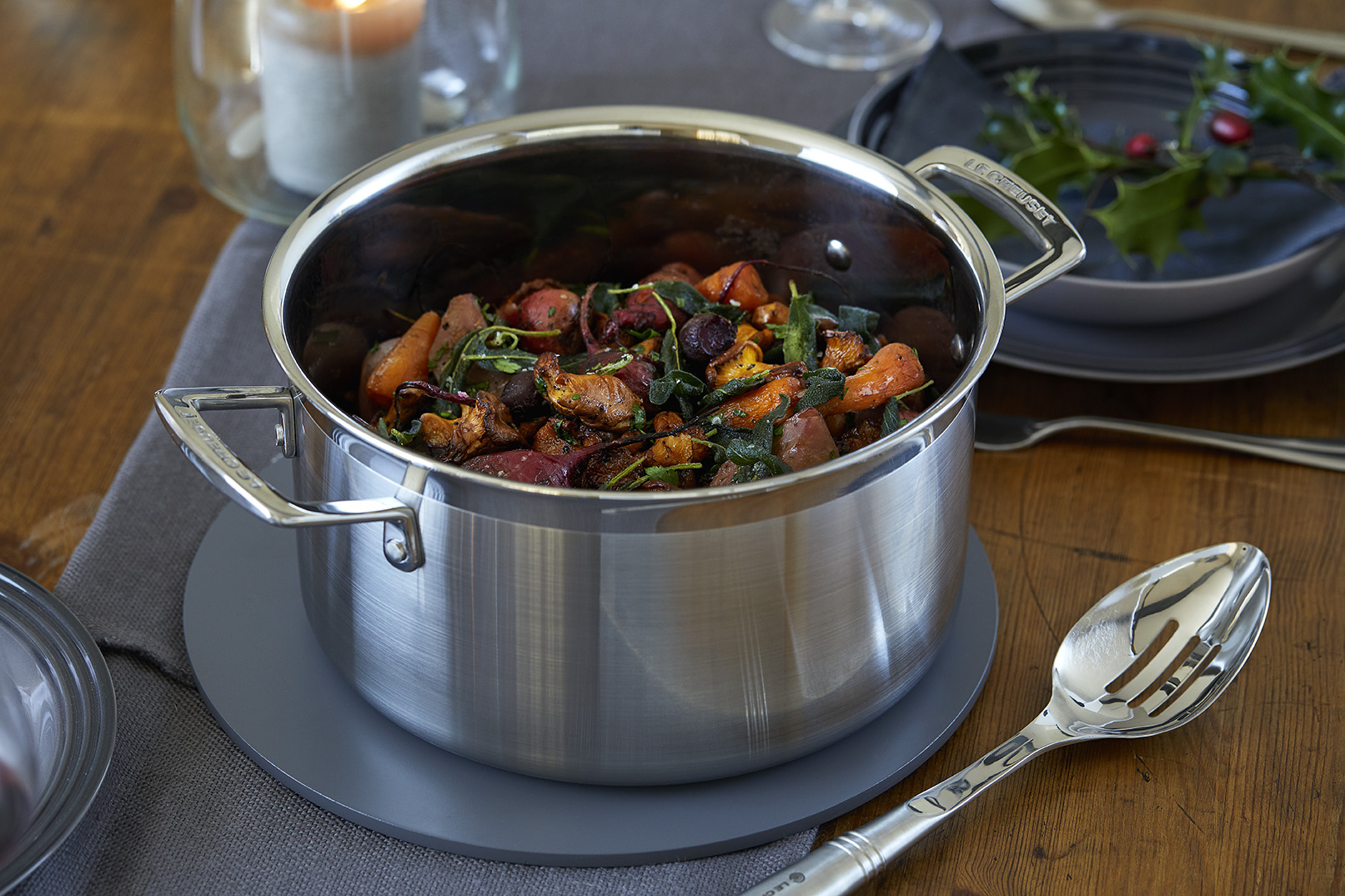 This is a favourite in my household, come the winter months we make up batches to see us through the week. If you're short on time or have guests over, then this is a great hearty and filling dish that is easy to whip up and doesn't cost a fortune. It's also a great way to use up left over vegetables and herbs and tastes even better the next day.
Serves: 6-8
Preparation time: 15 minutes
Cooking time: 50 minutes
Ingredients
A generous glug of rapeseed oil
2 large white onions, diced
5 cloves of garlic, minced
12 -15 medium/large beetroots, ends trimmed and cleaned (or peeled if preferred) then halved or quartered depending on size
250g baby carrots, ends trimmed
3 bay leaves
5 sprigs of fresh thyme
470ml of good quality red wine
1.5L vegetable stock
2 tablespoons Dijon mustard
4 tablespoons Marmite
250g pearl barley
Several generous pinches of sea salt flakes
Freshly ground black pepper
A generous shake of white pepper
Garnish
A generous glug of rapeseed oil
250g Girolle, Chanterelle or Oyster mushrooms
A handful of sage leaves
Method
Begin by gently heating the rapeseed oil in the 3-ply Stainless Steel Deep Casserole over a medium heat. Dice the onions and mince the garlic then add them to the casserole and cook over the medium heat, for 5-6 minutes until the onion turns translucent.
Next add the beetroot, carrots, bay leaves, thyme, red wine and vegetable stock. Once almost boiling add the mustard, Marmite and finally the pearl barley. Cook over a medium to low heat for at least thirty minutes adding extra stock should you need it and giving it a stir every ten minutes or so.
Next add the seasoning and cook for an additional 10 to 15 minutes.
In a large non-stick frying pan, heat a generous amount of oil on a low to medium heat, season with salt and pepper and once piping hot throw in the mushrooms, only turning once when they begin to darken and crisp up.
Once the mushrooms are cooked push to one side of the frying pan. Add the handful of sage leaves, (pre-picked from the stalk). Allow them to turn crispy in the pan, this should take around thirty seconds or so and then remove the pan from the heat.
Once the Bourguignon is ready, serve topped with crispy mushrooms and fried sage.