Frances Iona is a writer, YouTuber and professional blogger who started her lifestyle blog Imogen & James in 2015 during the final year of her degree. Having grown up in France, it wasn't until Frances returned to England at the age of 16 that she truly discovered her admiration for the nonchalant French approach to style. A love of luxury fashion led her to The University of Southampton where Frances studied Fashion Marketing. Since leaving university less than a year ago, Imogen & James has quickly established itself as a one of the finest upcoming British lifestyle blogs, with Frances developing a new approach to fashion blogging that places a particular story or subject at the heart of each blog post. Frances says she hopes to inspire her readers on her blog, and here at The Hut we are big fans of Imogen & James for its constantly on-trend looks, exceptional photography, and refreshing positive approach to life.
The Hut caught up with Frances ahead of the Bank Holiday Weekend to chat all things blogging, fashion and what the future holds for Imogen & James…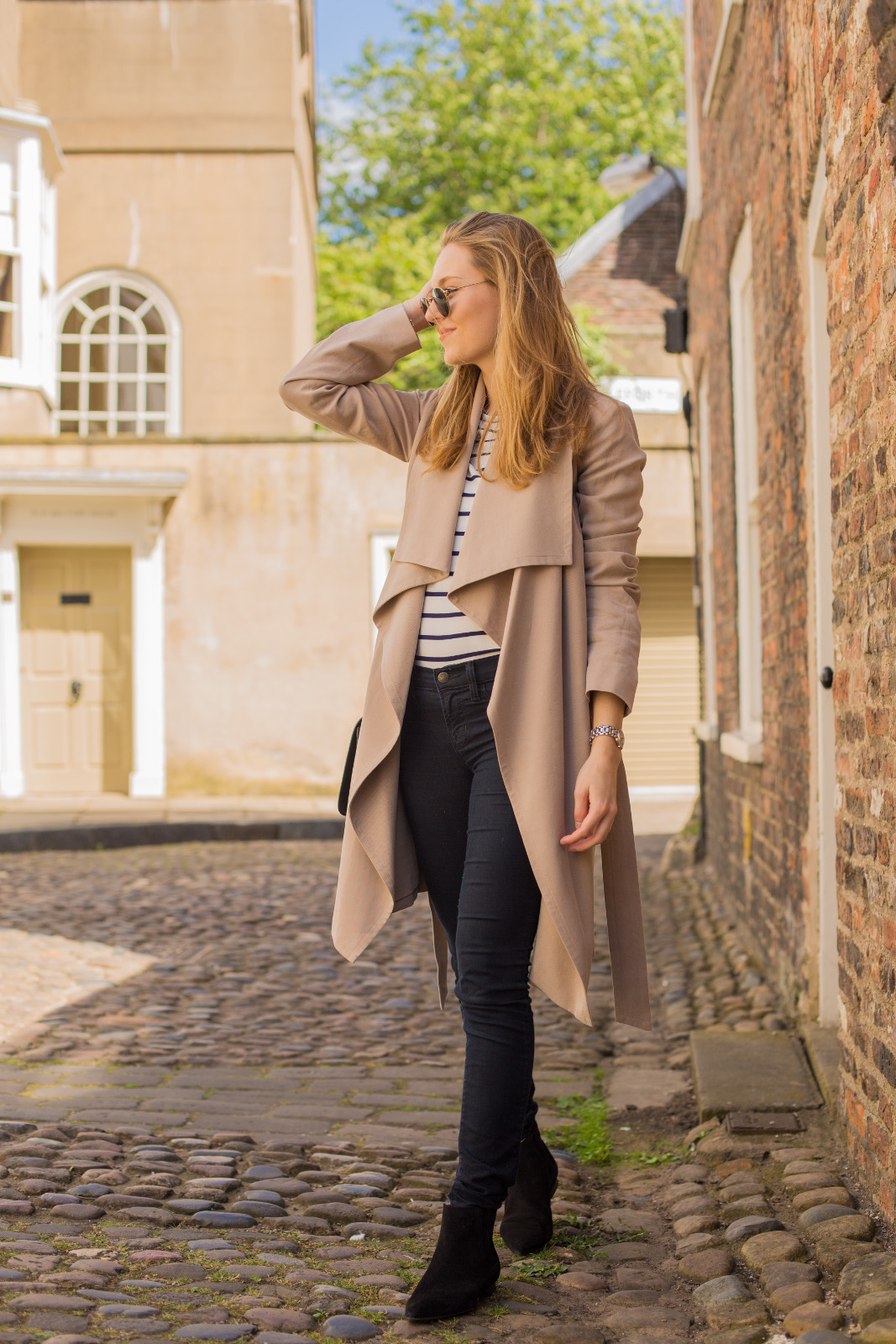 Question:

What inspired you to start blogging?

Answer:

I have been watching the blogging industry evolve since I began back in 2012. It started as a hobby with a love for fashion and photography, and over the years I have been able to challenge myself to create better and more engaging content. Still to this day, creating inspirational story-telling photography is one of the things I most enjoy about blogging.

Question:

What is a typical day in the life of Frances Iona?

Answer:

Being a blogger means my days can be quite varied! In the mornings it's important for me to get the dogs out early, and run any errands that need doing! Aside from that, I spend the majority of my days organising upcoming blog posts; so putting together outfits online, brainstorming ideas for future posts, responding to a lot of emails, and keeping updated on social media! Once or twice a week, I go out on location for an outfit photoshoot for the blog, and I usually spend those evenings editing the photographs and creating layouts for them on Imogen & James.

Question:

France is famously known as the fashion capital of the world, and you spent time growing up in Paris. Do you feel your time in France influenced your aesthetic and if so, in what way/s?

Answer:

I was very fortunate to grow up in such a beautiful city and see how the Parisians dress on a daily basis. I would definitely say living in France influenced my style today! I love how the Parisians could pull on a V neck sweater or a striped tee, and pair it with jeans and converse, and make it look so effortless. I remember admiring the way my friends' dressed and that allowed me to find my own style over the years. I've always enjoyed dressing older than I am and loved premium fashion. I adore natural beauty, and I believe that is something that is very French and has become part of my aesthetic.

Question:

Who would you say are the style icons that inspire your dress sense?

Answer:

For years I have looked up to style icons Olivia Palermo and Blake Lively, I love their effortless and sophisticated style. From when gossip girl began, all the way until now, I still watch Blake Lively's style and I love how it has evolved over the years. She still keeps things simple with a natural aesthetic and that is what I love.

Question:

What is the favourite outfit you have posted to date?

Answer:

My favourite outfit to date on Imogen & James has got to be the one from my article on "Rediscovering Your Self-Confidence". For me, some classic suede ankle boots, a striped fitted sweater with some skinny jeans, a long coat, and a classic tote bag is what I would call my classic mid-season look! I love it because you can switch one or two items from the look and it can completely change the outfit.

Question:

What are the wardrobe essentials that you could not do without?

Answer:

My honey trench coat is one of my main wardrobe essentials, one that I don't think I could live without – it instantly smartens up any outfit and it's timeless! Another wardrobe essential of mine would also have to be a classic traditional leather handbag – those can make even a pair of jeans and a t-shirt look sophisticated!

Question:

What can we expect to see on Imogen & James over the next couple of months?

Answer:

Over the next few months, expect lots of new A/W photos – A/W is my favourite season, I love layering outfits for the season! There will be many more inspiring blog posts from lots of new locations, with a greater focus on lifestyle. There may also be some other potential guest posts and interview styles from people in the industry, which is something I have never featured on my blog before, so stay tuned!

Question:

Which are your favourite fashion bloggers?

Answer:

I have always admired Tamara's style from The Glam & Glitter, if I had to switch wardrobes with someone it would probably be her! In terms of a fashion bloggers I repeatedly log on to, it would have to be my favourite fashion blogger, Julia Engel from Gal Meets Glam, who creates the most beautiful imagery every week, and her Instagram is so inspiring. If I could live a life like Julia, with a camera and nature by my side, I would do it tomorrow!
Our thanks to Frances for taking the time to answer our questions. Inspired by her style? You can see Frances' picks from the latest collections at The Hut now > >