If there is any word that sums up life in the 21st century, it is surely the word "busy". It has become the default answer when you ask anybody how they're doing, and although we might dress it up as a complaint, in truth we all love being busy. If you're anything like us, the morning is probably the busiest time of the day. Trying to juggle making yourself presentable with making lunch and preparing the school run typically leaves little time for eating—let along making—breakfast, and so The Hut is on cue to lend a hand. There's no need to slow down though—these speedy breakfast recipes will give you a healthy jump start in no time at all.
---
Berry-filled Breakfast Jar
If you're short on time, this recipe can be made in advance and stored in the fridge until you are ready to grab and go. You can also make a batch of breakfast jars on Sunday night to keep you going through the week—simple!
Ingredients
Granola
Greek yoghurt
Strawberries
Blueberries
1 nectarine
Method
In a Kilner clip top jar, spoon in a layer of granola, top with a layer of Greek yoghurt, then sprinkle over a few chopped strawberries and whole blueberries. Continue layering until your jar is full.
Top with a few slices of nectarine. Seal the lid and store in the fridge until you are ready to enjoy.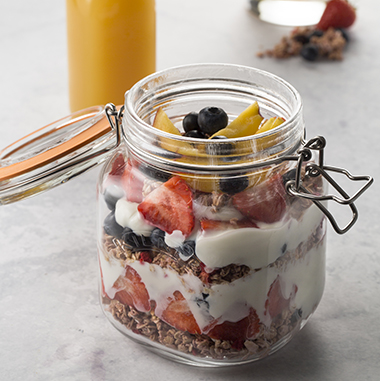 ---
Healthy Overnight Oats
Ingredients
65g rolled oats
30g blueberries
30g strawberries
80ml milk or yogurt
Method
Layer your oats and fruit in your Kilner® Snack On The Go Jar.
Pour the milk or yoghurt into the stainless steel pot.
Place the pot in the jar and fasten the lid tightly.
When you're ready to enjoy, pour the milk or yoghurt over the fruit and oats and mix well.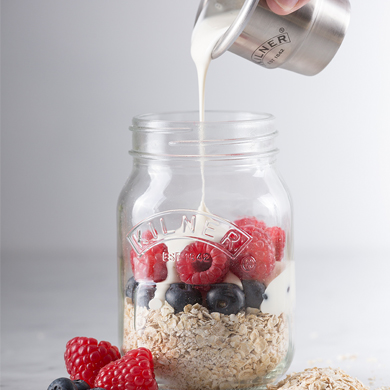 ---
Banoffee Porridge
If you are short on time, this recipe can be made in advance and stored in the fridge until you are ready to grab and go. Makes enough to fill 3-4 0.35 litre jars.
Ingredients
100g rolled oats
450ml milk
1 banana, sliced
Toffee sauce
A few pecan nuts, chopped in half
Method
Heat the milk gently in a pan and add the oats, simmer whilst stirring frequently for 5 minutes. If the porridge becomes too thick add a little more milk or water.
Toast the pecan nuts in a dry frying pan for a couple of minutes.
Add half of the sliced banana and a swirl of toffee sauce to the porridge and stir. Ladle into Kilner® jars and top with more slices of banana, the toasted pecans and a swirl of toffee sauce.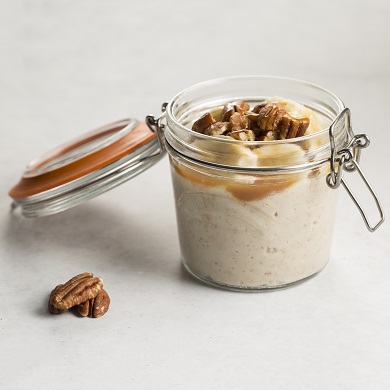 ---
Spiced Apple Bircher Muesli
This super easy, super delicious and healthy breakfast is ideal to make the night before and add the extra toppings in the morning. Packed full of complex carbohydrates, fibre and healthy fats to keep you going throughout the day, this jar of goodness is sure to make breakfast that little more exciting.
You can make a larger batch of both the Bircher Muesli and the apple topping (keep separately in the fridge) so you have breakfast ready for the week when time is short. Simply add the apples on top and take your Kilner jar to work, the gym – wherever!
Ingredients (Serves 2)
1 cup rolled oats
1 cup almond milk
½ cup unsweetened apple puree
1 teaspoon vanilla extract
3 tablespoons sultanas
2 tablespoons flaxseeds
1 teaspoon ground cinnamon
½ teaspoon mixed spice
Freshly grated nutmeg
For the topping
1 large apple (go for Braeburn or Pink Lady)
2 tablespoons honey, maple syrup or coconut nectar
2 tablespoons walnut pieces
½ teaspoon ground cinnamon
1 tablespoon tahini
Method
The night before, mix together all of the Bircher Muesli ingredients together in your Kilner jar and leave in the fridge overnight so the oats can soak everything up.
In the morning, chop the apple into chunks and place in a small pan along with the chosen syrup, walnuts and cinnamon. Cook on a low heat for about 5-10 minutes until softened and caramelised a bit, then stir in the tahini and heat through.
Now pour this over your soaked oats and tuck in!
Recipe developed by Pamela Higgins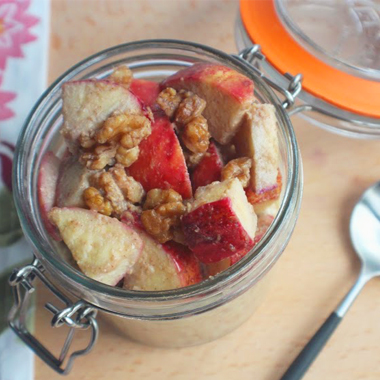 ---
British Berry Breakfast Jar
Ingredients
250ml Almond Milk
120g Dried Oats
25g Blueberries
25g Raspberries
Method
Layer the oats and fruit in a Kilner Food To Go Jar. Add enough milk to cover the oats and leave in the fridge overnight.
Top up with more milk when you are ready to enjoy.