At The Hut we're promoting the Le Creuset One-Pot Cooking campaign, which is all about those winter-warmer dishes we all love in this colder weather. Below we've put together some Le Creuset one-pot recipes to give you some cooking inspiration. Whether you want to cook more casseroles, pasta bakes, roasts, curries, soups or more one-pot creations this season, we've got you covered with the Le Creuset cookware you'll need to cook it in.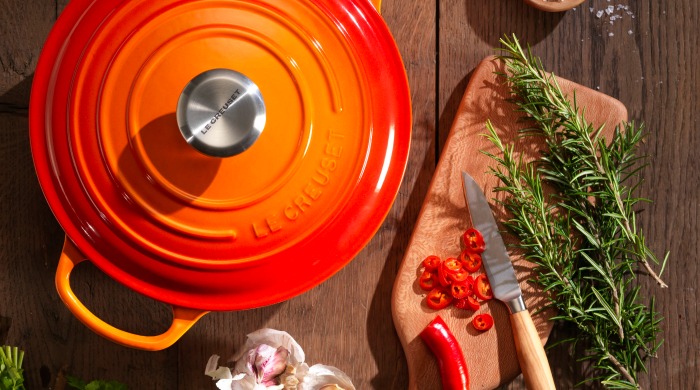 Recipe for One-Pot Lamb Bhuna Curry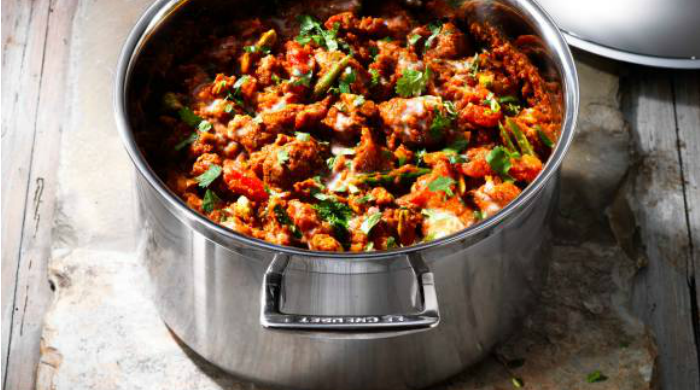 This thick, medium-hot curry is a perfect one-pot cooking recipe as the meat does not need to be fried separately and cooks slowly within the sauce. As a tip from us, you can make this curry milder by reducing the amount of fresh green chilli used, or alternatively if you're a spice fiend you can make it hotter by including the chilli seeds. This dish is perfect to serve with an Indian flatbread, including naan, paratha or chapatti.
Serves: 6 – 8 people
Preparation Time: 15 – 20 minutes Cooking Time: 1 hour 30 – 1 hour 45 minutes
Ingredients
For the Spice Paste:
1½ tbsp vegetable oil
2 tbsp cumin seeds
2 tbsp coriander seeds
2 tsp mustard seeds
2 tsp fennel seeds
¾ tsp dried chilli flakes
4 tbsp water
For the Curry:
3 tbsp ghee or clarified butter
2 large onions, sliced
6 cloves garlic, crushed
85g root ginger, peeled and finely chopped
8 green cardamom pods, crushed
3 fresh green chillies, seeds removed and finely chopped
2 x 400g can chopped tomatoes in juice
4 tbsp tomato purée
1 tsp salt
1kg lamb leg meat, cut into 4cm chunks
300ml vegetable stock or water
2 tsp garam masala
6 tbsp fresh coriander, roughly chopped
6 tbsp natural yoghurt
Method
1) Heat the oil in the dish of your choosing; the dish used in the picture above is the Le Creuset 3-ply Stainless Steel Deep Casserole Dish. Add in the spices for the spice paste over a medium heat for 1-2 minutes until the seeds begin to pop. Stir occasionally so they do not burn.
2) Let this cool, then grind the spices into a paste with a pestle and mortar or a small blender. Add the water to loosen the mix, and keep the paste aside for later.
3) Heat the ghee or clarified butter in the casserole dish and fry the onions for 3-4 minutes until softened. Then add the garlic, ginger, cardamom pods, and fresh chilli and fry for another minute.
4) Add the canned tomatoes, tomato purée and salt, and stir in the spice mix. Cook for 2-3 minutes with the lid off, stirring occasionally.
5) Add the meat to the sauce, stir and cook for 1 minute. Then add the stock or water, put the lid on the casserole dish and simmer over a low heat for 1¼ to 1½ hours until the meat has become tender and the sauce has reduced and thickened nicely. Make sure to stir the curry occasionally.
6) Stir in the garam masala, half the fresh coriander and adjust the seasoning to taste.
7) Continue to simmer for approximately 5 minutes without the lid, stirring occasionally until the sauce has become a thick consistency.
8) Serve the curry with the yoghurt and the remaining fresh coriander on top.
Recipe for One-Pot Mini Meatballs Soup With Sage and Pasta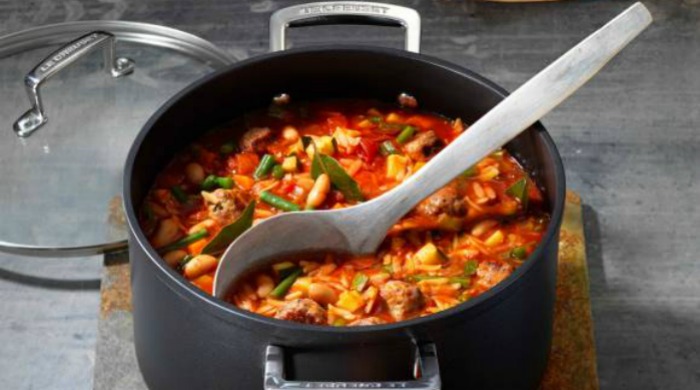 Another one of our favourite Le Creuset one-pot recipes is this pork sausage meatballs and pasta soup recipe. It's a real winter warmer with its hearty broth. This is a complete meal all in one pot, nothing else needed. It's perfect for curling up with on a cold evening. You can use whichever small pasta shapes you prefer, however we recommend risoni or orzo pasta which is shaped like large rice grans, or ditalini which is shaped like small tubes.
Serves: 6 people
Preparation Time: 15 minutes Cooking Time: 40 – 45 minutes
Ingredients
For the Meatballs:
300g good quality pork sausage meat
2 tsp dried sage
4 tbsp fresh white breadcrumbs
1 egg yolk
1 tbsp mild olive oil
For the Soup:
1 tbsp mild olive oil
1 large onion, finely chopped
2 cloves garlic, crushed
1 medium carrot, finely diced
1 stick celery, finely diced
1 medium courgette, finely diced
1 x 400g can tomatoes in juice
4 tbsp tomato purée
100g green beans cut into 2½ cm lengths
1 litre hot beef or vegetable stock
1 bay leaf
1 x 400g can cannellini beans, drained
70g small pasta shapes e.g. risoni, orzo or ditalini
To serve:
20 basil leaves, roughly torn
55g Parmesan cheese, shaved
Method
1) Mix the sausage meat, sage, breadcrumbs and egg yolk together. Then roll this mixture into small balls approximately 2cm in diameter. This will make around 35 mini meatballs.
2) Heat the tablespoon of olive oil in the casserole dish over a medium heat and brown the meatballs on all sides, make sure to cook them in batches so you don't overcrowd the pan. You can use any Le Creuset casserole dish for this, but the dish featured above is the Le Creuset Toughened Non-Stick Deep Casserole Dish.
3) Remove the meatballs and heat the other tablespoon of oil in the casserole dish and add the onion, garlic, carrot, celery and courgette. Fry them slowly for 5-8 minutes, stirring occasionally until softened.
4) Stir in the tomatoes, tomato purée, green beans, hot beef stock, bay leaf and beans. Bring the contents to a simmer, put on the lid and cook for 10 minutes.
5) Add the pasta shapes and meatballs and continue to cook for 8 to 10 minutes or until the pasta is cooked. Remove the bay leaf and season to taste with salt and pepper.
6) Serve the soup with the torn basil leaves and Parmesan shavings on top.