Easter is a time of indulgence, the long weekend is just around the corner and we're experimenting with recipes to help you create an Easter show stopper from scratch!
We've hunted high and low, experimented with all sorts of chocolate based deliciousness, from caramel egg brownies to giant Creme Eggs, but this Mini Eggs Easter cake recipe was our favourite. Not only does it look amazing, but it's actually really easy to make, all you need is a steady hand and a lot of icing.
Whether you're whipping up a cake for a charity bake sale, treating the office or hosting a bank holiday party, this cake will definitely go down a treat.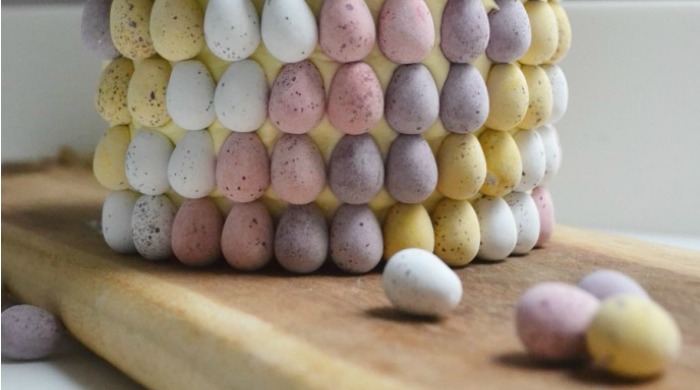 Mini Eggs Easter Cake Recipe
Servings

4 x 15cm cakes
Ingredients
4 Eggs (For the cake)
200 g Caster Sugar (For the cake)
200 g Butter (For the cake)
5 tbsp Jam (For the cake)
200 g Butter (For the topping)
280 g Icing Sugar (For the topping)
1 drop Vanilla Extract (For the topping)
9 bags Mini Eggs (For the topping)
Method
Pre-heat the oven to 180 degrees and prepare the cake tins with butter and greaseproof paper. We used 15cm tins for a small but tall cake, but you can use whatever size tins or as many tiers as you like, just increase the volume of the ingredients accordingly.

Cream the butter and sugar for the cake together until combined, then mix in the eggs one by one until the mixture is smooth.

Fold in the flour in spoonfuls until all of the ingredients are combined. Then pour the mixture into the cake tins in equal amounts, bake in the oven for around 20 minutes or until golden brown. The time will change depending on how big the cakes you're making are so keep an eye on the oven!

While the cakes are baking, cream together the butter and sieved icing sugar for the topping to make the buttercream, add the flavouring and mix thoroughly. Pop it in the fridge to chill slightly if it's not firm.

Once cooked, remove the cakes from the oven and cool on a wire rack. Once cooled, stack up the tiers with a layer of jam and buttercream in between them.

Coat the cake with the buttercream all over, a thick layer is best so you can easily stick the Mini Eggs on. Top tip: Heat up a butter knife in a mug of hot water, then use the hot knife to spread on the buttercream, return the knife to the hot water in between each spread, this will help it to spread on smoothly and evenly.

For the decoration, start at the bottom of the cake and line up the Mini Eggs with two of each colour in a line, we went for purple, yellow, white then pink in rotation. As you stack up, move the line over one egg so it creates a swirl effect of colours. Use extra buttercream if needed to stick them on.

Serve and enjoy (but make sure to take plenty of photos for Instagram first!)