Famed for its robust cast iron kitchenware, homeware giant Le Creuset introduces an exciting and vibrant new collection this spring inspired by the vibrant hues and scents of aromatic spices and herbs from world cuisine.
Capturing the rich and flavoursome style of Eastern cooking, the new Colours of Spice range incorporates a kaleidoscope of colours inspired by some of the brand's favourite herbs and spices, from rosemary green to ginger and turmeric. The collection features Signature Cast Iron, Stoneware and Mills in four main campaign colours – Rosemary, Volcanic, Satin Black and Almond – as well as contemporary 3-ply Stainless Steel and Toughened Non-Stick products to meet all cooking needs.
The Colours of Spice campaign and range takes inspiration from two main sources: The Eastern spice market and your own herb garden.
SPICE MARKET is centred around exotic flavours, focusing on warming curries and stir-fries that unlock the power of spice to boost flavour, health and happiness. The theme includes the launch of key new products such as the brand NEW Toughened Non-stick 32cm Wok, a NEW almond Tagine with Moroccan décor, NEW Stoneware Dip Bowls & Rice Bowls, and a NEW Spice Grinder.
HERB GARDEN encourages experimentation in the kitchen with the use of fresh, aromatic herbs and sees more of an emphasis on spring/summer cooking in products that are perfect for grilling and alfresco dining, such as Cast Iron and Toughened Non- Stick Grills, including a NEW design 28cm Square Grill, and the Cast Iron and 3-ply Stainless Steel Shallow Casseroles.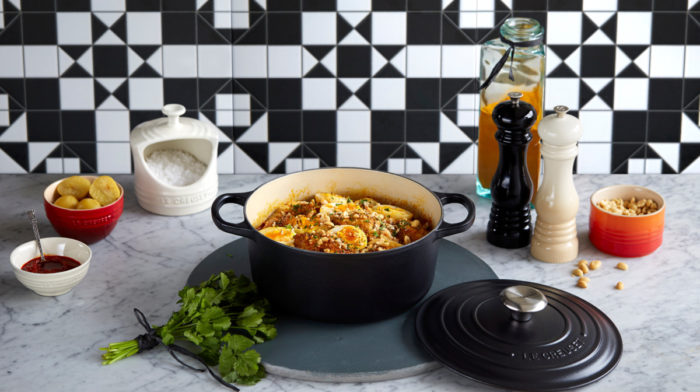 To celebrate the launch of its new Colours of Spice range, Le Creuset has teamed up with Persian and Middle Eastern cookery expert, Sabrina Ghayour, to bring you the Persian recipes to spice up your culinary regime.
---
As part of the new campaign, Le Creuset has teamed up with Persian and Middle Eastern cookery expert, Sabrina Ghayour, to bring the Colours of Spice concept to life with the creation of 15 exclusive Le Creuset recipes.
A regular contributor to TV shows such as Saturday Kitchen and MasterChef, Sabrina is also an award-winning cookery writer with two best-selling cookbooks – Persiana and Sirocco. The exclusive Le Creuset recipes created by Sabrina are all bursting with flavour and colour. They include a Vegetable, Pistachio and Black Pepper Curry in the Cast Iron 24cm Round Casserole, Sticky Chilli Chicken Stir-fry in the Toughened Non-Stick 32cm Wok and Pistachio, Lemon and Ricotta Cake in the Stoneware 32cm Heritage Rectangular dish.