This season, Le Creuset introduces an exciting new collection of cookware inspired by the vibrant hues and aromatic spices of world cuisine. As part of the campaign, Le Creuset has teamed up with Persian and Middle Eastern cookery expert, Sabrina Ghayour, to bring the Colours of Spice concept to life with the creation of 15 exclusive Le Creuset recipes.
A regular contributor to TV shows such as Saturday Kitchen and MasterChef, Sabrina is also an award-winning cookery writer with two best-selling cookbooks – Persiana and Sirocco. The exclusive Le Creuset recipes created by Sabrina are all bursting with flavour and colour. We offer five exceptional recipes that will help you discover the world of Persian cuisine from the comfort of your home.
Lamb, Saffron, Apricot & Almond Tagine
Sticky Chilli Chicken with Toasted Sesame Seeds & Spring Onions
Peanut and Harissa Chicken Stew with Cannellini Beans, Eggs & Herb Crumb
Spiced Sweetheart Cabbage Ribbons with Yoghurt
Spiced Rhubarb Cake with Cinnamon Cream
---
Lamb, Saffron, Apricot & Almond Tagine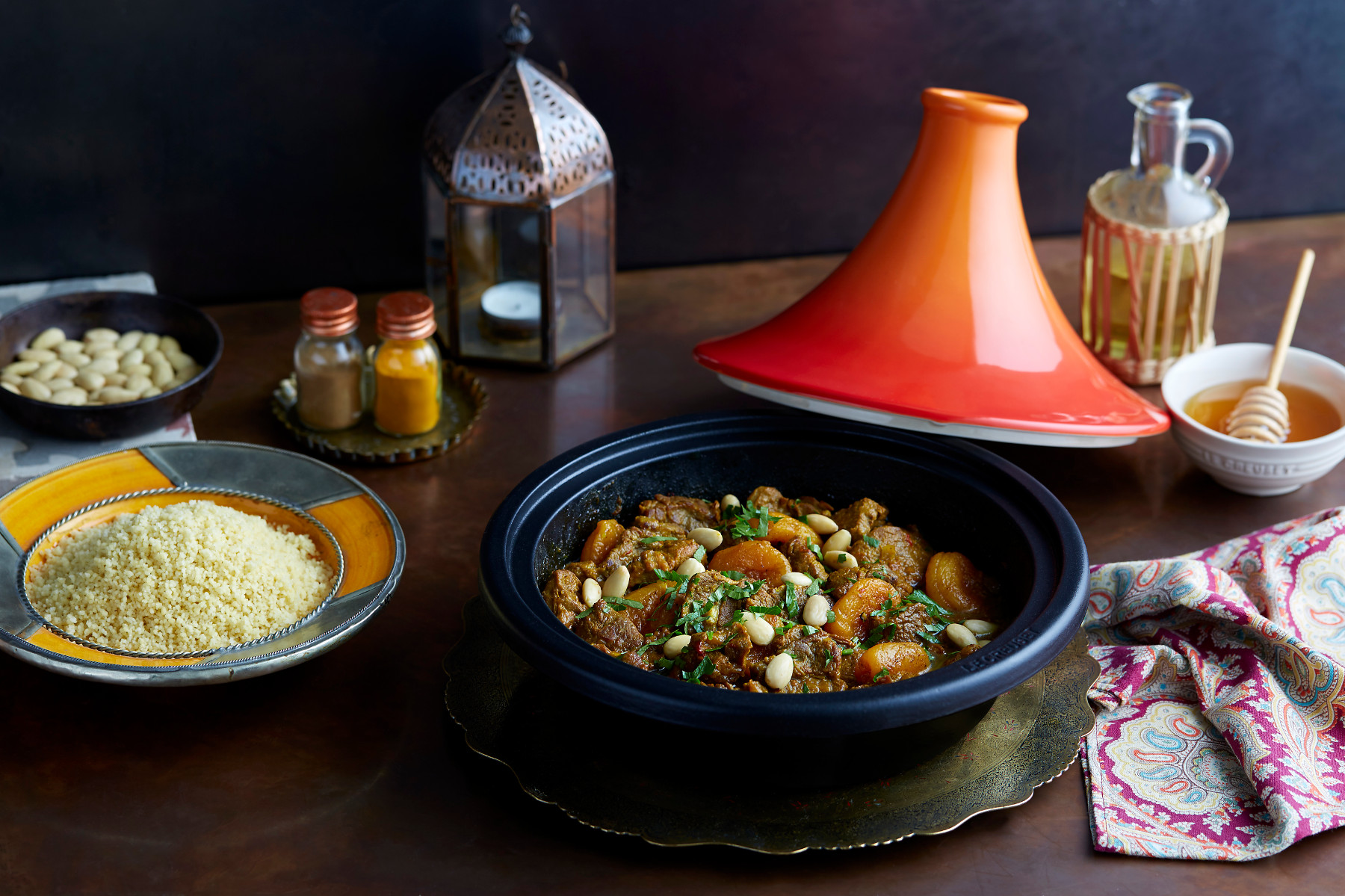 Tagines are a wonderful way of bringing a little unique and exotic North African flavour to a meal. The Tagine vessel is a simple but highly effective shape enabling steam to swirl around inside, cooking the contents beautifully whilst producing a delicate broth in addition to the main ingredients themselves. Lamb, perfumed with saffron and spices, is married beautifully with the sweet depth of plumped apricots and the crunch of whole almonds. This stunning dish is a real showstopper but couldn't be simpler to make.
Preparation time: 25 minutes
Cooking time: Approx. 2 hours
Serves: 4-6 People
Ingredients
800g lamb neck fillet, cut into 1 inch thick chunks
Couple of generous pinches of best quality saffron threads
150g dried apricots
75g blanched whole almonds
2 small or 1 large onion, roughly chopped
1 heaped teaspoon of ground cumin
1 teaspoon of ground cinnamon
½ teaspoon of turmeric powder
2 heaped tablespoons of clear honey
A good squeeze of lemon juice
Vegetable oil
Maldon sea salt to taste
Water, freshly boiled
½ small packet of flat leaf parsley, roughly chopped including stalks
Method
Drizzle enough oil into the base of the tagine to cover the surface and heat gently over a low to medium heat. Add the onions and fry them until they begin to brown slightly around the edges.
Add the lamb and stir the meat into the onions, ensuring you keep the meat moving, so its gets nicely browned but does not stew. Crumble in the saffron strands and stir through the meat until the colour begins to bleed.
Add the spices and stir, ensuring you coat the meat well and then add the honey and stir well. Pour in just enough water, from a boiling kettle, to cover the ingredients, add the squeeze of lemon and reduce the heat to low and simmer for 1 hour and 30 minutes, stirring every so often.
After the initial cooking time has elapsed, add the apricots and stir the ingredients well and allow to cook for at least another 30 minutes before serving scattered with almonds and fresh parsley.
Serve with either couscous, rice or flatbread.
Cook's notes
Great served with rice, couscous, bulgur wheat or bread. And pork shoulder also works well as a substitute to lamb.