Inspired by the vibrant colours, flavoursome cuisine and welcoming nature of the Brazilian culture, the Le Creuset Vida Brazil cookware collection is guaranteed to bring some South American flair to your kitchen.
Brazilian cuisine is rich, hearty and full of deep and complex flavours – perfect for entertaining guests or an intimate meal for two. It seems only fitting that one should prepare some authentic Brazilian meals using the Le Creuset Vida Brazil dishes and grills. Put a twist on the traditional BBQ and try some Brazilian BBQ recipes this summer!
We've picked some of our favourite Brazilian recipes from the Le Creuset Vida Brazil campaign – which will you be making first?
---
Succulent Beef Flank with Spinach and Brazil Nut Pesto
What's the secret to great tasting steak, which stays juicy and tender regardless of cooking time? A spiced and flavourful marinade, flavoured with cumin, garlic, chilli and lime, which penetrates deep into the meat when left overnight.
Compliment your beef flank with a fresh pesto; a blend of shallots, garlic, spinach, basil and feta cheese, this recipe uses Brazil nuts – rather than the classic pine, traditionally used in pesto – for an injection of South American flavour.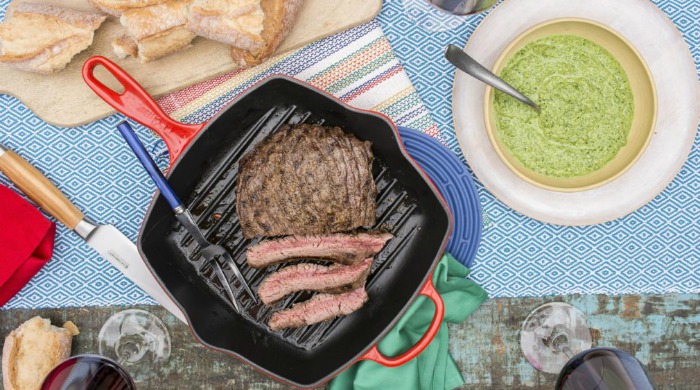 ---
 Grilled Cheese Sticks with Honey and Brazilian Farofa
A traditional street food, grilled cheese is enjoyed as a snack throughout Brazil. Whilst this dish is usually prepared using queijo coalho cheese – a firm, Northeastern Brazilian cheese with a 'squeaky' texture when chewed – use halloumi or paneer if you're unable to source it.
This cheesy snack is best eaten with a rich, flavourful sauce, such as sweet molasses or fiery chipotle; it's also traditionally served with farofa – a toasted mixture of flour and spices which amplifies the flavour of meats and cheeses. We like to brush the Brazilian cheese sticks with honey and roll in the farofa for a blend of sweet, savoury and salt.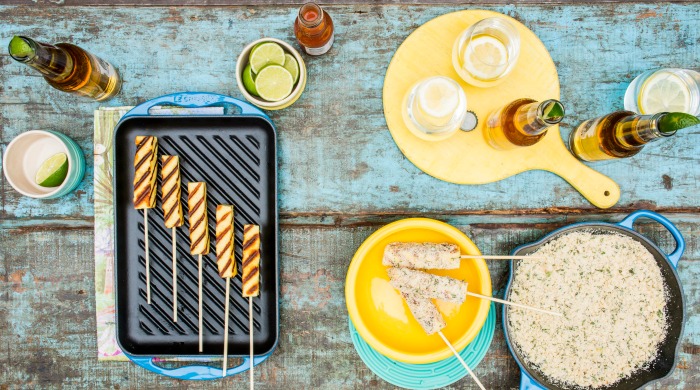 ---
 Butterflied Brazilian Chicken and Coriander Rice
Bored of the traditional British roast chicken? Try a Brazilian alternative, which is a guaranteed crowd pleaser. Cook this dish for a dinner party and serve with an ice-cold glass of white wine!
Vamp up your Sunday roast with this Brazilian roast chicken – butterflied, brined in brown sugar and sea salt, and then grilled alongside fragrant coriander and garlic rice until the skin is crisp and the meat tender.
---
Grilled Prawns and Smashed Avocado on Toast
Smashed avocado on toast is undoubtedly one of the biggest food trends of the last year; however, it's starting to feel a little familiar. Add some pizzazz to this lunchtime favourite by adding a taste of the tropical – tiger prawns, garlic, red chilli, coconut milk, soy sauce and ginger are just a few of the ingredients at play here. Top your toasted loaf with crushed avocado, juicy prawns, a spoonful of pan juices and some spiced mango salsa for a real taste sensation.