When you're working hard to lose weight and improve your health, one of the most motivating things you can do is to monitor your progress. Seeing the small, everyday differences add up to get you closer to your fitness goal helps you to keep going as well sticking to your chosen diet and fitness regime. We all know how difficult it is to turn down that extra slice of cake but with a little extra encouragement and tracking, it is so much easier! Fitness bands have been popping up everywhere in the past couple of years, it seems that every other person in the office is wearing one these days so we have road tested two of the top selling products to find out which is the best fitness band to help you keep track of your progress.
Time for round one; the Jawbone Up fitness band VS the Fitbit Flex…
The Best Fitness Band: Jawbone Up?
An all-rounder, the Jawbone Up fitness band tracks your daily movement, sleep patterns, allows you to add your meals, moods and displays insights to keep you going.
The fitness band connects and syncs to your phone to the app on your Smartphone, it's really handy for being able to check your progress on the move.
The Jawbone Up is designed to fit into your everyday life and can also sync up with other cycling, recipes and weight tracker apps to automatically integrate the information bringing everything together in one place. The wristband is designed to look great, the subtle design and colour is perfect for men and women, it's so easy to wear every day without impacting your life.
The Good
Really comfortable and soft rubber wristband
Easy connection to your phone or computer
Compatible with iOS and Android
Weekly email on a Monday with an overview of your performance
Phone notifications and silent, vibrating wristband alarms can be set as reminders
Simple and easy to use
USB charging Cable
The Bad
No built in screen on the wristband
Not completely waterproof
The Details
Battery life: One charge lasts up to 7 days
Wristband: Lightweight, discreet and splash proof
Usability: Easy to use, all instructions are included
Compatible Devices: iPhone 4s and newer, iPod Touch 5th Gen and newer, iPad 3rd Gen and newer, iPad mini and newer, Select Android Devices, Android 4.3 and later.
Take a look at the Jawbone range on The Hut >>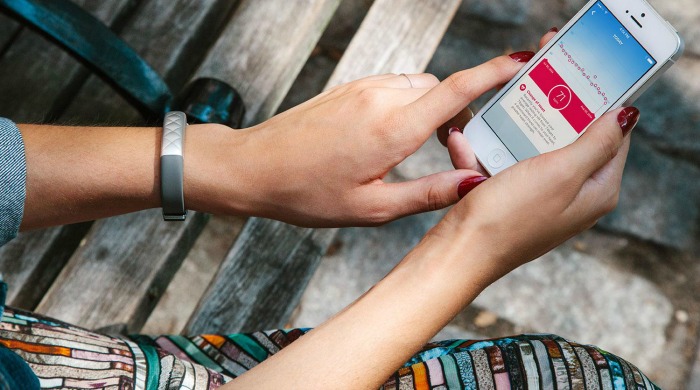 The Best Fitness Band: Fitbit Flex?
The Fitbit Flex tracks your steps, burned calories and distance throughout the day to help you to reach your goals, then tracks your sleep throughout the night to help you to get the best night sleep possible.
The Fitbit Flex takes a little while to get set up on and get started with as all of your personal details need to be logged online and the Fitbit needs to be charged before you can get started, but after that you're ready to go. There's a handy app (connected via Bluetooth) or the online dashboard, both are updated regularly with your latest stats.
You can manually add how many glasses of water you have drunk or what food you've eaten that day, perfect for keeping on top of your daily goals. Remember, every little thing you do adds up to help you to achieve your goals!
Promised up to 5 days battery life with one charge, it will keep you going for a good while. We were pleasantly surprised that it lasted around 6-7 days.
We found that it works really well for running, but not as well for other exercises like weight lifting
The Good
Easy to wear
On band alerts and tracking
Compatible with iOS and Android
Calorie burn calculated based on your own personal stats
Silent, vibrating alarm to wake you up gradually
Compete with family and friends for extra motivation
App and Online Dashboard
The Bad
Bulky design
Not completely waterproof
No on band display
The Details
Battery life: One charge lasts up to 5 days
Wristband: Lightweight and easy to wear, two sizes provided in box
Usability: Fitbit account is mandatory, dashboard download and installation needed, app available
Compatible Devices: PCs, Macs, iPhone (5, 5S, 5C, 4S, iPad 3, iPad 4, iPad Air, iPad Mini) and select Android devices (Samsung Galaxy S III, S4, Note II, Note III, Note 10.1, LG G2, HTC One and more)
Take a look at the Fitbit range available on The Hut >>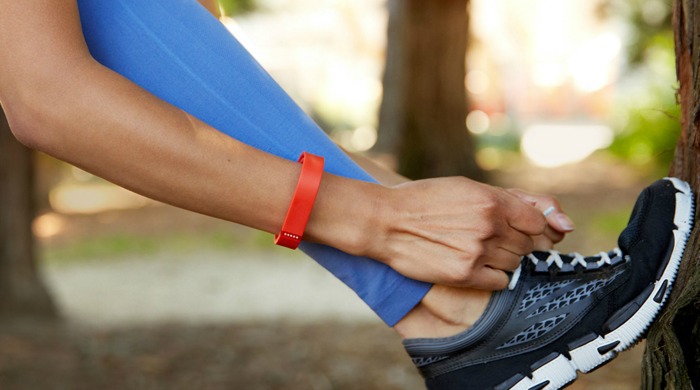 The Verdict
So, which is the best fitness band? Both fitness bands were great to use but the winner by a hair is the Jawbone Up, with a much longer charge, more attractive design and real time data, it fits into our daily routine perfectly.
Have you used either of these products? Let us know which you prefer by leaving a comment on this post!