A mainstay in every wardrobe Denim is the trending investment for this season. From denim jeans to full denim looks, we are all pinning our favourite pieces for the season. Denim has always been known for its durability and versatility, but this season more than ever, denim jeans, shackets and shirts or a must-have staple. 
Buying denim jeans online can be hard though, it feels like they either fit your waist and don't fit your length or vice versa. Looking at care, styles and key brands, here's our complete denim jeans guide for women…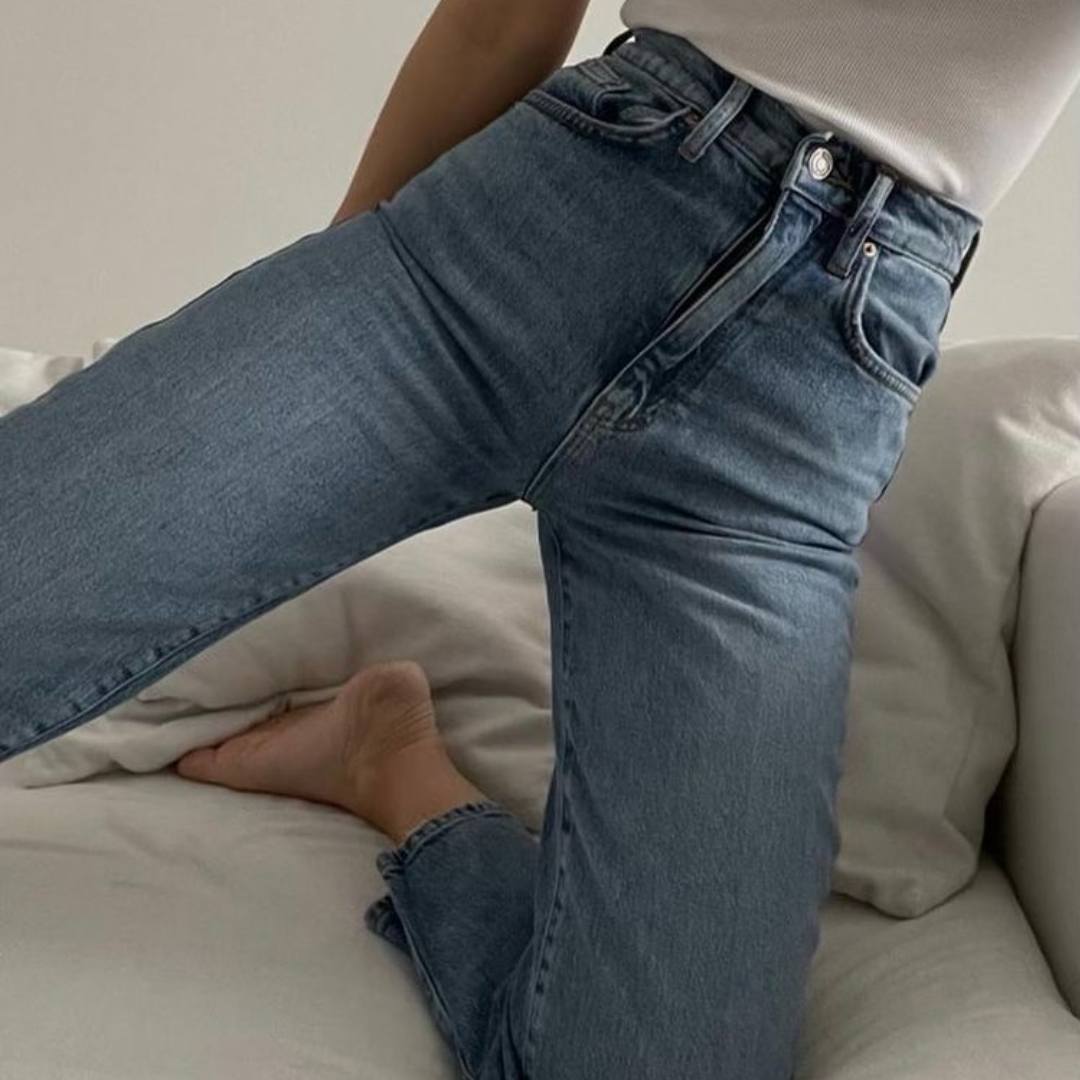 Where do 'jeans' come from?
'Jeans' first appeared in the 18th century, made from denim or dungaree cloth. Invented by Jacobs Davis and Levi Strauss in 1873, they were named after the city of Genoa in Italy where cotton corduroy was manufactured.
In 1851 Levi Strauss came to New York from Germany and then later moved to San Francisco to establish a western branch of the family dry goods business. Jacob W. Davis a tailor from Reno, Nevada who made functional items such as tents, a customer one day requested sturdy pants which he made out of denim bought from Levi Strauss & Co.  The pair went into business, becoming partners and opening up a factory.
What is denim made from?
Denim is a type of cotton, the term denim refers to a type of strong, durable cotton.
What weft is denim?
Denim is when the weft passes under two or more warp threads creating diagonal ribbing that's not found in traditional cotton. Normally, the warp thread of denim is dyed blue and the weft thread is left white. This is why the interior of denim jeans is usually a different colour compared to the exterior.
How to wash denim jeans?
You do not need to wear your jeans every time you wear them, designers and fashion labels have come out and stated that you should only wash your jeans when they visibly look dirty. Like all garments, washing breaks down the fabric and can cause fading over time.
Here are some quick and simple steps to washing your jeans…
#1 Always check the fabric care label before washing your jeans. For the first few goes, we recommend you wash separately from other items to avoid dye transfer.
#2 Turn your jeans inside out if you're machine-washing jeans. 
#3 Use cold water and a laundry detergent for jeans
#4 In general, your jeans will last longer if you take them out of the dryer slightly damp. Smooth them into shape and let them dry on a flat surface or a hanger. You don't want to shrink them either or leave them extremely creased. 
Care Tips
If you talk to the experts when it comes to jeans the three main tips would be… 
Wash Less – Wash once every 10 weeks at most to maintain fit and prevent too much "rebound." Use a damp cloth to remove any stains. 

Wash Cold – Cold water keeps the colour you love. Washing with cold water protects against fading and shrinking.

Dry Line – Dryers are the natural enemy of jeans. All that lint is your jeans breaking down. Instead, hang them up. Line-drying preserves the fit and helps avoid possible shrinkage or fabric warping.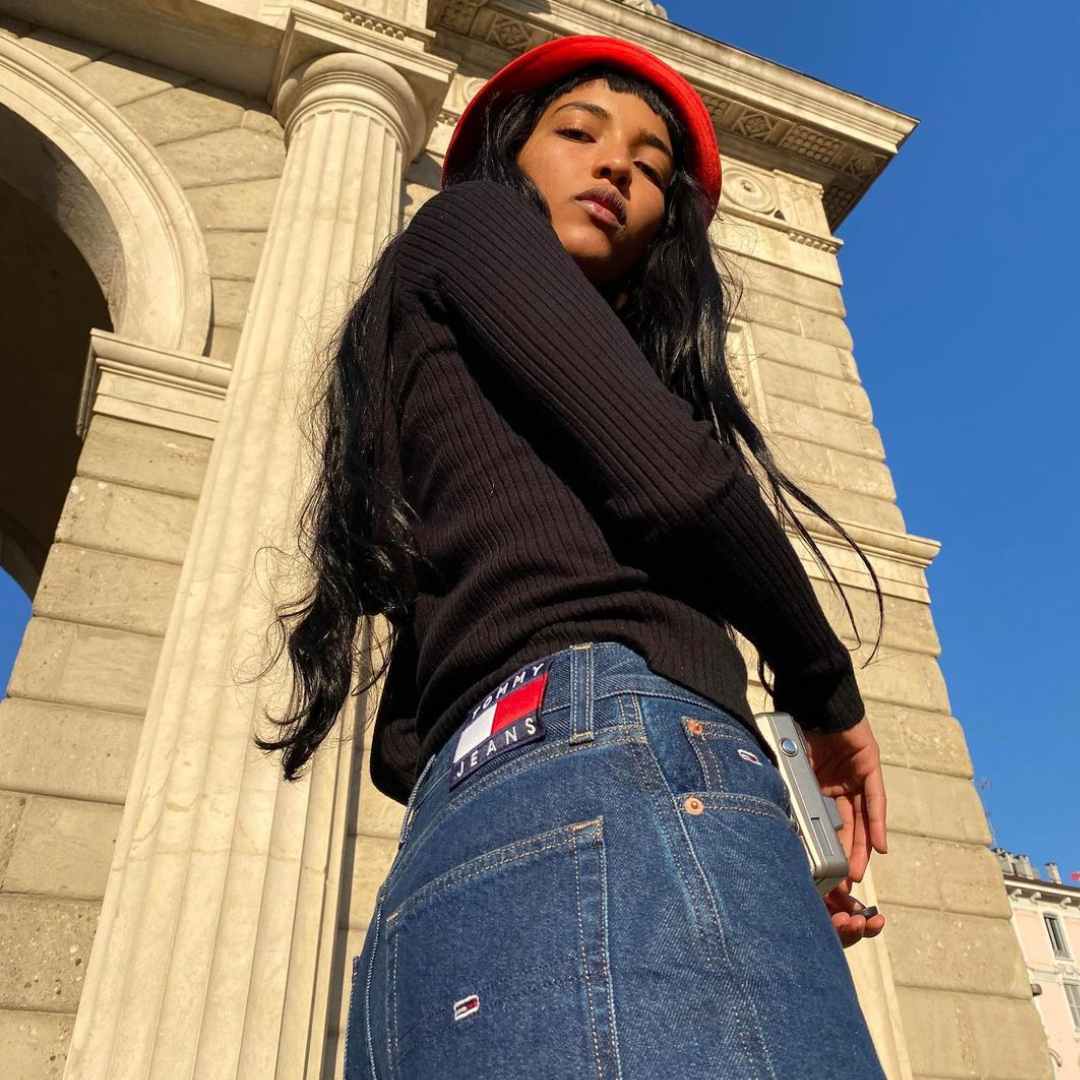 Now moving on to different styles…
The Skinny Jeans
Skinny jeans made a massive comeback onto the fashion scene in the early 2000s when Kate Moss defiantly revived the trend after the baggy jeans flurry of the 90s. Instantly flattering on every body type, skinny jeans are a classic that flatters your leg shape. 
Often people like their skinny jeans to be high-waisted adding comfort and tucking us in. Some people prefer low-rise jeans with Good America providing some really high-quality jeans which are a great fit. Calvin Klein and Tommy Jeans have some great plus-size skinny jeans styles as well.