Every parent knows the importance of a good nights sleep, it is such a small win but means you can take on the day. Since their launch in 2014 with the award-winning bedside crib Snuz has been a trusted go-to brand for all parents. 
Now offering stylish and of superior quality nursery furniture, sleeping bags, sleep aids and mattresses that all make a good night sleep achievable. If you are looking at buying something from Snuz but have a few unanswered questions, we are here to help with our complete buyer's guide… 
Snuzpouch
What are the benefits of your baby sleeping in a bag? 
consistent temperature throughout the night and day as they nap, 

freedom to wriggle about without being restricted or tangled up in a blanket.
Choosing the right tog for your baby 
The Lullaby Trust suggests the ideal sleeping temperature for babies is between 16-20 ֯C, with babies under 12 months being particularly vulnerable when it comes to overheating. 

When picking your tog, understand that the higher the tog, the thicker the material and lining will be of the sleeping bag.
2.5 Tog is ideal for use year-round for temperatures anywhere between 16-20 degrees (61-68F)

1.0 Tog is recommended for warm summer temperatures between 21-23 degrees C (69-74F)

0.5 Tog is what you'll need for when temperatures really start to soar, from around 24-27 degrees C (75-81F)

The clothing your baby wears also needs to be considered when choosing the correct tog of sleeping bag
Snuzpod4
The new snuzpod4 bedside crib is a forward-thinking red design that's full of innovative sleep-inducing features. Since their launch, bedside cribs have become the first choice for mums and dads, with SnuzPod alone being trusted and loved by over 165,000 parents! 77% of parents have considered purchasing a bedside crib. 
The UK leading bedside cribs key features are improved breathability, creating the optimum sleep environment for your baby. A unique surface-level air-flow vents allow air to pass through the crib at a surface level where your baby rests, while an air-permeable mesh liner can be easily unzipped and machine washed to keep things fresh and free from bacteria.
Breathability while your baby sleeps means the ease with which air circulates freely and plays a part in aiding temperature regulation by ensuring increased airflow. With breathable holes in the base of the crib paired with an improved mattress and 3D mesh surface for enhanced support and machine washable cover, it promises comfort, breathability and safety all in one expertly designed crib. With newborns spending on average 16-18 hours a day sleeping, it makes sure their environment is as safe as possible.
When considering the sides of the SnuzPod4, it's important to remember that the 3D Mesh aspect of the ComfortAir liner is over 8mm thick, so the fabric does not lie directly against the wooden side parts. This allows air to circulate in multiple directions. Keep the crib or standalone mode away from radiators or any source of heat to avoid overheating. Similarly with windows due to drafts, try and make sure they are kept at a consistent temperature. 
What's the difference between snuzpod4 and snuzpod3? 
The main difference is the new ComfortAir system which is mesh vents and a breathable liner that helps airflow and helps regulate your baby's temperature. It also has a new half-height wall setting that can be left in place during the night making it easy to access your baby without having to zip down the wall. It fits taller beds with a maximum mattress height of 73cm and meets all the latest bedsite crib safety standards. 
Maximum mattress height you can use with a snuzpod? 
The minimum height of your mattress should be 53cm and the maximum height is 73cm.
Why your snuzpod sits lower than your bed? 
There is a safety regulation that means there must be a 12cm residual barrier or wall that means your baby can not roll onto your bed while you are asleep. 
Why can't the tilted reflex be used through sleep? 
It's in line with EU standards and safe sleep guidance to place a baby on a flat horizontal surface. We can only recommend that the reflux tilt be used while your baby is awake. 
How to clean a Snuzpod? 
When it comes to nighttime accidents the mattress protectors are fully waterproof and are crafted from a waterproof membrane, sandwiched by a layer of luxury cotton. Absorbing any accidents it keeps your baby clean and dry for a better night's sleep. The fabric cover can be sponge cleaned with a mild detergent; we would recommend allowing this to fully air dry. The ComfortAir liner can be easily removed and machine washed.
How to build a Snuzpod? 
Please see this video for easy to follow instructions. 
Snuz Cloud
What does the Snuz Cloud do? 
Introducing SnuzCloud, the stylish and portable baby sleep aid that helps comfort and settle your baby when you need it most. With super soft plush fabric and 4 soothing sounds including pink noise, the new deeper sounding alternative to white noise, and heartbeat, to mimic a mum's womb.
Shop the full Snüz range at The Hut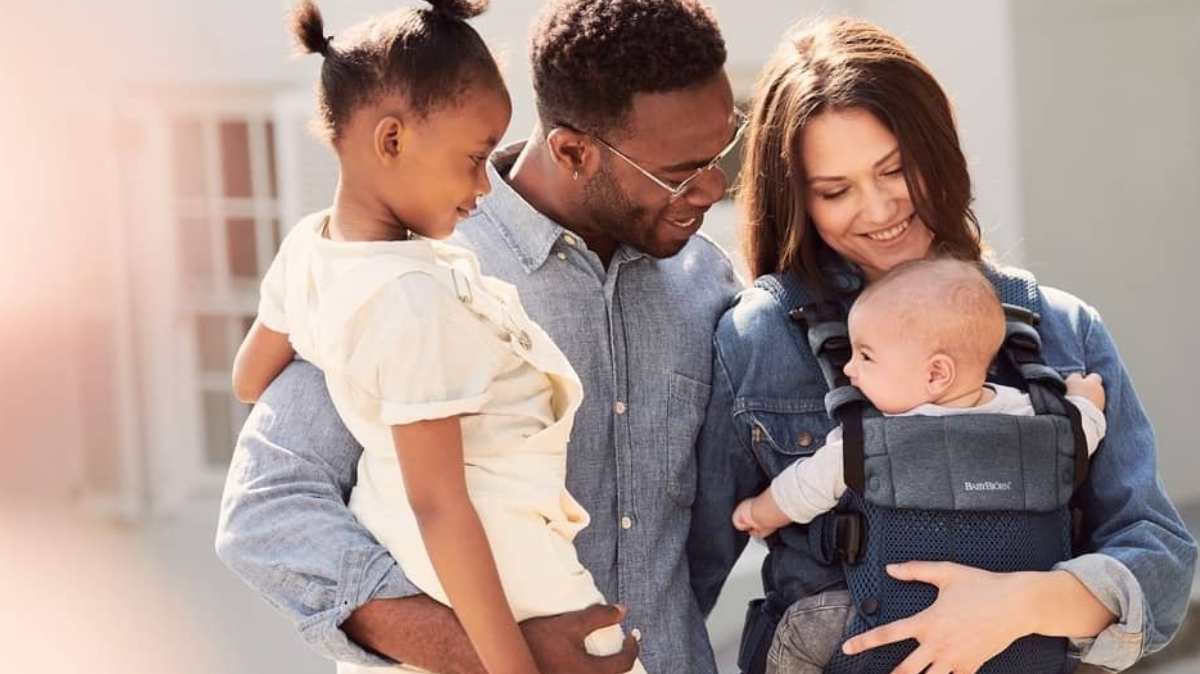 A complete guide on the BabyBjörn carriers and bouncers, including the fabric benefits, washing instructions, how-to tutorials and hopefully all of the answers you are looking for…
Written by Holly Thompson
Featured Image Credit – @stav.saidoff