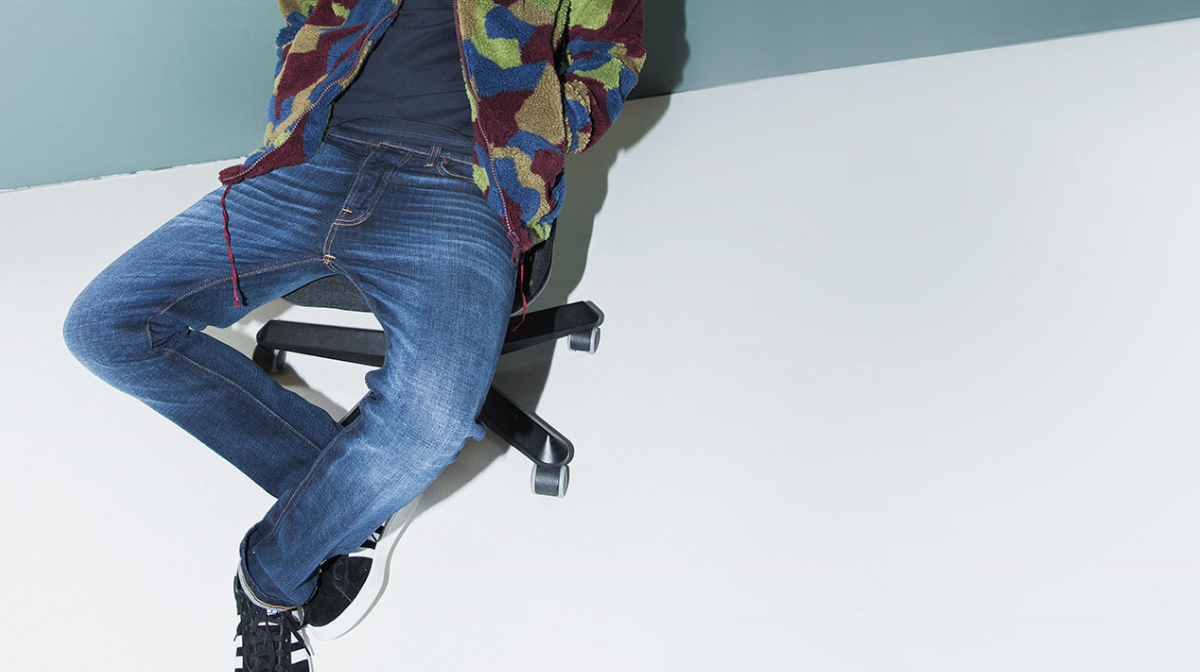 Although a good pair of jeans may be a fundamental part of any wardrobe, it's also true that shopping for jeans can be a bit of a hassle. From fits and washes, to jean care and styling, finding your perfect pair often isn't a straightforward affair. So we're here to help with our Nudie Jeans fit guide to answer all your denim woes.
On the flip side of that argument, however, is the fact that this is precisely one of the beauties of denim: there's a pair for every body, shape and size. Your jeans should be an expression of individuality, the backbone of your wardrobe and probably the most versatile pair of trousers in your wardrobe. Getting the right pair is worth the effort, and so we've teamed up with Swedish denim specialists Nudie Jeans to help you buy the best pair of jeans you've ever had.
Regular Fit
Fearless Freddie
Fearless Freddie is a loose anti-fit with a normal waist and a carrot shaped silhouette. It's got a regular leg opening, button fly and available in four options.
Dude Dan
Dude Dan is a modern take on the classic regular fit, providing a regular rise, button fly, straight leg and a slim leg opening.
Tight Fit
Tight Terry
For those of you looking for a tighter fit, look no further than Tight Terry. Each pair of Tight Terry jeans fits tight from the hip down to the ankle, has a mid waist and zip fly. Made from power stretch denim and cut for a tight fit these jeans are great teamed with oversized t-shirts and hoodies.
Slim Fits
Lean Dean
If you're looking for a classic slim jean, Lean Dean is for you. Cut straight and slim, Lean Dean has a regular waist and rise with a slim (but not too slim) leg. The jean is made from organic cotton with a touch of elastane for some stretch in the leg, and is finished with signature Nudie detailing and a zip fly.
Grim Tim
A regular slim fitting jean, Grim Tim provides a straight slim fit with a normal rise and a button fly. Offering a more casual, everyday fit versus some of Nudie's slimmer numbers, Grim Tim should be your go-to slim fitting jean.
Skinny Lin
Skinny Lin has a normal rise and is tight from the hips down to the narrow leg opening. The curved waistband improves the fit at the waist. Most Skinny Lins are made from power stretch denim for perfect fit.