Our underwear can often be the piece of clothing we think the least about, but we all know what a nightmare it can be if you get it wrong. Comfort for the majority of the time is key so if they are too tight, or bunching up it can be a disaster. 
Underwear is quite literally the oldest piece of clothing, originally worn to cover up and then under clothing to keep other garments cleaner, men's underwear has come a long way. Depending on what you prefer from your underwear, buying men's underwear can be a minefield. So if you are wanting to look at types, fabrications, sizing or just want to know why you always get holes in the same places, here's your complete buyer's guide to men's underwear…  
Underwear Types
Briefs
These are perfect if you have larger thighs or are more well endowed. Today briefs aren't as uncool as you think, seen across many sportsmen ambassadors such as David Beckham and Cristiano Ranaldo they are a favourite for those with chunkier legs or who want the extra support when part taking in exercise. You can pick ones made from technical fabrics that will wick away moisture from your skin but if you want a comfortable everyday pair 100 per cent cotton is a go-to. Our recommendation would be the Tommy Hilfiger range. 
Boxers 
If you want breathability we would recommend Boxers. They offer more room and are less restrictive and revealing. However, they do not provide you with any support. Plenty of designers offer slimmer cut options in comparison to the traditional versions, which were supper baggy and bunched up in areas. 
Boxer-briefs 
Boxer briefs are the best option for taller men, it is an adapted more versatile style for regular built men. Boxer briefs usually hit the mid to low thigh and often have a button fly. This means they can also be good for those with larger thighs because the added material stops you from chafing. The reason they are good for taller men is that they have a higher waistband so it doesn't slip when you bend over. Our recommendation would be Hugo Boss. 
Trunks & Hipsters 
The best option for those who have a slimmer frame or love the gym is the super skinny trouser style. They tend to sit from the mid to upper thigh. Trunks or hipsters are practical for slimmer guys because of the less fabric they won't bunch up or leave you with access fabric around your thighs. They also sit lower on your hips which is why guys who have been working on their torso like to opt for them. 
What fabric to pick for your underwear?
You can buy men's underwear in many different fabrics. These are probably the most popular, so here are the different benefits to help you pick. 
Cotton
Cotton is probably the most popular because it is comfortable, soft and breathable. It also is pretty washing machine fool-proof they won't shrink and won't irritate your skin. 
Silk
Silk offers a shiny and soft fabric alternative that gives a luxury feel. Silk is a natural fabric that is known for its ability to keep you cool when you're hot and warm when you are cold. 
Polyester
Polyester is 50% thinner than cotton but because it is a man-made fibre it will last longer and will not fade in colour. 
Nylon
The best option for when you are exercising is because they are soft, easy to wash, abrasion-resistant and they dry very quickly. 
Other fabrics you can get are Mesh, Model, Jersey and Spandex. 
How to fold men's boxers?
Your boxer draw can often just be a grey area in your bedroom, resulting in you always pulling out the most worn ones from the top which have holes in all the wrong places. So just some quick tips on folding boxers so you can keep them as neat as possible is you always want to be aiming to create a square. 
#1 So with briefs take the bottom of the crotch up and tuck it up. Then take the left of the trunk to the right and fold. 
#2 With the boxer briefs because they are shorts fold left to right and then in half again. Then from the elasticated waist fold upwards in three squares. 
#3 With the Boxers, you haven't got a pronounced crotch area so fold left to right and then in half again and then in three squares down.  
What is the purpose of the hole in boxers?
Similar to trousers with a fly it is to make it easier for you when you go to the toilet. However, only 20% of men who wear boxers with a fly actually use it. 
Why do you get holes under your crotch?
Experts suggest that natural fluids like sweat can erode the cotton and lead to holes. 
How to know what size men's underwear to buy?
Wrap a tape measure around your waist and place one finger between your waist to ensure to you get a comfy size. We recommend that a smaller size is best if you wear slimmer or tailored plans. If you prefer a looser fit, then go a size up. 
Boxer Shorts (Inches) 
| | | | | |
| --- | --- | --- | --- | --- |
| Your Waist | M | L | XL | XXL |
| To Fit Waist | 30 – 34 | 34 – 38 | 38 – 42 | 42 – 46 |
Boxer Shorts (Centimetres) 
| | | | | |
| --- | --- | --- | --- | --- |
| Your Waist | M | L | XL | XXL |
| To Fit Waist | 76 – 86 | 86 – 97 | 97 – 106 | 106 – 117 |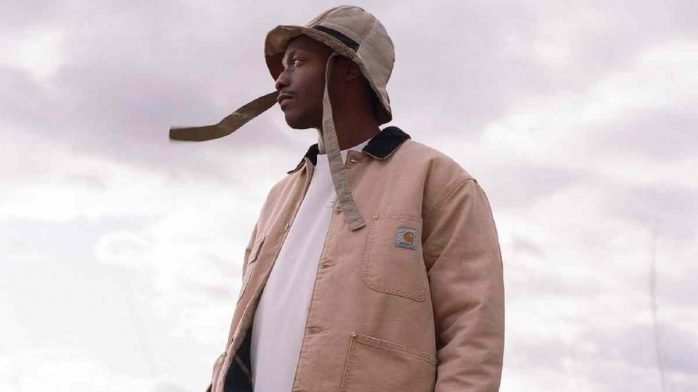 When refined streetwear meets authentic quality workwear, you get Carhartt Work In Progress. Here's what you need to know...
Written by Holly Thompson
Featured Image Credit – @calvinklein