The story of Barbour stretches back over a century when the brand started out creating hardwearing clothing for fishermen and dock workers on the Tyne and Wear coastline in North East England. Garnering a reputation for its durable working garments, Barbour became the go-to British brand for motorcyclists from 1936 until the early 1970s with the exception of the war years.  From submarine commanders to frontline and aviation fighters, Barbour's apparel evolved dramatically during the war when the brand helped customise jackets and garments to suit soldiers' military needs. It wasn't until some years following the war that Barbour emerged as a leader in country wear, specialising in its now iconic waxed jackets.
Barbour has always manufactured its traditional waxed jackets from its homestead factory in South Shields, North East England. Until this day, a mostly female workforce of almost 200 workers handcraft over 3000 wax jackets every week.   Each jacket is subjected to over 36 individual processes by skilled craftsmen and women before going through a rigorous quality control system to make sure they are of the standard for which Barbour has made its name. It is no surprise that the brand holds three Royal Warrants, from the Queen, the Duke of Edinburgh and the Prince of Wales.
Step One: Cutting
Stepping into the Barbour factory, you are welcomed by the whirring noise of over 100 sewing machines at full throttle and the industrious energy of the factory's employees. The creation of an iconic Barbour jacket starts at the cutting station, where rolls of 55-metre waxed cotton are cut into 4.6m lengths, with each length making three jackets.  All the waxed cotton used in the factory is waxed in the UK.
An industrial cutter is used to precisely carve through around 80 layers of waxed cotton, cutting out the various shapes that will eventually come to make up one of Barbour's classic jackets.  From this initial starting point, it will take approximately one hour before these pieces of waxed cotton have been transformed into a Barbour waxed jacket.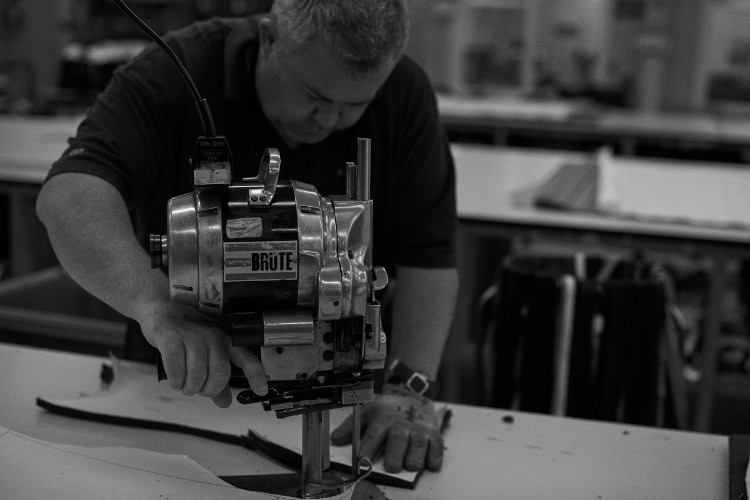 Step Two: Sewing
Each Barbour jacket is subjected to around 36 individual processes in total, and the majority of these processes take place in this second stage.  Each jacket makes its way through various individual sewing sections, ranging from applying the signature tartan lining to the inside of each jacket, sewing on each individual pocket, or installing Barbour's signature label to the inside collar. Each jacket makes its way around the factory on a unique metal pulley system that is constantly on the move and dictates the tireless rhythm of the factory.