Associated with expertly designed technical outerwear and equipment, The North Face is synonymous with exploration and has been ever since its creation in 1966. A staple for the wardrobe all year round and a saviour in the colder months, you'll find it difficult not bump into someone wearing one of their jackets come winter. As the brand has moved into more contemporary outerwear, The North Face backpacks, hoodies, sweatshirts and t-shirts have all gained popularity among a wider group of consumers. If you've ever wanted to know a bit more about the brands history, fits, technical materials or even what the logo means, then stay put as we take you through all that is The North Face in our Buyer's Guide.
#1 Why is it called The North Face?
When you picture how the brand came to be, we're sure remote mountain ranges and snowstorms come to mind. However the brand was founded during quite the contrary, when two friends were hiking only 150 ft above San Francisco's North beach in California. From this small expedition on North Beach came The North Face. When it comes to brands logo, it's instantly recognisable for both its typography and three half circles, but what do they mean? The logo was inspired by the half dome peak in Yosemite National Park. The peak is the southernmost summit of Indian Ridge and is named after it's dome like shape.
#2 Who is The North Face Founder?
Doug Tompkins co-founded the label following his passion for making the outdoors accessible to everyone no matter their situation. A real driving force behind the ethos of the brand, Doug wanted to communicate with customers that all The North Face garments were designed with 'necessity not luxury' behind them, hoping to bring an end to the age of gimmicks and gadgetry. In 1968 Doug stepped away from the brand to join his wife in co-finding Esprit.
#3 Where is The North Face Factory?
The brands headquarters are still located where it all began in in California. In the year 2000 The North Face was acquired by VF Corporation who also look after Vans, Eastpak and Dickies to name a few. When it comes to the manufacturing of The North Face garments, VF Corporation own manufacturing facilities in a variety of countries including China, India, Bangladesh and Vietnam and are made alongside the other brands that the company own.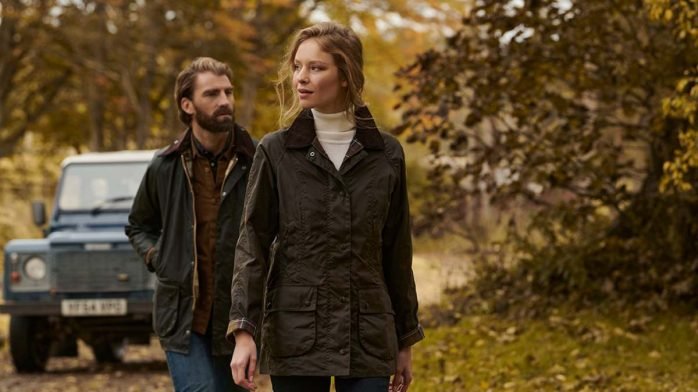 Since its birth 125 years ago, Barbour has continued to put Britain on the map for its outerwear offering, in particular its selection of signature wax jackets. From composition to cleaning and sizing to styles, we've teamed up with the experts at The Hut for the ultimate buyer's guide to Barbour jackets.
#4 Are The North Face jackets true to size?
As The North Face is of American origin some may feel that the sizes run slightly larger than European sizes. However the majority of people do go for their regular size, if you are looking to layer underneath or are looking for a more baggy fit then we would suggest going up one size. Check out the full size charts here for specific measurements.
#5 The North Face jacket size chart
Men's jackets
CHEST
WAIST
HIPS
SLEEVE LENGTH
XS
84-86
66-71
81-86
S
91-96
74-79
89-94
M
99-104
81-86
97-102
L
107-112
89-89
104-109
XL
114-122
96-104
112-117
XXL
124-135
107-114
119-124
3XL
137-147
117-124
127-132
Women's jackets
BUST
WAIST
HIPS
SLEEVE LENGTH
XS
78-81
61-64
81-86
S
84-89
66-71
89-91
M
91-94
74-76
94-99
L
99-102
81-84
102-109
XL
107-112
89-94
109-119
XXL
117-119
99-102
119-127
#6 Are North Face Jackets waterproof?
Always check each product's specification as it should detail how waterproof the garment is, as some may be better in wet weather than others. Some products are made with GORE-TEX and DryVent technology making them more waterproof and breathable. If you're likely to be out and about in wet weather then these pieces will keep you dry!