Autumn. A season heralded by the sight of your own breath in the morning and the descending darkness on the commute home. While we may be sad to leave the warm days of summer behind, this October is jam-packed with exciting new cultural goings-on that are just a snippet of what the autumn and winter schedule has ahead. After far too much time spent perusing far too many websites, The Hut has put together our list of the top five things you should venture out into the cold to see this October.
6th–9th October: Frieze Art Fair, London
One of the world's most important outdoor art fairs that was successfully exported to New York in 2014, London's Frieze Art Fair returns to Regent Park this weekend. Presenting work from over 160 of the world's most prestigious art galleries, Frieze allows you to view and buy art from more than 1,000 artists ranging from household names to some of the world's most exciting new artistic talent.
1st October –5th March | Guerrilla Girls at Whitechapel
Anonymous feminist group Guerrilla Girls presents a new exhibition at London's Whitechapel asking: "Is it even worse in Europe?" Established in the mid-1980s in New York, the collective have battled sexist and racist prejudices for over 30 years with a fierce mix of humour, bold graphics and hard facts. Revisiting its famous 1986 poster stating "It's Even Worse in Europe", the group's latest exhibition will run until March next year.
5th – 29th October | Erwin Blumenfeld at Osbourne Samuel
A visionary fashion photographer who shot more Vogue covers than anyone in history, a retrospective look through Erwin Blumenfeld's work will be showcased at London's Osbourne Samuel gallery throughout October. Featuring Blumenfeld's most iconic shots, many of which haven't been seen since Somerset House's 2013 exhibition, this looks set to provide an intriguing insight into one of the 20th century's most famous photographers and artists.
5th – 16th October | London Film Festival
The 60th edition of London's prestigious BFI Film Festival opens this weekend and runs for the next two weeks at cinemas around the British capital. Showcasing 240 of the finest new releases from around the world, highlights from this year's offering include Cannes prize-winning Finish biopic The Happiest Day in the Life of Olli Maki, Tom Ford's follow-up to his debut film entitled Nocturnal Animals, and the European premiere of Fischer Stevens' and Leonardo DiCaprio's climate change documentary Before the Flood.
13th October – 5th February | The Vulgar: Fashion Redefined at the Barbican
Vulgarity is an idea that has been reshaped and redefined throughout history. This new exhibition hosted by the Barbican explores the often challenging but always fascinating realm of taste in fashion from the Renaissance right though to contemporary catwalks. Re-examining the meaning behind concept of vulgarity, the exhibition showcases over 120 exceptional objects ranging from historical costumes to modern ready-to-wear pieces from designers including Christian Dior, Chloé and Vivienne Westwood.
Don't fancy venturing into the city this October? Explore the countryside instead with 10 of the best walks on the British Isles.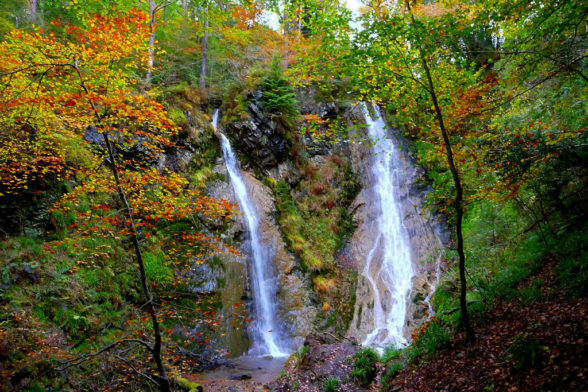 Crisp woodlands, glistening blue lakes and cosy pubs—strolling through the British countryside in spring and drinking in its rich colours is an experience to be savoured. Explore The Hut's top 10 walks for the season now.