Love food but hate waste? There are plenty of adaptations you can make in your kitchen that can help you save money, time (and your conscience) when it comes to food and sustainability.  Simple but clever cooking solutions such as batch cooking, using up expiring foods and reusing cookware can all help our environment, expand your palate and warm you up through the colder seasons; all at the same time.
Le Creuset's NEW "Food Unearthed" Campaign for Autumn/Winter fuses together a range of cookware and serveware and food sustainability to help you get more out of the food you buy. In partnership with notable chef Tom Hunt, nutritionist Madeleine Shaw and "BuyMeOnce" founder and author of "A Life Less Throw Away", Tara Button, Le Creuset is bringing a flurry of inspiration, recipes and tips to help you minimise waste and maximise your cooking potential…
Cooking with Le Creuset cookware and serveware can offer lifelong value. From durable dishes to non-stick pans, Le Creuset cookware ensures long lasting quality and lifetime guarantee. To help use these products to your best ability, see The Hut's best hints and tips for saving more, wasting less and eating sustainably…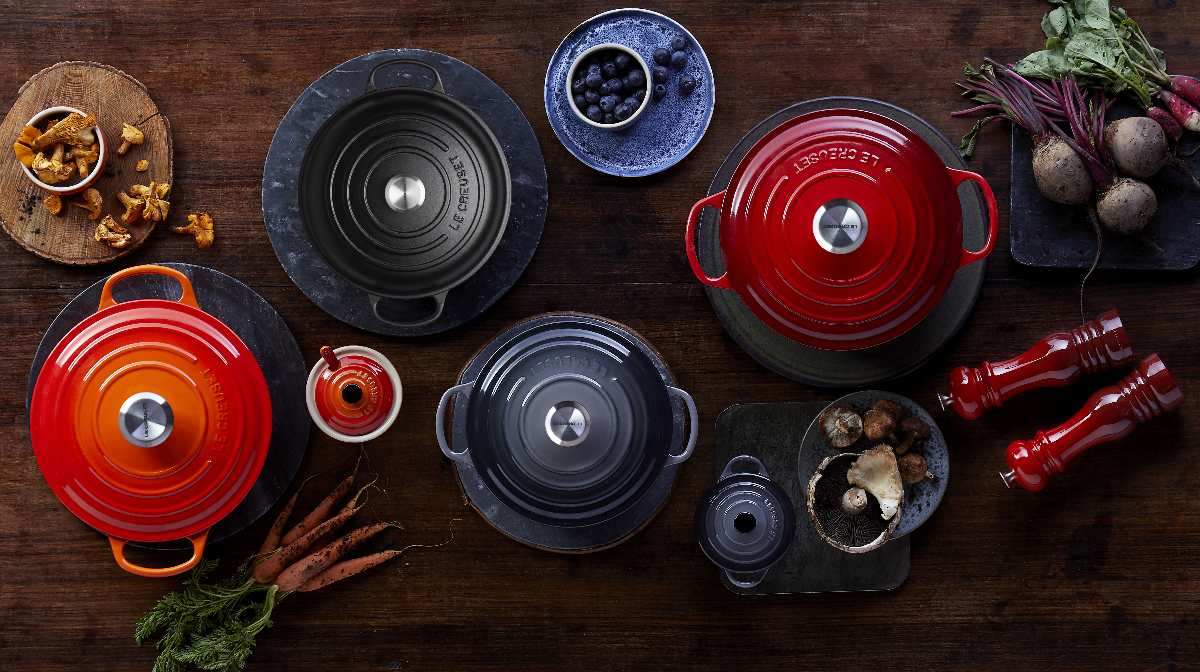 Cook Once, Eat Twice
Batch cooking can seem a long and boring task – but the extra preparation will pay off in the long run when you're saving time and money later in the week. Batch cooking is possible for most meals, it just involves more ingredients than a normal serving, sometimes freezing and the use of good containers and cookware. Make use of the cheaper cuts of meat and the abundance of in-season root vegetables for a real Autumn/Winter warming treat…
Meals easy to cook in batch:
Slow Cooked Beef
Spaghetti Bolognese
Potato and Smoked Fish Pie
Chilli
Autumn Vegetable Ratatouille
Lasagne
Slow Cooked Pork Shoulder
Fish Pie
Cheddar Pie
Pasta bake
Veggie Bake
Stew
Bread and cake
Curry
---
Here is a teaser recipe from Le Creuset's Food Unearthed campaign: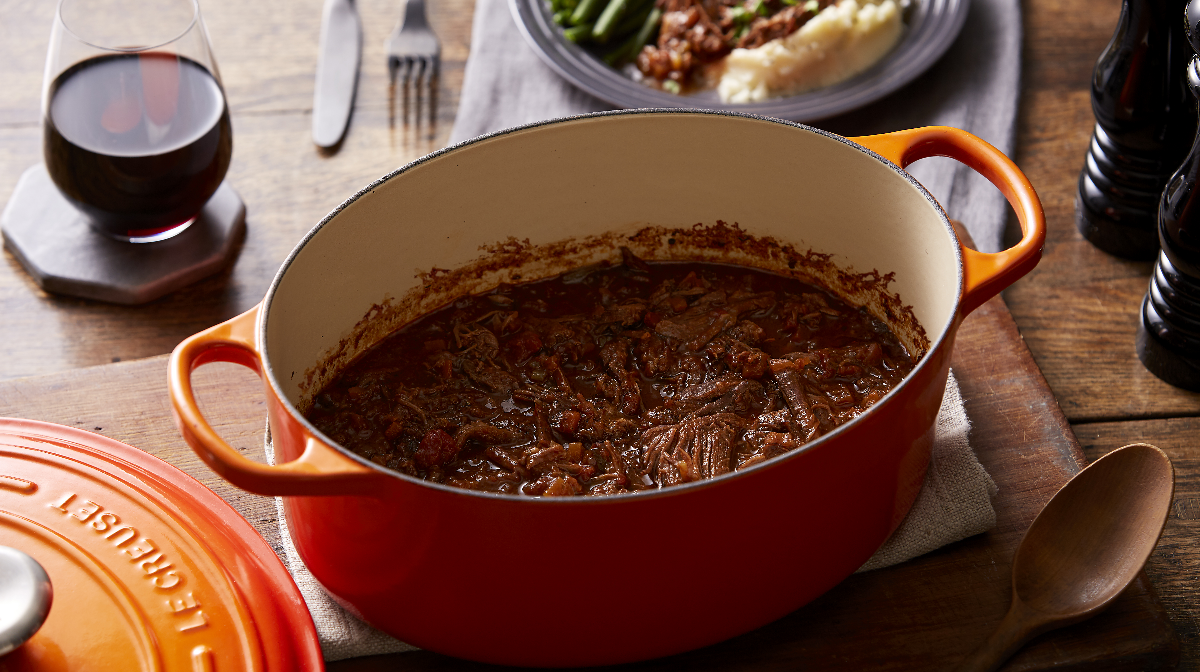 Slow-cooked Short Rib Ragout | Serves 8
Preparation time: 15 minutes
Cooking time: 4 ½ hours
This special ragout is all about the slow-cook. Using meaty short ribs and allowing braise slowly in a rich tomato and red wine sauce, this ragout is definitely worth the wait. You can cook a big batch and use the leftovers in different ways during the week: shred and serve over pasta, creamy mashed potatoes or use as the base of a decadent pie. This is one of these recipes that taste always better the next day!
INGREDIENTS
2kg beef short ribs (approximately 4 ribs)
2 tablespoons plain flour
Sea salt and freshly cracked pepper
Rapeseed oil, for frying
1 large carrot, finely diced
2 celery sticks, finely diced
2 shallots, sliced
1 large garlic clove, crushed
4 sprigs of thyme, finely chopped
4 sprigs of rosemary, finely chopped
50g sun-dried tomatoes, finely chopped into a paste
1 tablespoon tomato puree
300ml good-quality red wine
500ml beef stock
2 tins of chopped tomatoes, approximately 800g in total
1 bay leaf
2 heaped teaspoons soft brown sugar, optional
METHOD
Preheat the oven to 130˚C/ Gas Mark 2
Using a little kitchen roll, dry the ribs. Combine the flour and salt and pepper in a bowl before dusting the ribs until fully coated. Place the Cast Iron Oval Casserole over a medium heat and heat a tablespoon of oil. Place the ribs in the pan and brown on all sides until caramelised. Remove the ribs and set aside.
Add another dash of oil into the pan before adding the diced carrot, celery and shallots. Sauté over a medium heat for 4-5 minutes until softened and starting to brown. Add the garlic, thyme and rosemary along with a pinch of salt and continue to fry for a further 2 minutes.
Add the sun-dried tomatoes and puree to the pan and keep stirring until all the vegetables are coated. Pour in the red wine and bring to the boil and allow to simmer for 3 minutes before adding the stock and bringing back to the boil.
Allow it to simmer for 5-7 minutes until the liquid has reduced by about half. Return the ribs and any cooking juices to the pan before adding the chopped tomatoes, bay leaf and sugar. Stir, place on the lid and put in the preheated oven for 4 ½ hours.
For the last hour, remove the lid to allow the sauce to thicken. If the sauce is thickening too quickly, add a dash of water and replace the lid.
When the meat is tender and starting to come away from the bone, take out of the oven and using a slotted spoon, remove the ribs from the sauce onto a plate. Using two forks, pull the meat away from the bone and return the shredded meat to the casserole.
If the ragout needs additional thickening, simply simmer on the hob until the desired consistency is achieved. Serve with potato and celeriac mashed potato and seasonal greens.
Cook's Notes
This recipe is perfect atop freshly cooked pasta or used as a pie filling. Simply spoon the ragout mixture into a baking dish and top with pre-made puff pastry. Egg wash and bake until the pastry is crisp and golden.
Ensure that the meat remains submerged in the cooking liquid, particularly when the lid is removed. This will ensure your meat is tender and doesn't dry out.
---
Durable, large cookware is ideal for batch cooking and a sustainable purchase in itself. Investing into a quality casserole dish, roaster or pie dish can serve you a lifetime; offering endless use and multiple servings. With top quality roasting, cooking and boiling facilities, Le Creuset Cast Iron dishes and roasters not only ease the cooking process, but they are ideal for batch cooking due to their size, storability and materials; allowing you to enjoy that overnight, enhanced taste the next day.