We don't need a handful of people doing zero waste perfectly. We need millions of people doing it imperfectly. – Anne-Marie Bonneau
It can be difficult to know how you can help the environment or what changes you should be making in your home to reduce your impact. With new advice and news almost daily, it's hard to feel like you're making a change but the best way to be better to the planet is simply using and wasting less. In a return to a waste-not want-not attitude, we're all trying to live a more zero-waste life, making our kitchens as eco-friends as possible, but saying no to single-use plastics, recycling cartons, cutting down on meat and dairy, and shopping local.
But how about food waste? Over a third of all food globally produced goes to waste, with the UK wasting over 15bn of edible food each year. Cutting down on the amount of food you throw out year on year is the best way to boost how green your kitchen is, and the easiest way to do that? Invest in reliable, secure food storage.
So for zero waste week, we've teamed up with Kilner to bring you some recipes to save your food from the bin.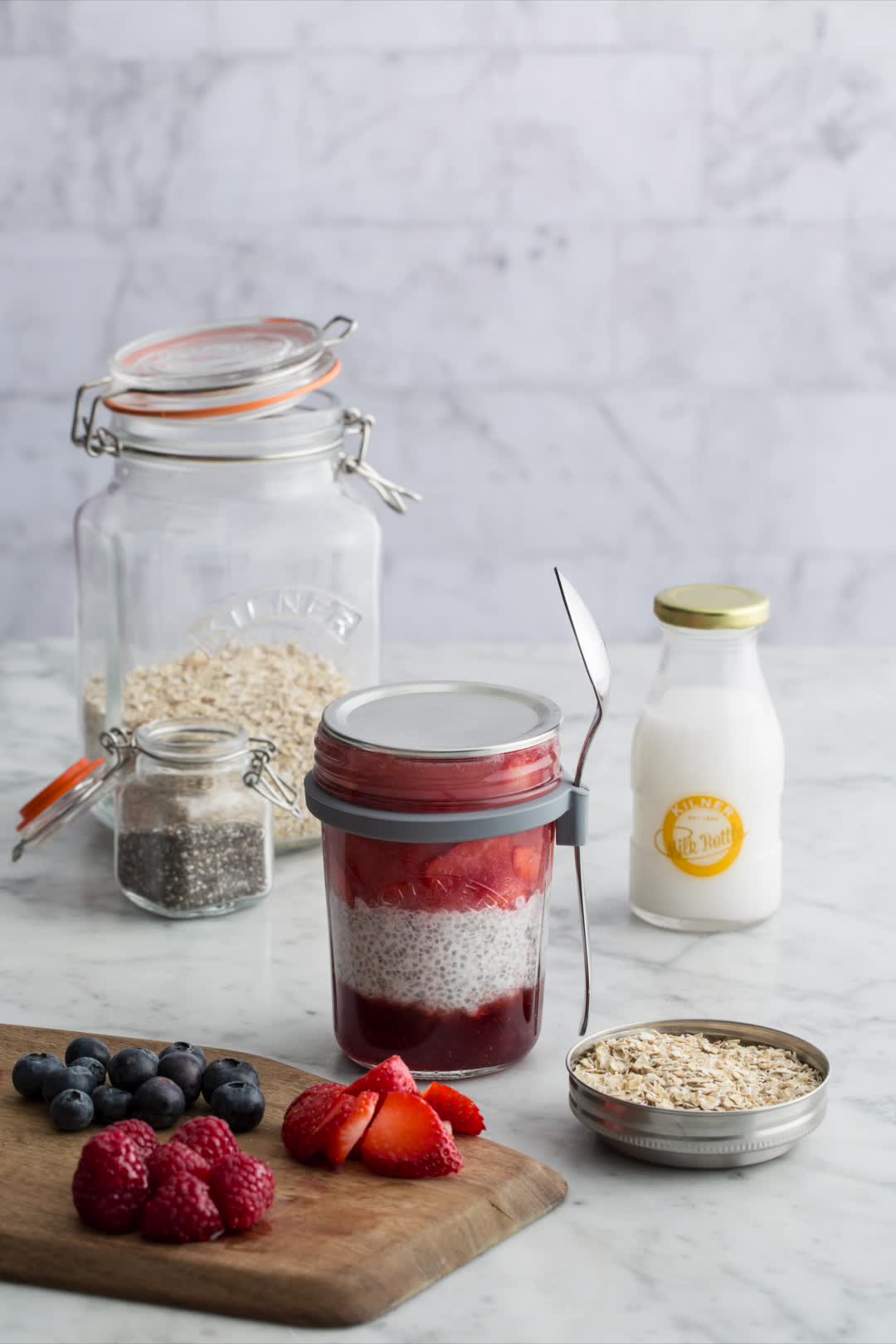 Strawberry Jam Oats
Oats that have been sat in the cupboard too long? Strawberries that are getting a little past it? Overnight oats are a great option for using up any left-over breakfast food while ensuring a quick grab-and-go healthy option. Throw in any berries or bananas you've got lying around, or even some yoghurt that needs using to make it extra creamy, anything works.
Ingredients
45g rolled oats 

120ml milk 

100g strawberries 

1 tsp honey 

1 tsp freshly squeezed lemon juice 

1 tsp chia seeds
Method
Set up your 5 Kilner® jars. You can use a 0.5-litre clip top jar or preserve jar. 

Pour the oats to each jar and seal and store in the fridge. 

In a separate bowl add the strawberries, honey and lemon juice and mash with a fork until puréed.

Mix in the chia seeds so everything is fully combined. Store in the fridge in a Kilner® preserve jar. You can prepare enough puree for the whole week ahead as long as it is stored in an airtight jar. 

Add the milk to the oats before heading to bed each night. 

In the morning, layer the strawberry jam on top of the oats. Feel free to top with more fresh strawberries, nuts or any other topping of your choice.