This Spring/Summer, Le Creuset is urging you to make the most of the long days and warm evenings by embracing Nature's Kitchen. Starting in Spring, the first part of the campaign encouraged cooks to look to own grown or locally sourced produce for a fresh abundance of delicious, natural ingredients used in new, specially developed recipes.
As we head into high summer, Le Creuset is moving al fresco to revel in the pleasures of dining with friends and family in the great outdoors. From summer grilling on the beach or beside a lake on your family staycation, Le Creuset offers up another selection of mouth-watering, fresh and deceptively simple recipes to spice up your summer menu.
Corriander, Lime & Shrimp Tacos with Mango Salsa
Serves 4 as a main or 8 as a snack 
Preparation time: 35 minutes
Cooking time: 10 minutes
Difficulty: Medium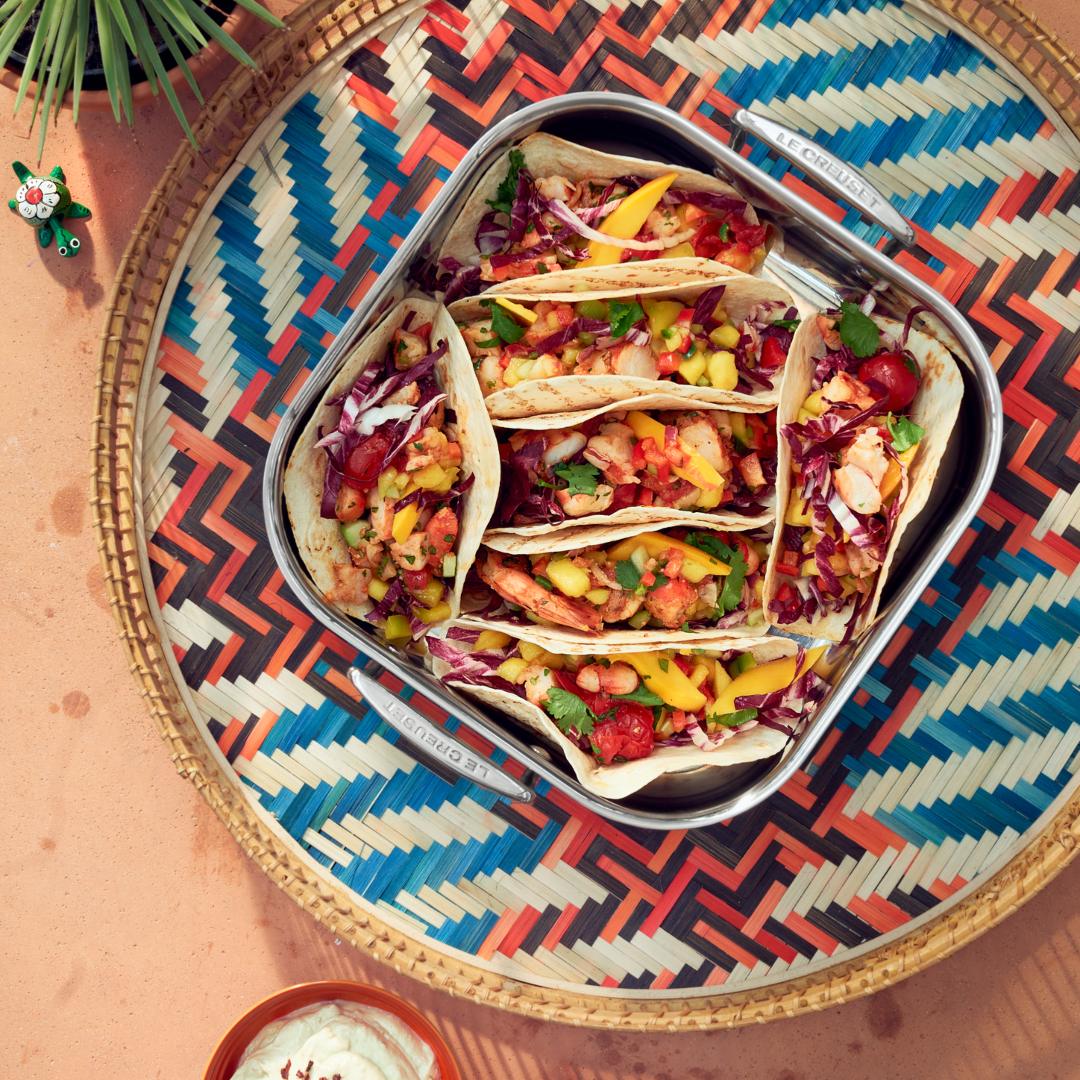 INGREDIENTS
750g shrimps, peeled, deveined, and divided into bite-sized pieces
2 finely chopped garlic cloves
1 tsp grated lime zest
½ tsp chilli powder
½ tsp ground cumin
¼ tsp salt
Black pepper, freshly ground
¼ tsp smoked paprika
1 tbsp fresh oregano, finely chopped
Optionally some cayenne pepper
1 tbsp butter
1 tbsp olive oil
2 tbsp lime juice
2 tbsp fresh coriander, finely chopped
AVOCADO CREAM:
1 ripe avocado
1 garlic clove
2 tbsp mayonnaise
1 tbsp lime juice
½ tsp salt
¼ tsp ground cumin
150g cream or sour cream
TO SERVE:
8 small tortillas in taco size
Oil
Old Cotija cheese, Parmesan cheese or feta cheese
Optionally spicy sauce
Red cabbage, finely grated
Mango salsa, see recipe
METHOD
Put the shrimps, garlic, lime zest, chilli powder, cumin, salt black pepper, paprika, oregano and cayenne pepper in a bowl and mix together. Leave to rest for 15 to 30 minutes at room temperature. In the meantime, prepare the avocado cream.
Cut the avocado in half and remove the stone. Remove the flesh with a spoon and put into a bowl. Peel the garlic and chop finely. Puree the avocados, garlic, mayonnaise, lime juice and salt with a blender or mash with a fork. Stir in the cream or sour cream.
Place the Toughened Non-Stick 28cm deep frying pan over a medium heat, add the butter and olive oil and fry the shrimp for a few minutes on each side until they are still tender but well done.
Drizzle with the lime juice and sprinkle with coriander.
Brush the tortillas with a little oil on each side. Individually fry them in the pan for half a minute on each side. Place them over a rolling pin and shape them into a taco. To fill the tacos place them side by side in a dish like a Le Creuset 3-ply Stainless Steel square roaster so that they hold each other up and do not fall over. Fill them with the coriander-lime prawns, mango salsa, grated red cabbage and cheese. Serve the avocado cream separately.
Mellow Confit Garlic Frittata with Gremolata
Serving 4 
Preparation time: 20 minutes
Cooking time: 1 hour 20 minutes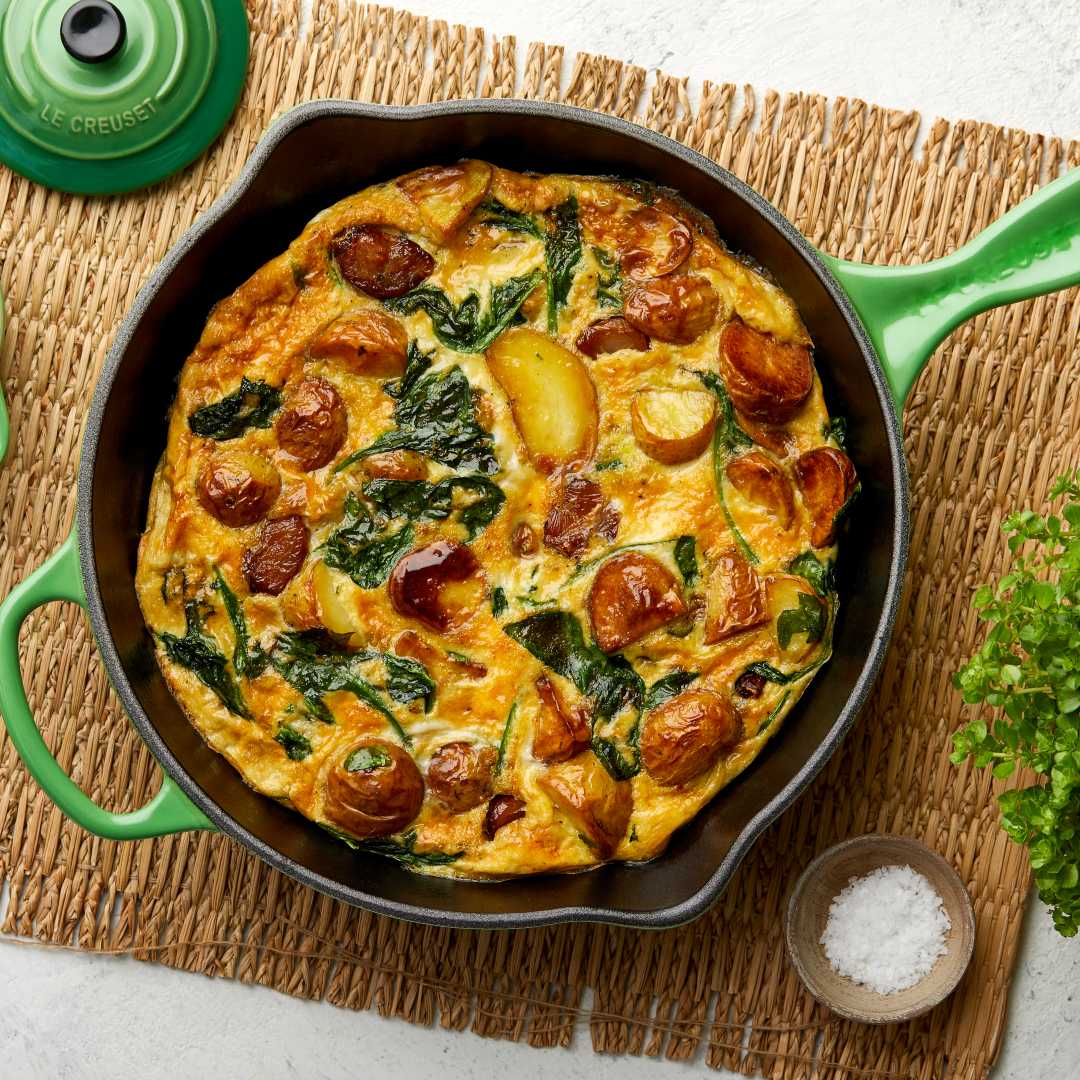 INGREDIENTS
3 whole garlic bulbs
750ml olive oil
500g new potatoes
200g baby spinach
6 eggs, lightly beaten
A large bunch of parsley
Red chilli
Zest of 1 lemon
A pinch of salt
METHOD
Oven temperature, 200°C/180°C fan, gas mark 6.
To make the confit garlic, separate 3 bulbs of garlic into individual cloves, leaving the papery skin on. Put them in a small pan with the oil over the lowest heat possible. Allow them to cook very gently for an hour, making sure the oil doesn't get too hot. If you are concerned about the oil becoming too hot, you can turn the heat off every now and again.
After an hour take the pan off the heat, allow to cool completely and pour the contents into a clean jar.
To make the frittata, preheat the oven to 200°C/180°C fan, gas mark 6. Add the potatoes to the Le Creuset 26cm cast iron frying pan with 2 tbsp of the garlic oil, turning the potatoes over so they are all glistening.
Roast in the oven for 30-40 minutes.
Meanwhile, peel 10 cloves of confit garlic from their papery skins.
Once the potatoes are golden, remove them from the oven (without switching it off) and give them a good shake, loosening any that are stuck to the bottom of the pan.
Put the frying pan back on a medium heat (use an oven glove or handle glove to hold the handle – it will be very hot), and add the spinach, tossing it until it has begun to soften.
Scatter over the garlic cloves.
Add the beaten egg, pouring it evenly around the pan and stirring gently to coat the spinach and potatoes. Cook over medium heat for a couple of minutes then transfer to the oven to cook until the frittata has just set, but still has a little wobble.
In the meantime, quickly make the gremolata. Finely chop the parsley and red chilli together, add the lemon zest and a good pinch of salt.
Serve the frittata in generous slices with the gremolata for spooning over.
Lamb Chops with Peppermint
Serves 4 
Preparation time: 10 minutes
Cooking time: 10 minutes (plus 60 minutes of marinating time)
Difficulty: Easy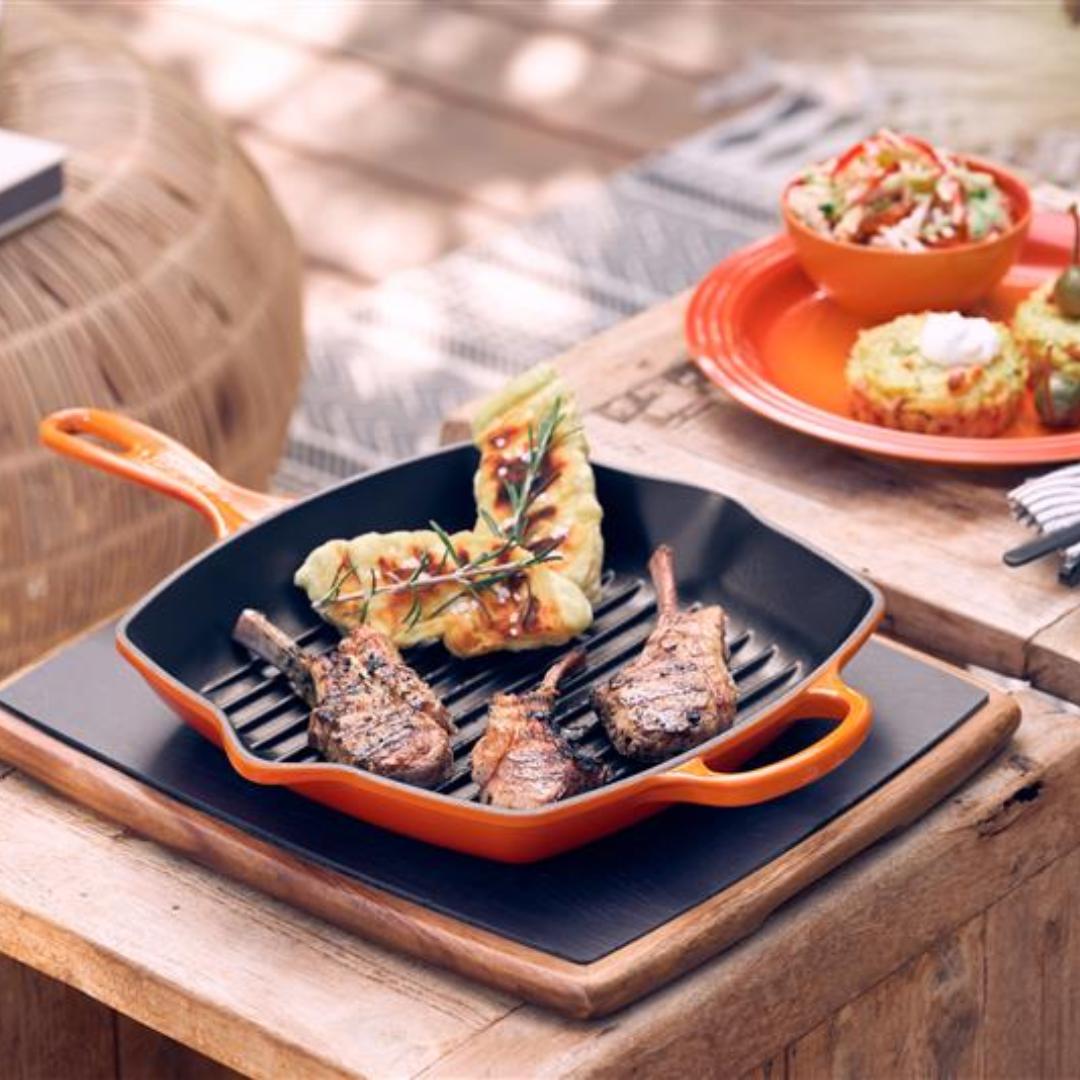 INGREDIENTS
1 lemon, zest and juice
4 sprigs of peppermint, finely chopped
2 garlic cloves, minced
5 tbsp olive oil
8 lamb chops (100 g each)
Freshly ground black pepper
Salt
OTHER: Extra peppermint leaves to serve
METHOD
Add the zest and juice of lemon, mint, garlic and 3 tbsp olive oil to a bowl and mix well.
Coat the lamb chops with half of the marinade and put the rest aside. Cover the chops and marinate them in the fridge for an hour.
Once marinated, remove from the fridge and dab off the marinade with kitchen towel.
Preheat the Le Creuset Cast Iron grillit® by placing it over a medium heat and then add the oil. Put the lamb chops onto the grill (you will need to do this in batches) and cook for 3 minutes before turning and cooking for a further 3 minutes. Put the lamb chops onto a tray and put into a warm over to keep warm while you cook the remaining chops.
Once ready to serve, season with salt and pepper and drizzle the remaining marinade over.