This Spring/Summer, Le Creuset is urging you to make the most of the long days and warm evenings by embracing Nature's Kitchen. Starting in Spring, the first part of the campaign encouraged cooks to look to own grown or locally sourced produce for a fresh abundance of delicious, natural ingredients used in new, specially developed recipes.
As we head into high summer, Le Creuset is moving al fresco to revel in the pleasures of dining with friends and family in the great outdoors. From summer grilling on the beach or beside a lake to family garden parties or street parties celebrating royal weddings, Le Creuset offers up another selection of mouth-watering, fresh and deceptively simple recipes to spice up your summer menu.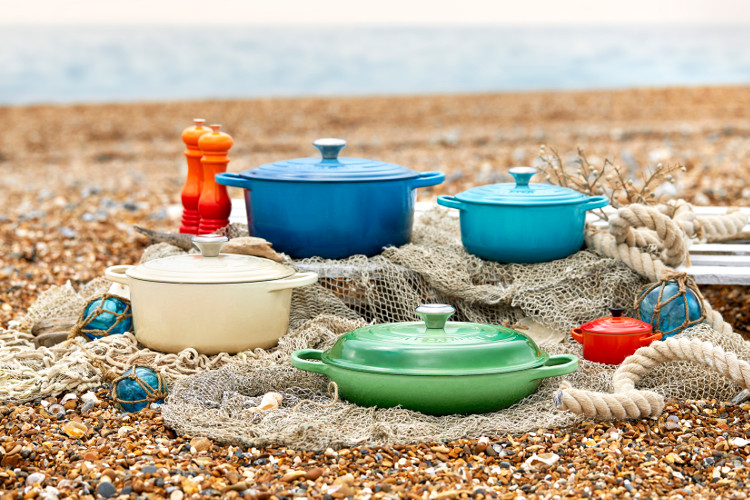 Surf and Turf Summer Mixed Grill
Grilled Mackerel, Spring Salad and Horseradish Dressing
Mediterranean Vegetables & Chicken Kofta Kebabs
Stuffed Peppers with Rainbow Chard, Beef, Leeks, Pine Nuts and Currants
Oven-baked Squash, Sun-dried Tomato, Spinach and Feta Frittata
Plum, Strawberry and Pistachio Polenta Cake
Raspberry & White Chocolate Tart With A Hazelnut Pastry Crust
(click to see the recipe)
---
Summer Grilling
Whether in the garden, park or beside the cooling breeze of the beach, the arrival of summer ushers us outdoors with the barbecue to enjoy the smoky taste of gently charred food. With Le Creuset's signature Cast Iron Grill, you can cook with a precise even heat on the barbecue or recreate that authentic barbecue flavour on a gas or induction hob. Here's three ingredients to try this summer:
Surf and Turf Summer Mixed Grill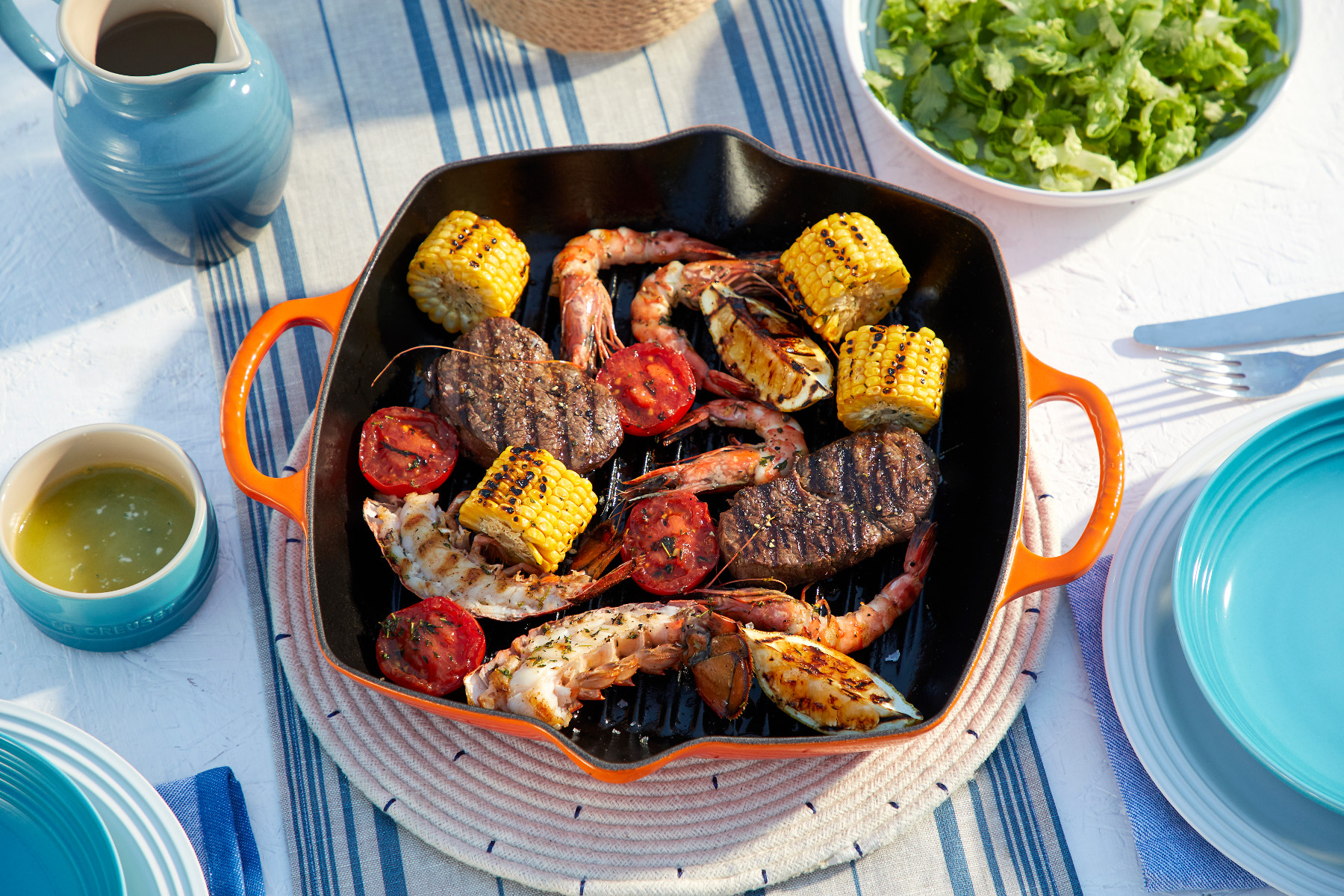 Surf and turf literally means food from the land and the sea, invariably steak and lobster, prawns or shrimps, which are traditionally griddled or barbecued and served together. Some ember-roasted potatoes and a green mixed salad would be the perfect accompaniment.
Serves: 2 as a main, 4 as part of a picnic
Preparation Time: 10 minutes
Cooking Time: 10 minutes
INGREDIENTS
1 corn on the cob, cut across into 4 thick slices
2 small, uncooked lobster tails
12 large raw peeled prawns
2 small vine tomatoes, halved
2 tablespoons cooking olive oil or rapeseed oil
Juice ½ un-waxed lemon (approximately 1 ½ tablespoon)
1 tablespoon fresh thyme leaves, roughly chopped
1 large un-waxed lemon, cut into chunky quarters
2 x 150g pieces fillet steak
Sea salt flakes and freshly ground black pepper
For the herb and garlic butter
25g butter
1 ½ teaspoon chopped parsley
1 ½ teaspoon chopped chives
1 fat garlic clove, very finely chopped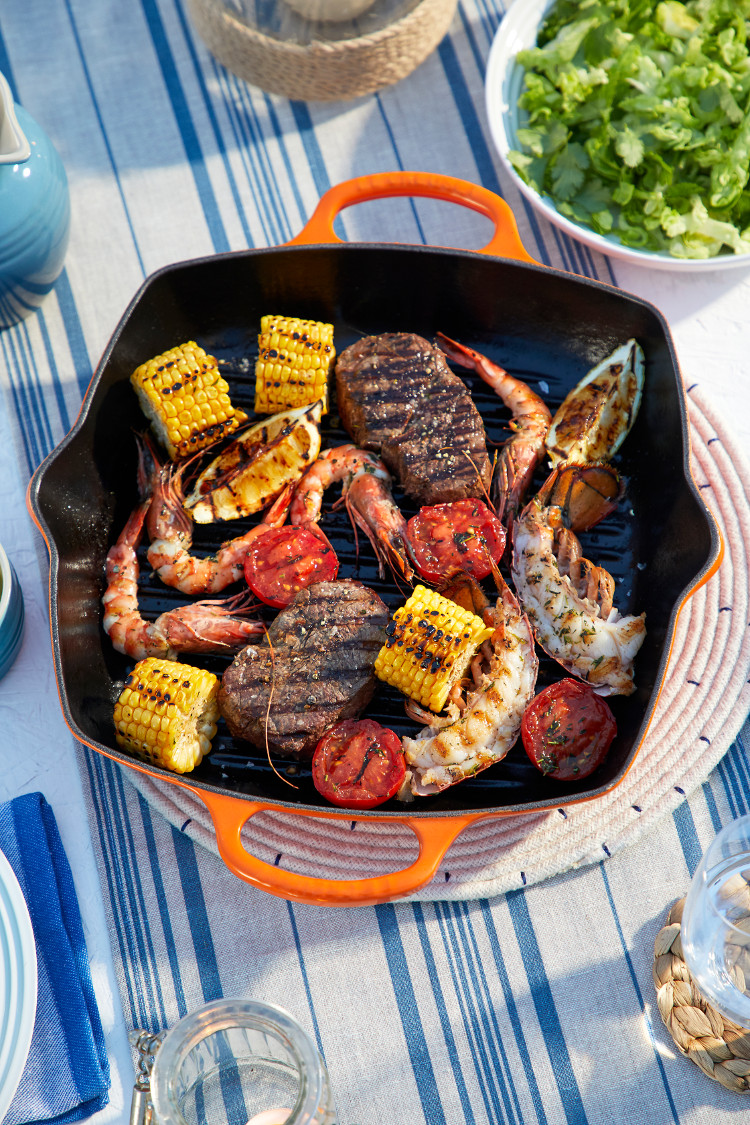 METHOD
Drop the pieces of sweetcorn into a pan of boiling salted water and cook for 5-6 minutes until tender. Drain well and set aside.
Cut the lobster tails in half lengthways and pull out and discard the dark grey thread running along its length. Put the lobster, prawns, sweetcorn pieces, tomato halves, olive oil, lemon juice, half of the thyme and some freshly ground black pepper into a mixing bowl and toss together well. Rub either side of each piece of steak with a little more oil, sprinkle with the remaining thyme and season with pepper.
Put the ingredients for the herb butter into a small pan and melt together over a low heat. Set to one side.
Heat the dry grill pan over a medium heat for a few minutes until hot. Add the pieces of lemon, flesh side down and chargrill for 1 minute on each cut side until marked with the lines of the grill. Remove to a small plate.
Add the pieces of steak to the grill pan and cook for 4 minutes. Turn the steaks over (this will give you steak that is medium-rare) and add the pieces of lobster, cut-side down, the tomato halves and the pieces of sweetcorn to the grill. Cook for 2 minutes more. Turn the lobster, tomatoes and sweetcorn over and add the prawns to the grill. Cook the prawns for 1 minute on each side, continuing to turn the pieces of sweetcorn as they brown.
Once everything is cooked, remove the grill from the heat and drizzle over the herb and garlic butter. Scatter with some sea salt flakes and serve straight away with a green leaf salad and some skinny fries.
Cook's Notes
Cook the food in two batches (half the ingredients first, followed by another batch) on the grill one after the other and adjust the quantities to the number of people and how big the appetites are.
Have your accompaniments for this dish all ready, so that as soon as everything is cooked you can remove it from the grill and serve. If you leave the food on the grill for any longer it will continue cooking because cast iron retains heat very well.