Discover the pleasures of the great outdoors with the new Nature's Kitchen Collection from Le Creuset, make the most of long days and warm evenings surrounded by all that nature has to offer. The new Spring/Summer 2018 collection features Le Creuset's deep, aquatic Marine Blue and fresh Rosemary Geen in its signature Cast Iron, Stoneware, and Salt and Pepper Mills. The collection is complete with Le Creuset's sleeek 3-ply Stainless Steel and Toughened Non-Stick cookware. Whether you grow your own or source locally grown produce, spring is the perfect time to start cooking with the fresh abundance of ingredients and our new delicious recipes make the most ofthe new season's offerings.
Roast Stuffed Leg of Lamb with Beetroot and a Mint, Caper & Honey Sauce
Pork Chops, Purple Sprouting Broccoli and Cannellini Beans with Parsley and Anchovy Sauce
Risotto Primavera (Spring Vegetable Risotto)
Cauliflower Pizza Crust With 4 Toppings
Souffléd Peach and Raspberry Bread and Butter Pudding
Apple, Blackcurrant And Cassis Crumble
---
Roast Stuffed Leg of Lamb with Beetroot and a Mint, Caper & Honey Sauce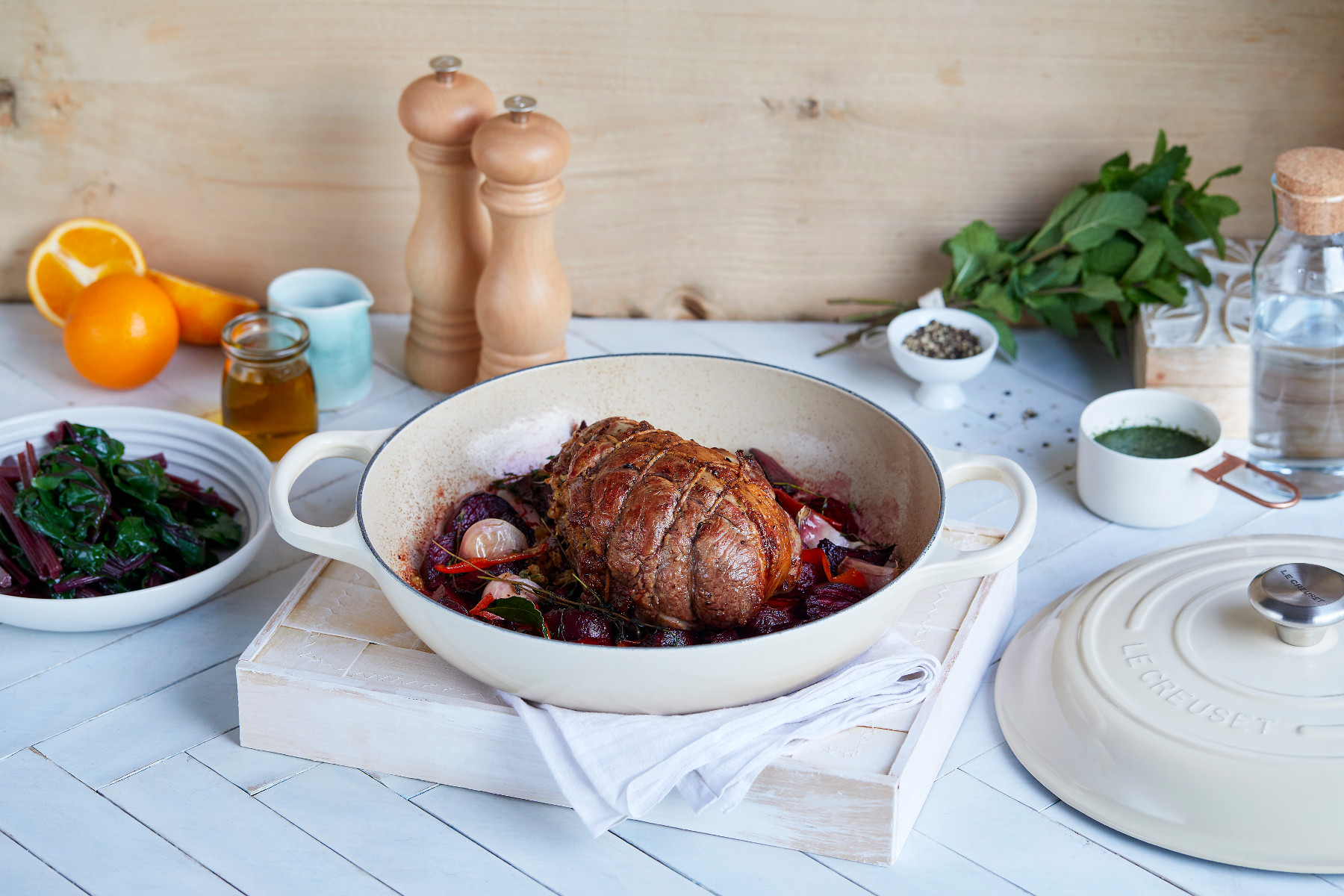 This recipe for a lamb dish is a little different from the usual Easter offering. It uses fresh seasonal beetroot from root to leaves and has Greek inspiration, for whom Easter is the most important religious time in the Christian calendar.
Serves: 6-8
Preparation time: 25 minutes
Cooking time: Approximately 1 ½ hours
INGREDIENTS
1.25kg boned lamb leg
1 tablespoon light olive oil
Salt and pepper
For The Stuffing
60g breadcrumbs
Zest of 1 orange
1 clove garlic, crushed
1 teaspoon chopped thyme leaves
2 teaspoons extra virgin olive oil
Butchers string
2½ tablespoons extra virgin olive oil
2 bunches small to medium beetroot with leaves, peeled and cut into wedges, stalks separated from leaves and chopped
6 cloves garlic, unpeeled and bashed
Peel of half an orange
Juice of half an orange
2 bay leaves
3-4 sprigs thyme
2 tablespoons red wine vinegar
125ml red wine
125ml water
For The Mint Sauce
50g finely chopped mint leaves
2 tablespoons honey
2 tablespoons red wine vinegar
2 tablespoons boiling water
30g nonpareille capers
Salt, to taste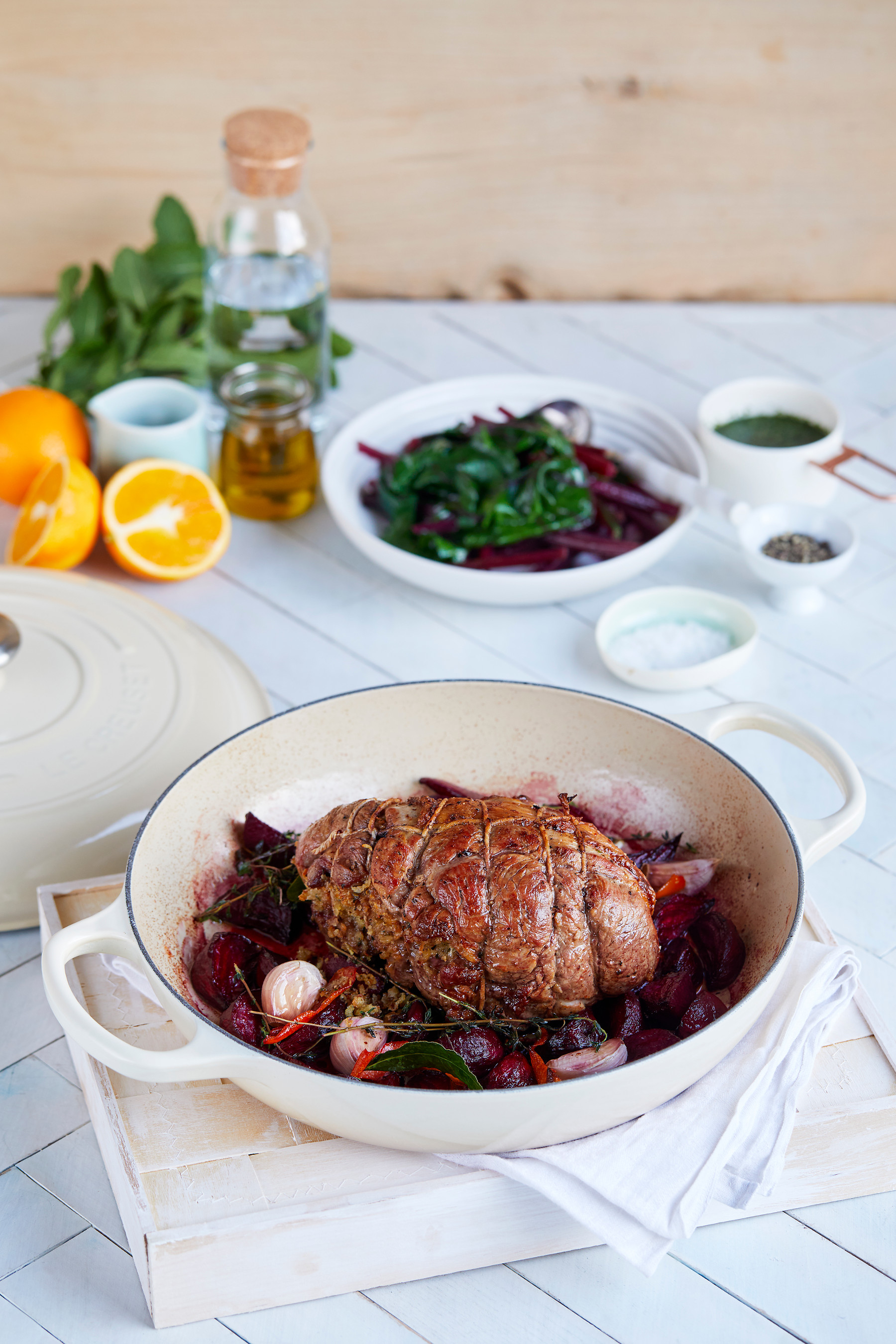 METHOD
Preheat the oven to 180˚C/ Fan 160˚C/ Gas Mark 4
Open out the boned lamb leg and place it skin side down. Trim off any excess sinew and fat and then season well.
Mix all the ingredients for the stuffing together and season. Spread out over the lamb, roll it up and tie it with butcher's string.
Heat the casserole over medium heat with one tablespoon light olive oil and brown the lamb lightly all over. Put aside.
Mix the beetroot wedges in a bowl with the vinegar, herbs, orange peel and juice, one and a half tablespoons extra virgin olive oil and season.
Heat the casserole, adding the last tablespoon of oil over medium heat. Add the garlic cloves and cook for about a minute before adding the beetroot mixture, the red wine and water. Place the casserole lid on and cook over a medium heat for 10 minutes. Remove from the heat and place the lamb on top.
Place in the oven and bake for about 40-45 minutes for pink lamb or until the center reaches 55˚C measured with a meat thermometer.
Remove the lamb from the casserole to a plate, cover with foil, then put aside and keep warm. The beetroot will most probably need cooking further. You can increase the oven heat to 200˚C/ 180˚C Fan/ Gas Mark 6 and finish baking uncovered for a roasted finish. Alternatively, you can put the lid back on and finish cooking over a low to medium heat on the hob. This will take about 10 minutes.
For the mint sauce, mix all the ingredients together in a bowl.
Separately, bring a saucepan of salted water to the boil and cook the stalks and leaves of the beetroot for 10 minutes. The stalks will take longer so add these first. Dress lightly with some more extra virgin olive oil, salt and pepper.
Once everything is ready, remove the string from the lamb and slice. Serve with the beetroot and any juices in the casserole along with the beetroot leaves and stalks and the bowl of mint sauce.
Cook's notes
If you can't find beetroot with its leaves attached, just blanch some spinach or Swiss chard to serve as greens instead.
One could skip the stuffing and use a bone in leg of lamb instead, if desired and make the stuffing but bake it until crispy to sprinkle it over the finished dish for a welcome crunch.