Still feeling full from your Christmas dinner? Even though you may, or may not have, over eaten, there always seems to be so much spare leftover from your festive banquet. Before you reach for the bin, The Hut have collated some of the best leftover Christmas dinner recipes that can be made from your table scraps this festive season. Including curries, gratins, desserts, snacks and more, you can rustle up something quick using your spare food, saving you both money and time …
Learn how to cook efficiently and reduce waste with tips and cookware information from Le Creuset here >>
Turkey, Ham and Vegetable Gratin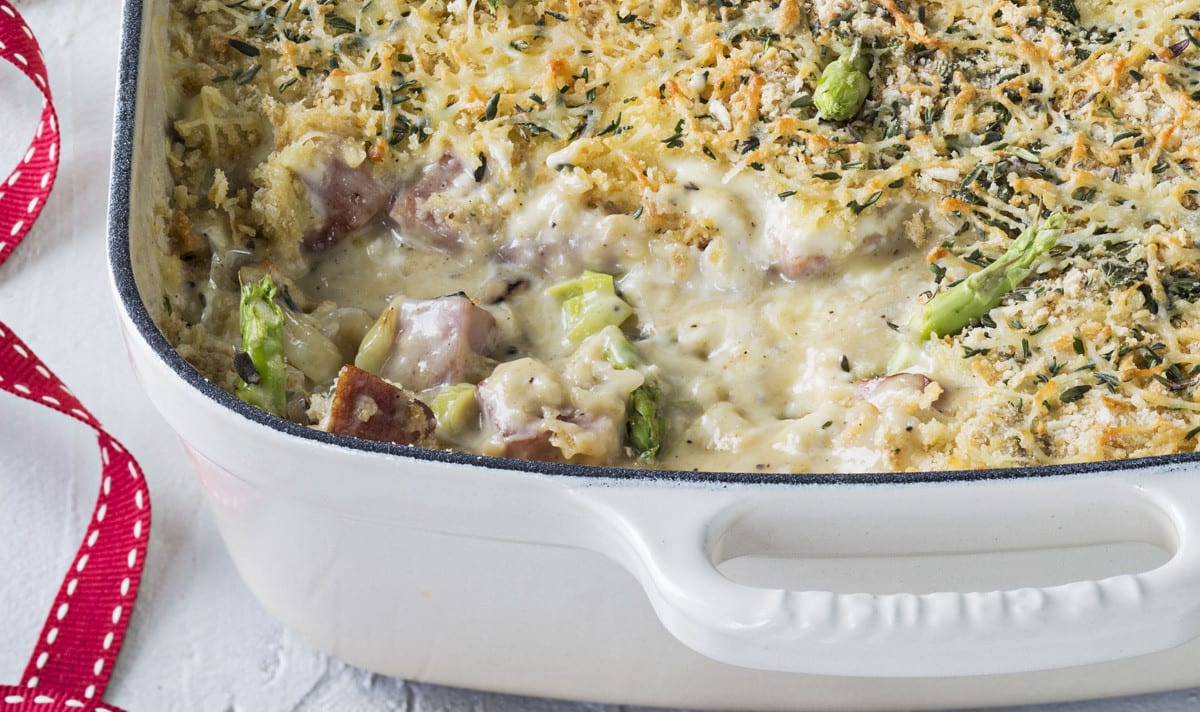 A tasty lunch or supper dish that uses Christmas day leftovers. Simply combine your Christmas leftovers including cooked turkey, ham and assorted cooked vegetables into a freshly made creamy onion sauce, top with a cheesy herby crumb and bake in the oven.
Preparation time: 10 minutes
Cooking time: 15 minutes making + 20 minutes in the oven
Ingredients:
Onion sauce 55g (2oz) butter
2 medium onions – chopped
40g (1½ oz) plain flour
500ml (18 floz) vegetable or chicken stock
200ml (7floz) double cream
1 teaspoon coarse ground black pepper ½ teaspoon ground nutmeg Salt to season
Leftovers
350 – 400g (12 -14oz) cooked turkey meat – roughly chopped
300g (10 ½ oz) cooked ham – roughly chopped
175g (6oz) cooked sprouts – cut in half
350 – 400g (12 -14oz) mixed cooked vegetables such as carrots, leeks, green beans, peas, asparagus or broccoli, in any combination
Optional ingredients
3 to 4 small cooked sage and onion stuffing balls – broken into half
5 to 6 cooked cocktail sausages cut in half
3 to 4 pieces of roasted parsnip cut into smaller pieces Handful cooked chestnuts – roughly chopped
2 tablespoons semi dried cranberries
Topping
115g (4oz) fresh white breadcrumbs
3 tablespoons mixed fresh herbs – chopped (thyme, sage, parsley)
Zest ½ lemon
70g (2 ½ oz) grated strong cheddar cheese
Method:
Oven: 190°C / Fan 170°C / 375°F / Gas Mark 5
Melt the butter for the sauce in the roaster over a low to medium heat on the hob; add the onions and gentle sauté for 4 – 5 minutes until softened and lightly caramelised, stirring occasionally.
Add in the flour and continue to cook for 1 minute. Remove the roaster away from the heat and stir in the stock a little at a time followed by the cream. You may find a silicone coated whisk easier to incorporate the liquid into the butter and flour.
Return the roaster to the heat, bring to a simmer and cook whilst stirring until thickened. Add the pepper, nutmeg and season to taste with salt.
Stir the leftovers into the sauce and continue to heat for 2 – 3 minutes.
Combine the breadcrumbs, herbs, lemon zest and cheese together and sprinkle over the top of the sauce. Transfer to the oven and bake for 20 – 25 minutes until golden and bubbling.
Serve with some crusty bread
Cook's notes:
If the cooked vegetables are a little large cut in half before adding.
Chicken can be substituted for turkey.
You can add as little or as many of the optional as you like.