Following Le Creuset's Food Unearthed Campaign, promoting sustainable cooking solutions, at The Hut we decided to dig into the global problem and educate you on Le Creuset's plans to help reduce the extent to which we waste food.
Unfortunately it is unavoidable sometimes, when you're planning for the week ahead and predicting what you will want to eat each day. We tend to over stock our cupboards and fridges in fear or running out, and never quite make it through every mouthful.
70% of food thrown away in the UK comes from the home
Although the freezer is a prolonging option, it doesn't offer us long term solutions; especially when it comes to the common culprits, fruit and vegetables. Not only does wasting food play havoc with your values on sustainability, but it disrupts your finances and costs lots in the process.
Food waste costs each family almost £60 per month
So instead of throwing away the 'on the turn' produce, here is how you save money, avoid that regrettable feeling as you open the bin lid and learn how to cook once and east twice…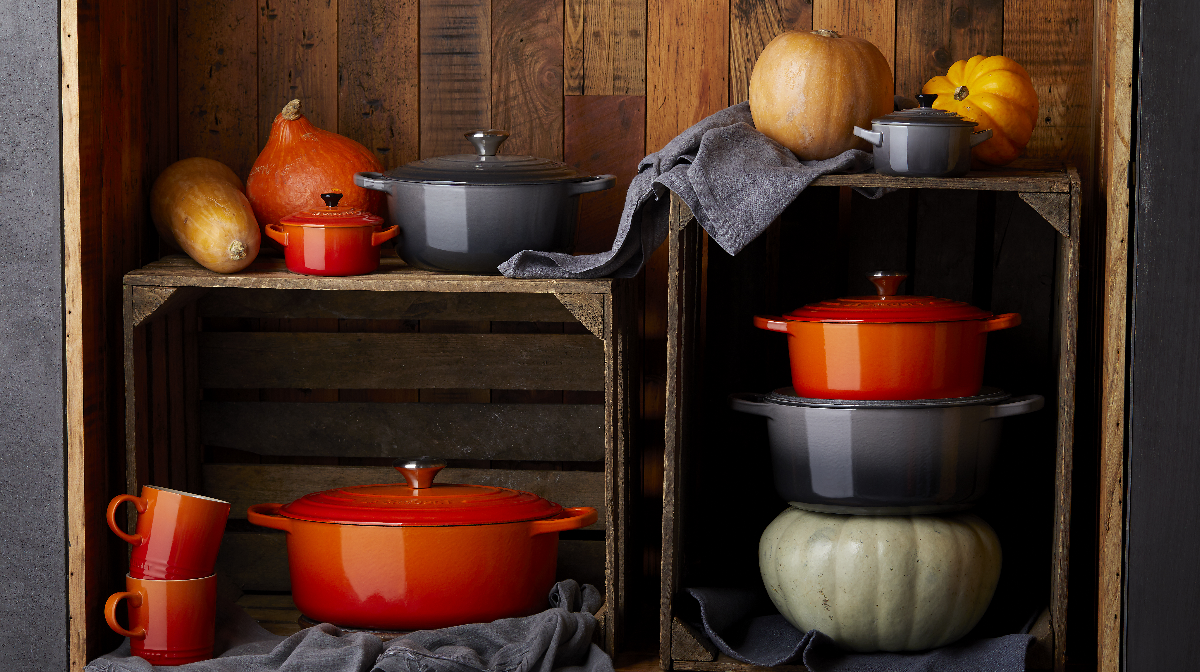 The Top 10 Wasted Foods & What They Can Be Used For:
Potatoes
Milk
Chicken / Turkey / Duck
Carrots
Sliced bread
Bacon and ham
Lettuce and salad ingredients
Apples
Cheese
Yoghurt
Potatoes
Mash: Transform mash into fishcakes or potato scones, or stir into a stew for thickness
Potato Peelings: Well scrubbed potato peelings can make a good soup when added with diced onions sauteed in butter, then simmered with milk until soft; puree till smooth.
Boiled Potatoes: Leftover boiled potatoes can be sliced and transformed into a salad, best served dressed in mustard vinaigrette with red onions and capers.
5.8 million potatoes are thrown in the bin everyday
Milk
Use up old milk in waffles, scones or pancakes easily whipped up in a  non-stick frying pan. Need a healthier option? Use up in a smoothie with sliced bananas, strawberries and blueberries. Or, if the milk is slightly on the turn, use it for making a cheese sauce that can then be whipped into a cauliflower cheese or macaroni and served in Le Creuset stoneware and later reheated if needed!
Chicken / Turkey / Duck
Odd cuttings of chicken, duck and turkey are not to be thrown away. They can make tasty additions to soups, stir fries and curries made easily in a Cast Iron Wok. They can also be great for next day salads either shredded or sliced. Saving chops will also help taste a stock – perfect for a Sunday dinner.
See a great Chicken recipe to feed the family, or prepare meals for the week!
Carrots
A common thought is that the limper the carrot, the less possibilities for its consumption. However, they can be diced and added to stocks, stews, soups and pies. Chopped into baton form, they can be oiled, seasoned and roasted in a Le Creuset Roasting Dish until slightly caramelised. Similarly, they can be pureed and combined with yoghurt and cumin to make a dip or sauce.
Bread
Add chopped apple to any classic french toast recipe to save your older bread slices and make the best brunch for friends and family. For stale loaves, cube or slice to make a sweet or savoury bread and butter pudding. For perfect results try the 26cm Toughened Non-stick Shallow Casserole pan!
24 million slices of bread are thrown away everyday in the UK
Bacon and Ham
Even the smallest of scraps can be saved; and usually they hold the most flavour. Add diced bacon or ham (or both) to pies, frittatas, pasta sauces, quiche, soups or sprinkle over salads for extra taste. If adding to savoury crumbles, try baking in individual Le Creuset Ramekins to spread the taste and the portions. What might look like tonight's cut offs could be tomorrow's flavour.
Lettuce and Salad Ingredients
Well blended with apples, ginger and mint, lettuce and other salad ingredients can be best used in juices and smoothies. Similarly they can be shredded into soups or grill with a Non Stick Ribbed Pan  until caramelised and served alongside a meal with blue cheese, croutons and crumbles bacon.
Apples
Softened apples make a great apple sauce or compote perfect for complimenting a pork dish or even dessert. Pureed apple can be added to desserts or used as fillings in cakes. Similarly, at the dinner table softened apples can make a great addition to a fish dish; fried in butter in a Stainless Steel Pan, served crisp or soft.
Cheese
The hard ends of cheese blocks can be chopped up or grated, frozen and saved to make instant toppings for gratins, pies and pasta bakes; and can be cooked straight from frozen using the Shallow Cast Iron Casserole Dish. If wanting a lunch time snack, use in scones where being past its best doesn't matter a bit.
Yoghurt
On the turn yogurt can be resurrected. Whether you add it to a marinade to tenderise meat or add to salad dressing with olive oil – it's up to you! Add to smoothies to generate thickness or use as a replacement for buttermilk in baking when served in Non Stick Bakeware.
---
Le Creuset Cookware, Stoneware and Bakeware Tips for Cooking Once and Eating Twice: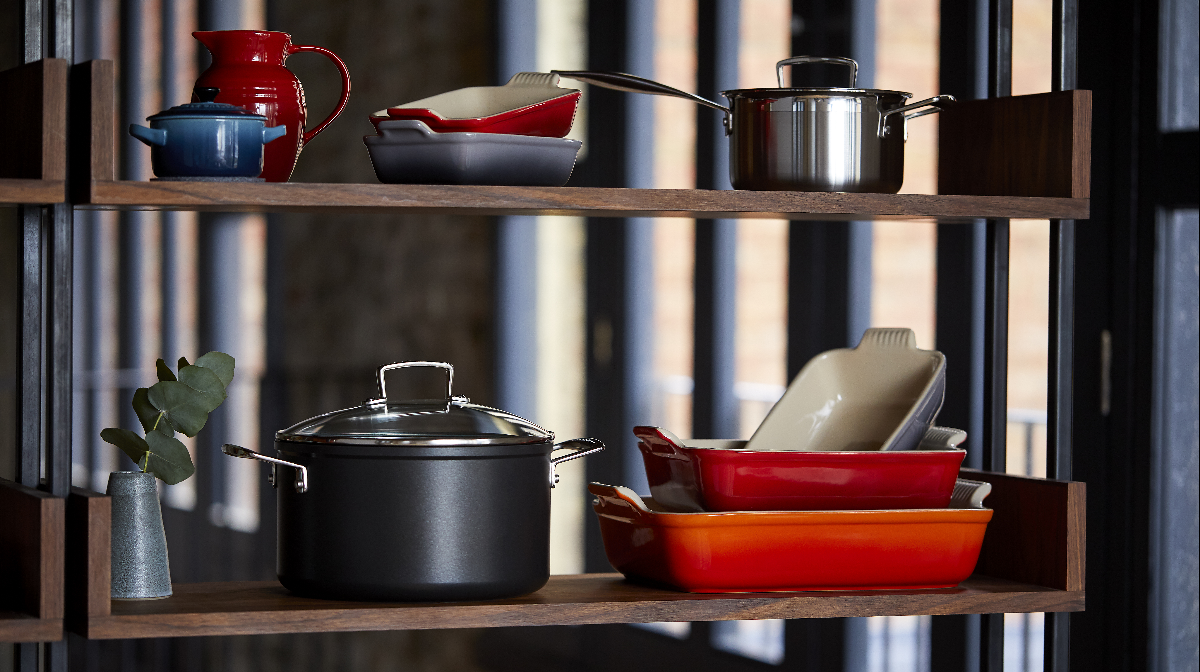 Stoneware
Stoneware can go in the microwave! So if you are reheating last night's leftovers, using the stoneware from Le Creuset is a safe, everyday option.
Stoneware is great for cooking big dishes. Whether you're using up leftovers to cook for the family or preparing food portions for the week, they come in very handy for batch cooking.
Stoneware comes in multiple sizes. Serve in smaller portions or get the most out of your ingredients and use the larger stonewares to save waste overspills that would otherwise go in the bin.
Cast Iron
All cast iron products can go in the oven, grill, fridge, freezer or on a BBQ. So if you have cooked too much and you want to save it for later in the week, just pop it in the fridge or freezer once cool.
Take your leftovers round to feed the rest of your family in a cast iron pot, suitable for the fridge or to pop on a BBQ. Don't let good food go to waste when you're going out; the handles make the pot transportable, giving you no excuses for throwing food away.
3 ply and Toughened Non Stick Pans
You have leftover ingredients that is about to run past its expiry date, but no bakeware for a cake, dish for a frittata or pot for a pie… Use a 3 ply or non stick pan. No only are they great investments for their longevity and durability, but they serve a wide range of purposes.
For baking they provide an equal surface for cooking leaving no heat spots or uncooked areas when placed in the oven. For pies and other one-pot dinners they serve as great pots for cooking on the hob with and then placing in the oven to bake.
Not only do they save you time and money, but they save your hands the washing up too!
---
Safety and Cleaning: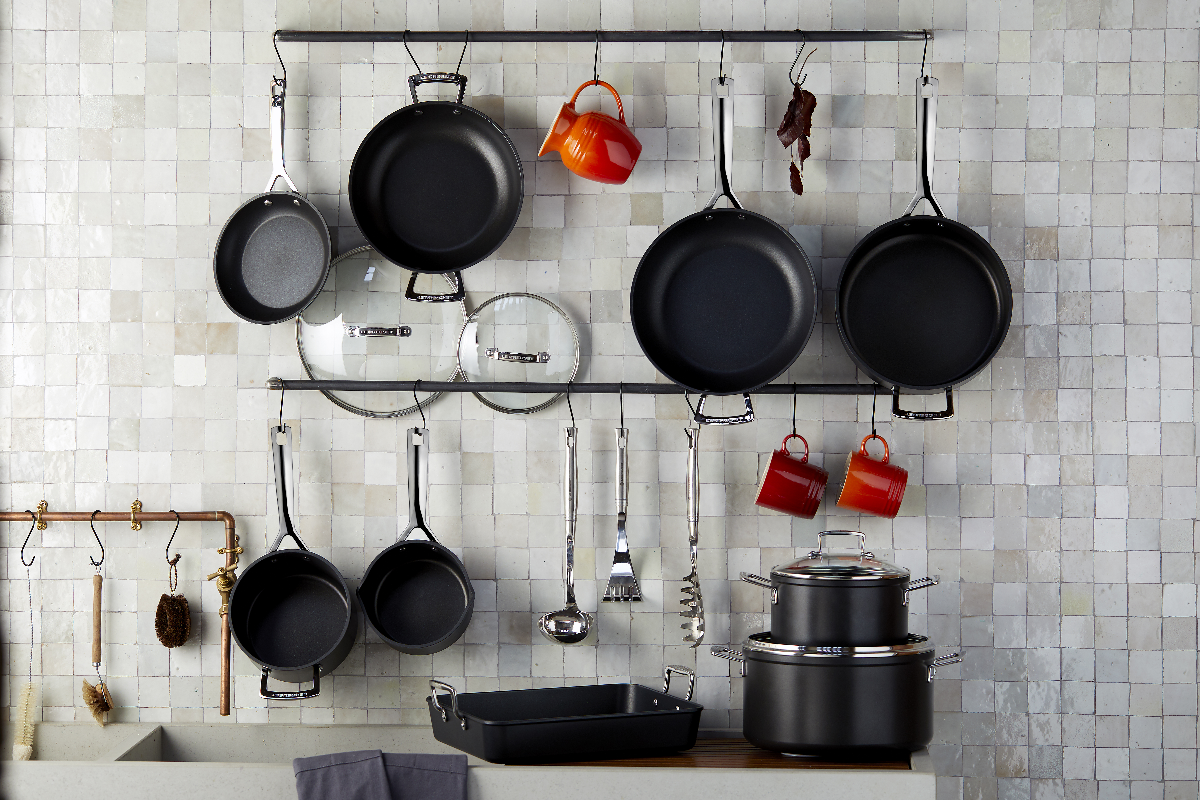 You can put a cold pot in a cold oven and bring to room temperature together but you cannot put a cold pot in a hot oven because it will crack! Although Le Creuset's enamel is the most durable on the market, thermal shock may still occur. So if your casserole dish has been put in the fridge or freeze, remember to put into a cold oven and let both the oven and pot warm up together.
How to clean Cast Iron:
Leave all Le Creuset products to go cold after use.
Once cool,  add hot soapy water and let it soak for around ten minutes, or 20 if needed.
Take a soft sponge, not a scourer, and wipe away food deposits and stubborn marks.
How to clean a 3-ply pan:
To remove limescale on a 3-ply, use lemon juice to help budge stubborn marks.
3-plys can also be put in the dishwasher
How to Clean Bakeware:
Bakeware cannot go in the dishwasher – the dishwasher heat and pressure, over time, removes the quality non-stick technology the bakeware is coated in during production.
---
Chef's Extra Cooking Tips: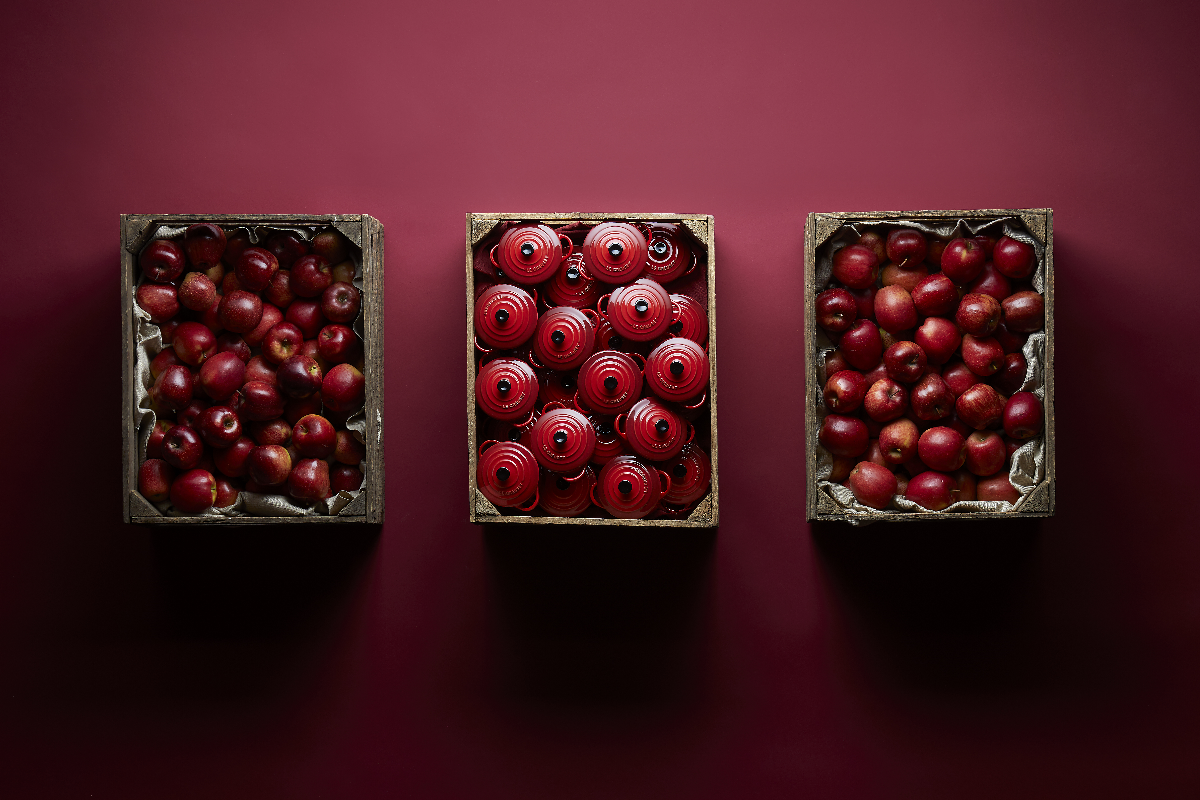 To steam vegetables in Le Creuset cookware you only need 4 tablespoons of water.
For perfect plain rice add one cup of rice and double the amount of water and bring to the boil with the lid on. Once the water has reached boiling point, take off heat and leave for 40 minutes.
When cutting ginger, carve the skin off with a spoon to save waste. Also, when adding to a dish, add in at the end for more flavour to ensure that the taste isn't taken over by stronger flavours.
For egg wash, add a little bit of salt to help break down and spread.
Coconut oil burns at a higher temperature than regular oils and so is highly compatible with Le Creuset products
Expiry dates don't need to be followed strictly. You should use your instinct when using older produce as often vegetables and fruit will be edible.
---
Recipes:
French Toast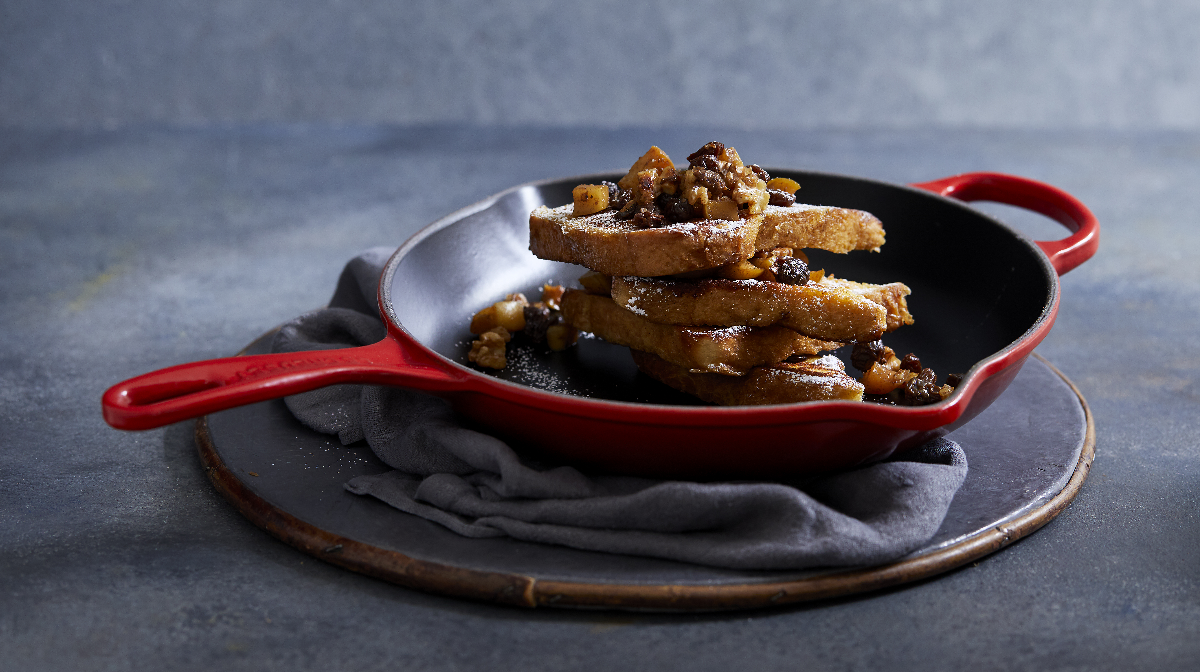 Ideal for a lazy brunch this seasonal spiced, apple topped French toast is perfect for a lazy brunch with friends and family. Make the apple topping in advance and keep your French toast warm in a low oven to make feeding a crowd a breeze. This recipe is a clever classic to use your leftover bread.
Preparation time: 10 minutes
Cooking time: 12 minutes
Serves 4
INGREDIENTS
1 large eating apple, diced
50g sultanas or raisins
1 teaspoon soft brown sugar
1 teaspoon mixed spice
2 large eggs
100ml whole milk
50ml double cream
1 teaspoon vanilla essence
4 thick slices of stale bread
40g walnuts, toasted
Butter and flavourless oil, for frying
Icing sugar, to serve
INSTRUCTIONS
First, make the apple topping. In a small pan combine the apple, sultanas, brown sugar and mixed spice with a tablespoon of water, place on the lid and cook over a gentle heat for 5 minutes until the apple has softened and caramelised. If the mixture becomes too sticky, add a little more water. Remove from the heat and cover until ready to serve.
In a shallow baking dish, big enough for your bread slices, gently whisk together the eggs, milk, cream and vanilla. Lay in the bread and allow to soak for 2 minutes before turning and soaking for a further 2 minutes.
Heat the Signature Cast Iron 26cm Frying Pan on low-medium heat without oil for a couple of minutes so that it gets hot. Then, once hot, add a knob of butter and small dash of oil and spread evenly across the surface of the pan. Lay a soaked piece of bread into the pan and fry for 3 minutes until golden. When the bread is ready to be flipped, it will release easily from the pan. Turn and fry for a further 3 minutes.
Place the French toast on a wire rack or lined baking tray and keep in a warmed oven whilst frying the remaining slices. Add more butter and oil to the pan if required.
To serve, top each slice with a spoonful of spiced apple. Roughly chop the toasted walnuts and scatter over. To finish, sprinkle with a little icing sugar.
Cook's Notes
Trying to avoid refined sugar? Try swapping brown sugar for a little maple syrup or honey instead.
Use both butter and oil when frying – the oil prevents the butter from burning.
Savoury Bread and Butter Pudding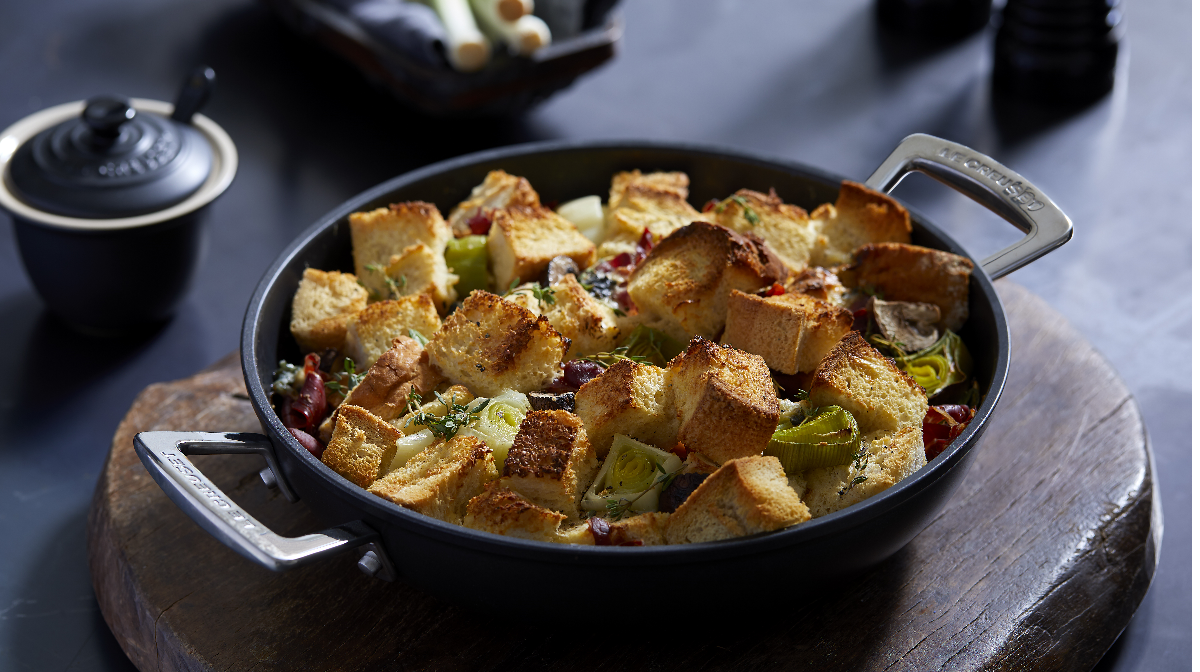 What better way to use up a stale loaf of bread than making a warming bread and butter pudding. Try our savoury version with creamy blue cheese, salty Serrano ham and sweet leeks. This one-pot dish couldn't be simpler but delivers on all flavour levels.
Preparation time: 40 minutes (includes soaking time)
Cooking time: 30 minutes
Serves 4-6
26cm Toughened Non-stick Shallow Casserole
INGREDIENTS
1 large leek, approximately 250g
Knob of unsalted butter
Small white onion, sliced
1 garlic clove, crushed
4 sprigs of thyme, leaves picked
Pinch of sea salt
100g chestnut mushrooms, quartered
500ml whole milk
3 eggs
1 teaspoon ground nutmeg
1 stale loaf, approximately 400g
75g soft blue cheese
75g Serrano ham
INSTRUCTIONS
Preheat the oven to 200˚C/ Gas Mark 6
Slice the leek into 2cm rounds and place into a saucepan of boiling water. Blanch the leek for 3 minutes to soften. Drain and set aside.
In the Toughened Non-Stick 26cm Shallow Casserole, melt a knob of butter. Add the sliced onion and sauté for 5 minutes over a medium heat. When softened and beginning to caramelise, add the garlic and thyme to the pan along with a pinch of salt. Continue to fry for a further 3 minutes. Add the mushrooms and leek to the pan and remove from the heat.
In a large jug combine the milk, eggs and nutmeg and lightly whisk. Cut or tear the bread into 4cm chunks.
Combine half the bread with the onion and leek mixture in the pan and then dot half the cheese and Serrano ham equally around the pan. Layer up the remaining bread, cheese and ham over the top and pour over the egg mixture.
Allow the bread to soak for at least 30 minutes before cooking. Whilst the bread is soaking preheat the oven to 190˚C/ Gas Mark 5. Bake the bread and butter pudding for 25 – 30 minutes until golden and crispy.
Serve with a green salad or seasonal vegetables.
Roasted Paprika Butternut Squash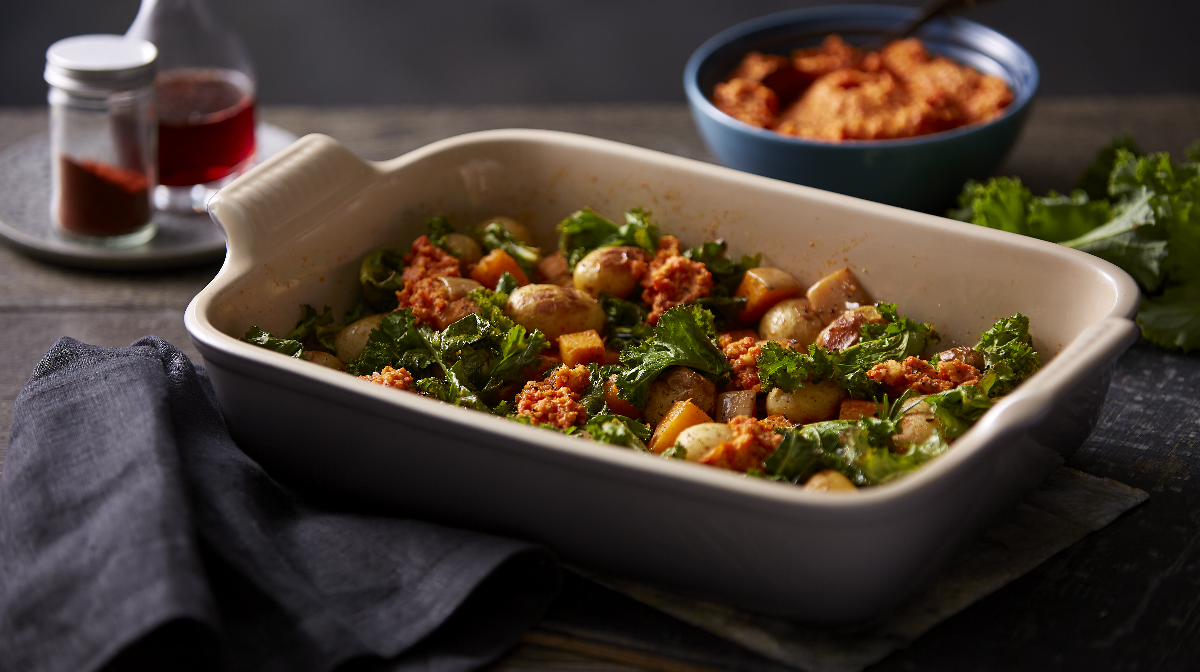 Butternut squash is the ultimate autumnal vegetable – vibrant in colour and flavour when roasted. This roasted vegan dish is hearty and comforting. Great as a main meal or a simple but stunning side.
Preparation time: 15 minutes (includes par boiling potatoes)
Cooking time: 45 minutes
Serves 4, as a hearty side
32cm Stoneware Heritage Rectangular Dish
INGREDIENTS
500g baby potatoes, halved
For the Romesco Sauce
100g blanched almonds
50g blanched hazelnuts
50g stale bread
200g jar of roasted red peppers
1 teaspoon tomato puree
2 tablespoon red wine vinegar
2 heaped teaspoon smoked paprika
Salt and pepper, to season
For the Roasted Butternut
400g butternut squash, peeled and diced
3 sprigs of rosemary, finely chopped
3 teaspoon smoked paprika
Sea salt
1 tablespoon rapeseed oil, and a little extra for the kale
100g winter kale
INSTRUCTIONS
Preheat the oven to 200˚C/ Gas Mark 6
Place the potatoes in a pan of salted boiling water and parboil until you can just insert a knife (al-dente). Drain and place in the Stoneware Heritage Rectangular Dish.
In the meantime, make the Romesco sauce. Toast the nuts in a dry pan or alternatively in a hot oven for a couple of minutes, ensuring they don't burn. Place the nuts along with all the other ingredients in a food processor and blend until smooth. Set aside until ready to serve.
Add the butternut squash to the potato in the dish along with the rosemary, 2 teaspoons of paprika and a generous pinch of salt. Drizzle with the oil and toss to coat all the vegetables. Bake in the oven for 35 minutes turning the vegetables a couple of times during cooking.
For the last 10 minutes of cooking toss the kale in with a dash more oil, the final teaspoon of paprika and a little seasoning. You may want to stir the kale into the other ingredients, so the leaves do not burn on the top.
Remove the roasted vegetables from the oven and dot in the Romesco sauce. Season with a little cracked black pepper and then serve in the dish straight to the table.
Cook's Notes
If you have a nut allergy try swapping the almonds and hazelnuts for toasted seeds such as sunflower seeds. Simply use 100g seeds and 100g bread with the remaining sauce ingredients.
Hasselback Potato Bake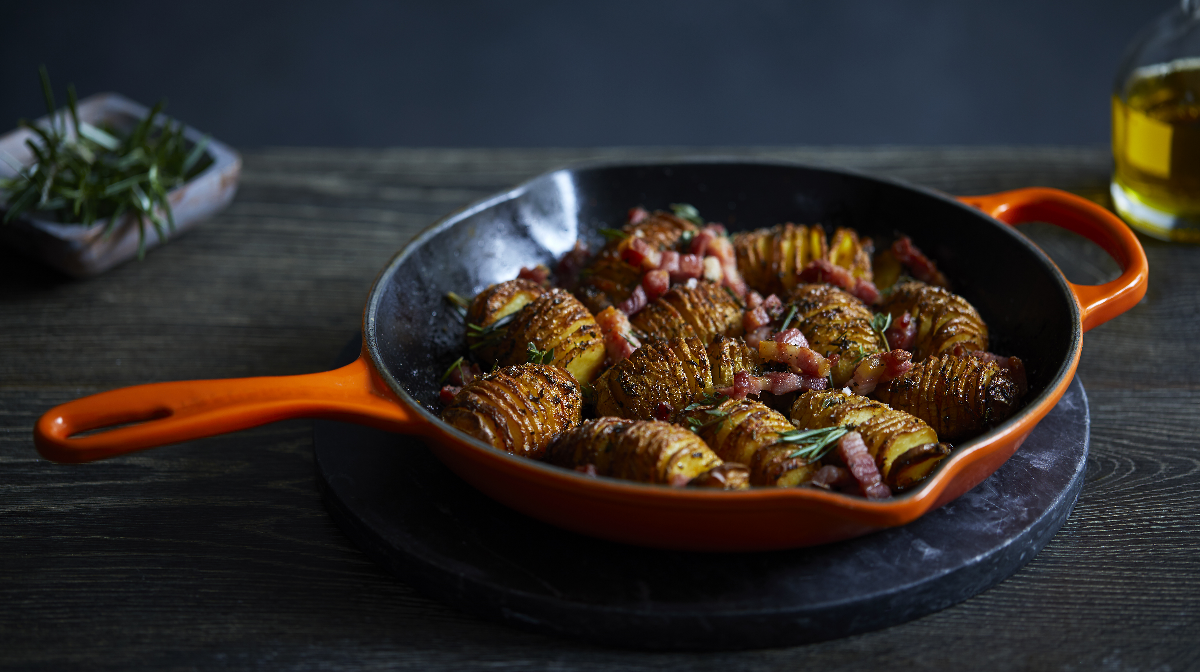 Always ending up with surplus potatoes or bacon? This simple but delicious dish is an exciting way to use up the excess – and it's usually even more yummy than the original meal the ingredients were intended for in the first place!
Preparation time: 5 minutes
Cooking time: 1 hour
Serves 2
INGREDIENTS
8 potatoes (waxy varieties like Charlotte or Anya are best as they hold together well)
5 tablespoons melted butter or olive oil
4 teaspoons smoked paprika
2 tablespoons thyme
2 tablespoons rosemary
2 tablespoons parsley
2 teaspoons smoked sea salt
200g lardons
INSTRUCTIONS
Preheat the oven to 200°C/ Gas Mark 6.
Slice a thin layer off the length of a potato – this creates a base for hasselbacking them. Place the potato flat side down on a surface, then with a sharp knife slice three-quarters of the way through it, about ½ cm apart. Repeat with all the potatoes.
Finely chop all the herbs then place in a bowl with the oil and spices. Brush the potatoes with the herb mix, sprinkle them with smoked sea salt and nestle them in the skillet pan.
Bake the potatoes in the oven for 50 minutes then top with lardons and then bake again for additional 10 minutes.
Cook's Notes
Eat this with steamed broccoli or a fresh green salad spritzed with lemon.
Crispy Harissa Chicken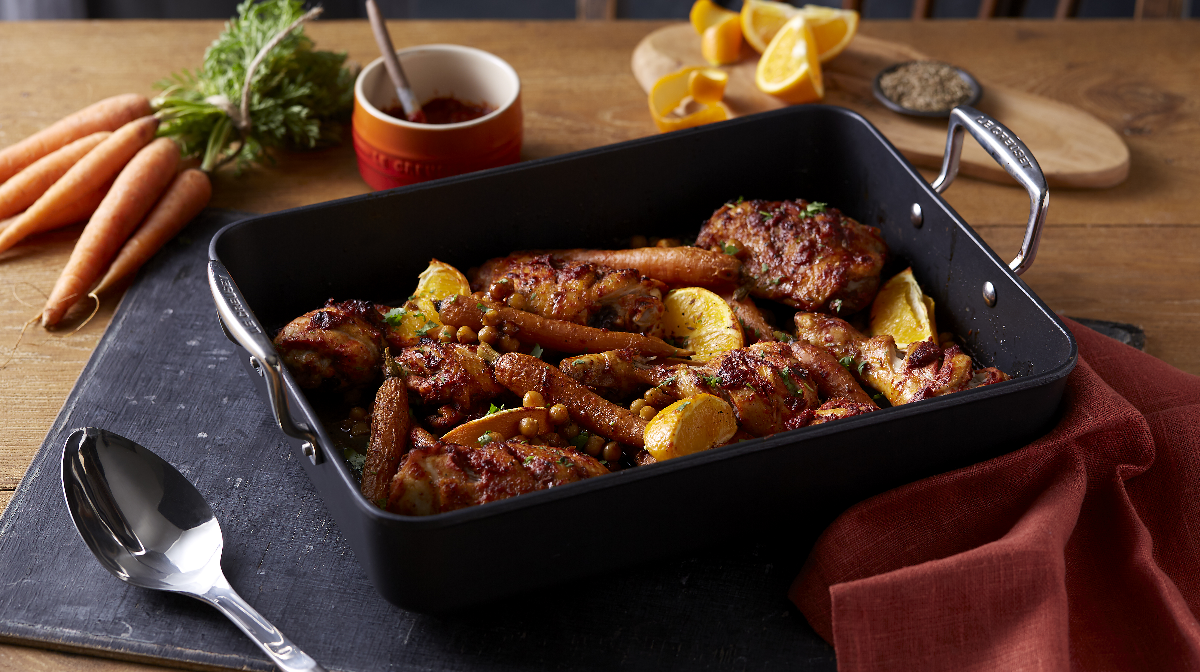 The aromatic spice of the Middle East brings a little warmth to the cold winter months. An easy, 'one-tray' dinner, this dish is packed full of flavour. With a hint of orange and sticky, caramelised carrots this harrissa chicken is a real crowd-pleaser.
1 hour (includes marinating time)
Cooking time: 1 hour
Serves 4-6
INGREDIENTS
60g harissa paste
1 teaspoon tomato purée
2 teaspoons lemon juice
1 tablespoon flavourless oil e.g. vegetable or corn oil
1kg skin-on chicken thighs and drumsticks
300g baby carrots with leafy tops
30g butter, melted
1 teaspoon ground cumin
1 teaspoon cumin seeds
1 tablespoon maple syrup
1 orange, zest and juice
1 tin chickpeas
34cm Toughened Non-Stick Rectangular Pan
To Serve
Small bunch of coriander, roughly chopped
Orange wedges
INSTRUCTIONS
In a large dish, combine the harissa paste, tomato purée, lemon juice and oil. Score the chicken through the skin and just into the flesh. Add the chicken portions to the baking dish and rub the marinade into each piece, cover and place in the fridge ideally for 1 hour. Preheat the oven to 180˚C/ Gas Mark 4.
Clean the carrots using a scrubbing brush removing any dirt and place in the Toughened Non-Stick 34cm Rectangular Pan. Combine the melted butter, cumin powder, seeds, maple syrup and zest and half the juice of the orange. Pour over the carrots, shake to coat and cover the roaster tightly with foil. Roast in the oven for 30 minutes.
Take the carrots out of the oven and discard the foil. Drain the chickpeas, scatter into the roasting tin and stir into the carrots and cooking juices. Squeeze over the remaining orange juice. Place the marinated chicken on top of the carrots and chickpeas and return to the oven for a further 30 minutes, until the skin is crispy and the chicken is cooked through.
Take to the table and serve with a sprinkling of coriander and extra orange wedges.
Cook's Notes
If you find the carrots are starting to caramelise too quickly, add a dash of water to the pan to stop them from burning. Note though, you want then caramelised and sticky so don't add too much.
Shop the full range of Le Creuset at The Hut >>