Admittedly, the office probably isn't your favourite place to spend an afternoon. Even if you're in your dream job, spending 90% of your day glued to your desk isn't the most fun way to while away the hours…
Offices are often extremely bland in their décor – white desks, a mess of cables protruding from behind computer screens, and used coffee cups discarded for as far as the eye can see. This can only increase the feeling of monotony and boredom throughout the day – after all, if your work-space isn't particularly creative or inspired, how are you expected to be?
That's where we come in; here at The Hut, we believe that every office space should feel special and inviting, to help increase productivity and boost morale. We've got five ways to help transform your drab desk into a modern and contemporary work-space – you'll be looking forward to Monday mornings in no time!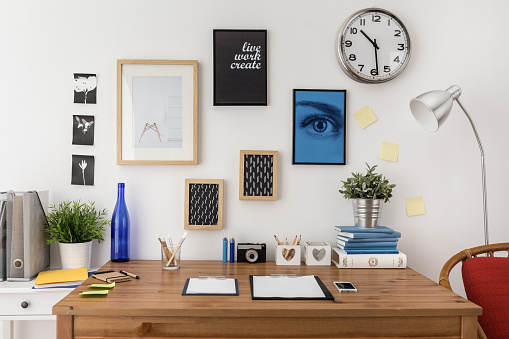 Personal Touches
You spend the majority of the week at your desk, but chances are, there are very few personal touches to be found on your workstation. It's time to change that – why not pop a pretty photo frame next to your PC?
Won't wash with the boss? Have some of your favourite snaps printed in a strip, photo-booth style, and tape to the side of your monitor.