While we're all starting to gear up for the change in weather, it's time to turn to batch cooking, a trend with continues to help us get through our week. Whether it's batch cooking for yourself because you don't want to spend your time cooking every evening whipping up a 5-star meal or whether you have a fair few mouths to feed and want to make something that will last a little longer it's easy to lack inspiration. But when the drive to put your chef's hat on hits, batch cooking something to keep for later is a great way of making sure you have great homemade and healthy food, even when you can feel the local takeaway calling your name.
Helping you cook more effectively with a whole host of delicious, wholesome meals, we've paired up with Le Creuset to share our favourite batch cooking recipes. All of these batch cooking recipes will make 4-6 servings, perfect for feeding the family, and will keep in the fridge for 2-3 days as well as being freezer friendly. Let's get cooking! 
#1 Saffron and Honey Chicken Casserole with Orange & Ginger Sauce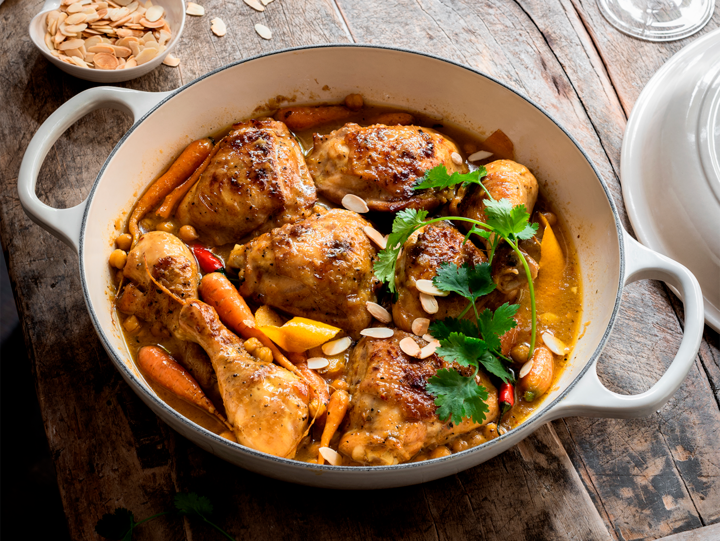 A fragrant one-pot chicken recipe inspired by Moroccan flavours, this casserole is an easy and warming midweek meal. Served with potatoes or rice depending on your mood it's a delicious recipe you will want to cook again. Preparation time: under 30 mins 
Cooking time: under 1 hour 
Ingredients
30ml (2 Tbsps) olive oil
Salt and freshly cracked black pepper
1kg chicken pieces (thighs and legs)
1 red onion, finely diced
2 cloves of garlic, minced
4cm piece of ginger (1 Tbsp), grated
1 Tbsp (15ml) all-purpose flour
250ml (1 cup) chicken stock
1 red chilli, whole, cut lengthways
Peel of 1 orange
200ml freshly squeezed orange juice
1 Tbsp (15ml) lemon juice
A pinch of saffron steep in 30ml hot water
1 Tbsp (15ml) honey
300g baby carrots
400g tin chickpeas, rinse and drained
50g almond flakes, toasted
Fresh coriander, to finish
Method
Heat 1 tablespoon of oil in a Le Creuset 30cm Signature Buffet Casserole. Season the chicken with salt and pepper. Brown on both sides until golden. Remove and set aside.

Add the remaining oil to the pan and sauté the onion until softened about 6-8 minutes. Stir in the garlic and ginger and cook for another minute. Scatter over the flour and mix to coat the onions. Slowly pour in the stock, constantly stirring until the sauce thickens. Add the chilli, orange peel and juice, lemon juice, saffron water, and honey.

Return the chicken to the pan, along with any resting juices. Cover and simmer for 25 minutes.

Add the carrots and cook for a further 20 minutes or until the carrots are tender and the chicken cooked through. Add the chickpeas and heat through, about 5 minutes. Adjust seasoning if needed.

To crisp, the chicken skin, place it under the grill for several minutes. Finish with almond flakes and fresh coriander.
#2 Spicy Indian Chicken Tikka Masala with Trinidadian Doubles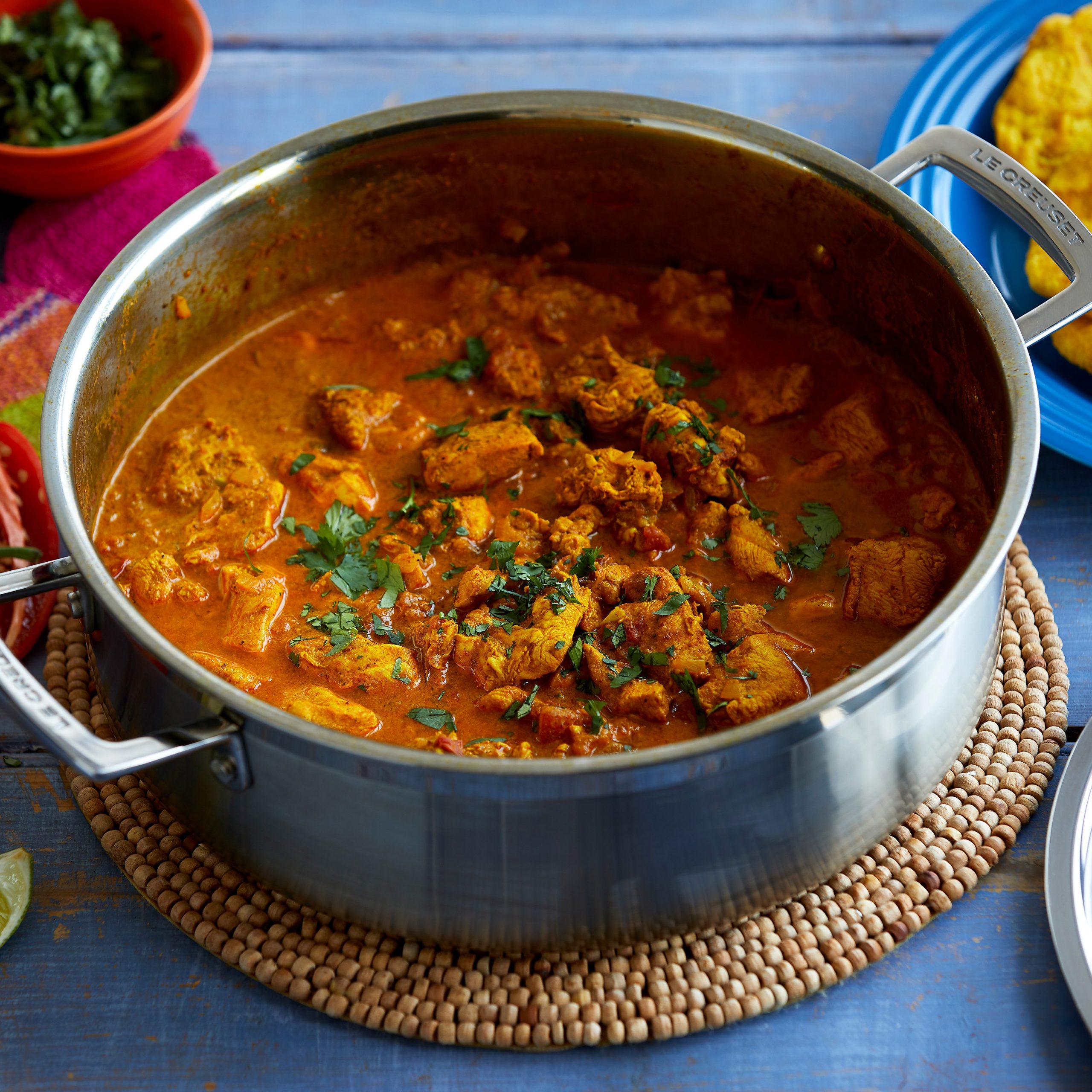 A takeaway favourite with a homemade twist, this batch cooking dish is big on flavour while being easy on the effort. When all the ingredients are prepped, it's simply a case of throwing it into your pot and letting it simmer away and tenderise. Level up the dish by trying your hand at making some Trinidadian doubles, a traditional flatbread used to scoop up all the flavour.
Preparation time: 10 minutes plus overnight marinating and 1 hour rising 
Cooking time: 30 minutes 
Ingredients
Doubles (Flatbread) 
350g flour
2 tablespoons turmeric
1 teaspoon salt
1 teaspoon dried active yeast
250ml warm water
Tikka Masala
1.4kg chicken breasts
1 tablespoon tikka masala powder
2 teaspoons turmeric
2 teaspoons chilli powder
2 teaspoons coriander
2 teaspoons cumin
2 teaspoons minced garlic
2 teaspoons black pepper
2 teaspoons salt
250g plain yoghurt
1 tablespoon vegetable oil 
Juice 1 lemon
1 medium white onion, diced 
1 medium red onion, diced 
3 tomatoes, diced 
2 bay leaves
2 chilli peppers
1 cup water
50g fresh coriander 
Vegetable oil (enough for deep frying)
Method
Preheat the oven to 200°C / Fan 180°C / Gas Mark 6
Cut the chicken breasts into medium sized cubes, then season with half of the salt, black pepper, minced garlic, turmeric, chilli powder, coriander, masala powder and yoghurt. Mix together well and then marinate over night in the fridge for best results.

Prepare the doubles by adding the flour to a large mixing bowl with the turmeric, salt and dried active yeast then mix together.

Gradually add warm water to the flour and knead until it forms a large dough ball. (The dough should be soft and sticky, so add more water or flour until it is right). Then cover with cling film and let it sit for one hour at room temperature or until doubled in size. 

Add the vegetable oil to a pan. Place over a medium heat, and then add the onions and the remaining half of the minced garlic and sauté until soft. Add the rest of the turmeric, chilli powder, coriander, masala powder and add the 2 bay leaves and cook until brown. Then add the chopped tomatoes and cook until you make a thick paste.

Add the marinated chicken breast to the pan with the other half of the yoghurt and mix into the sauce then put the lid on the pan and cook until the meat is almost tender, making sure you stir occasionally.

Garnish with fresh coriander and set aside. 

Finish by making the doubles, add a little vegetable oil to the risen dough and then break off the dough and roll into small balls. Carefully flatten the balls to form a medium circle shape. This will produce 8-10 medium sized doubles flatbreads.

Add some vegetable oil to a deep fat fryer or a casserole and heat to around 180˚C and fry for 30 seconds. Once done place the doubles on a paper towel to drain.

Serve the chicken tikka on top of the doubles and enjoy.