With legendary campaigns and runway looks, there's a reason why Calvin Klein has been a household name for over five decades. As well as their ready-to-wear designs in mens and womenswear, Calvin Klein underwear is one of the brands most popular offerings. From their boxers to their fabric bras, comfort and support is just as much a priority as style, with their quality composition making Calvin Klein underwear sets a must-have. From what a size M means to how to measure your bra size, find all the answers you need in our Calvin Klein underwear fit guide.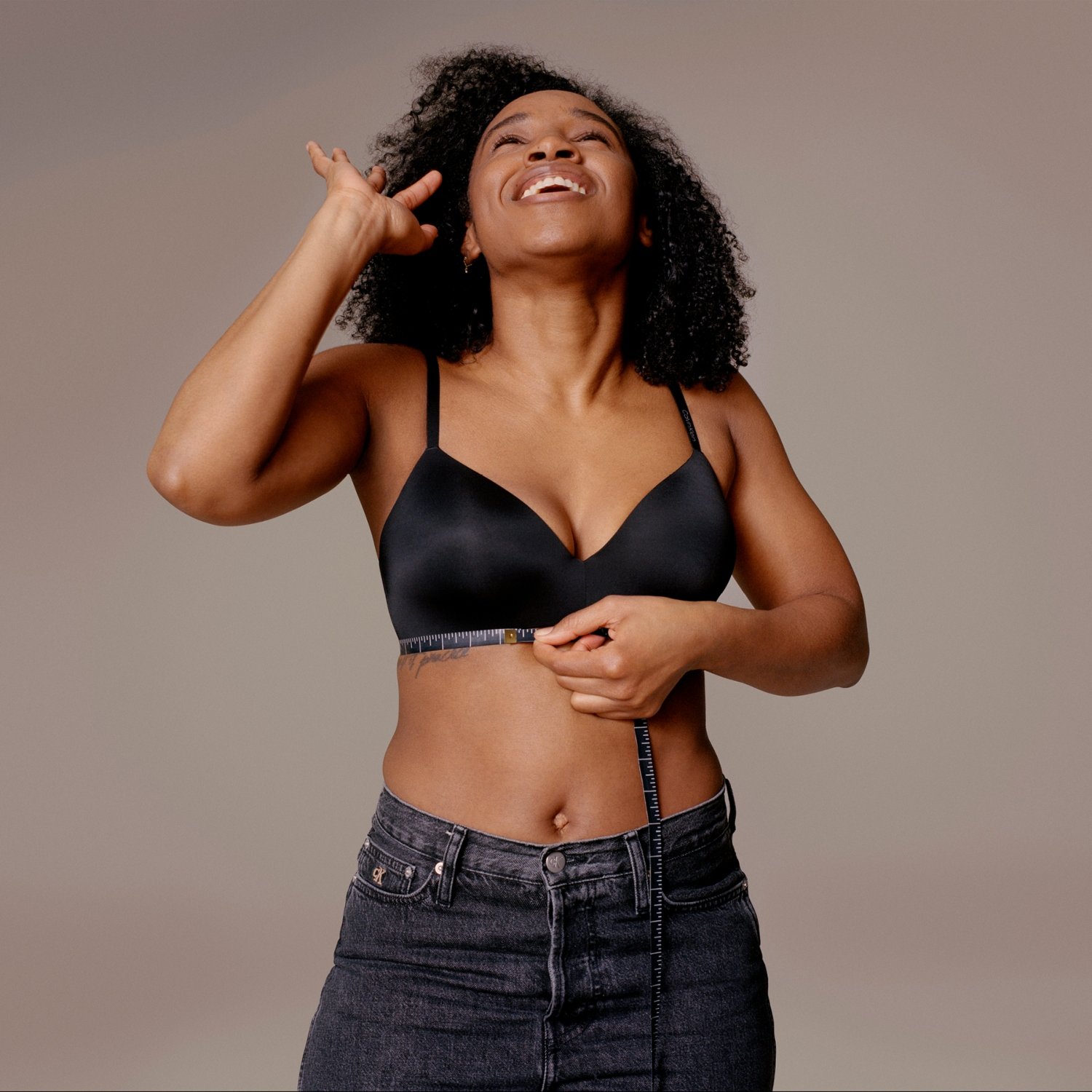 #1 How does Calvin Klein Underwear fit?
Calvin Klein underwear fits true to size. If you're ever unsure on which size to get use our handy guide below. 
It's not uncommon not to know which size you are, so don't worry. Here's a useful guide explaining how bra sizes work, so you can finally be in the know!
#2 What bra size is a S, M, L, XL in Calvin Klein underwear?
Confused by the S, M, L or XL sizing of Calvin Klein soft bras? Use our guide below to easily convert into your size.
Step one – Find your size in the chart below and take note of the bust number associated to your size.
Step two – Take a look in the second table and find which bust measurement you fit into and voila!
| | | | |
| --- | --- | --- | --- |
| BAND SIZE  | CUP SIZE |           BUST MEASUREMENT |           BAND MEASUREMENT  |
| 32 | A |             83.5 |            69-71 |
| 32 | B |               86 |            69-71 |
| 32 | C |               89 |            69-71 |
| 32 | D |             91.5 |            69-71 |
| 32 | DD |              94 |            69-71 |
| 34 | A |              86 |            74-76 |
| 34 | B |              89 |            74-76 |
| 34 | C |            91.5 |            74-76 |
| 34 | D |             94 |            74-76 |
| 34 | DD |           96.5 |            74-76 |
| 36 | A |             89 |            79-81 |
| 36 | B |            91.5 |            79-81 |
| 36 | C |             94 |            79-81 |
| 36 | D |           96.5 |            79-81 |
| 36 | DD |             99 |            79-81 |
| 38 | A |           91.5 |           84-89 |
| 38 | B |            94 |           84-89 |
| 38 | C |           96.5 |           84-89 |
| 38 | D |            99 |           84-89 |
| 38 | DD |          101.5 |           84-89 |
| | |
| --- | --- |
| SIZE | BUST |
| XS | 79-84 |
| S | 84-89 |
| M | 89-94 |
| L | 94-99 |
| XL | 99-104 |
| 1XL | 105-110 |
| 2XL | 111-115 |
| 3XL | 116-121 |