Founded in the West Yorkshire town of Dewsbury in 1842, Kilner this year celebrates 175 years since Mr John Kilner first established his glassworks starting out with his handmade glass bottles and jars. Mr Kilner's high-quality glassware and the invention of the brand's now iconic vacuum pressure seal saw the brand soon establish itself as a kitchen staple used around the United Kingdom, and later the world, for preserving and pickling fruit and vegetables.
More recently, however, an ever-expanding Kilner range and the brand's imaginative following have encouraged Kilner users to get creative with the brand's signature glass jars and bottles. From accessorising your home and garden to handy storage creations, Kilner fans have helped us discover the great versatility of its glass jars and its plethora of alternative uses. Without further ado, The Hut takes a look at the top 10 unusual but brilliant ways to use your Kilner jars.
For your chance to WIN £175 worth of Kilner goodies, share your Kilner creations with @Kilner_UK on Twitter or Instagram by using the hashtag #MyKilnerStory or head to Kilner's Facebook page for more information.
Hanging Lights
Ideal for adding a vintage edge to your home or industrial spaces, Kilner jars can be transformed into charming hanging lights with a little creativity and DIY know-how.
Pencil/Makeup Brush Holders
A popular at-home project, Kilner's iconic jars are today frequently reinvented as storage jars revamped with personalised homemade designs such as the one below.
This example uses a grey chalk paint and a roses motif to create a vintage-inspired feel.
Top Tip: Once you have finished painting your design, overlay your jar with a coat of clear wax. This will help protect the design and will allow you to also use your jar as a vase.
Table Lights
Simple but effective, twist a string of (battery-powered) fairy lights into a jar to create an elegant table light whether for your home or decorating your wedding venue for your special day.
Terraria
Whether you're looking for an eye-catching centrepiece or to inspire your inner-gardener, terraria have become one of the biggest homeware trends of 2017 and are simply created with your Kilner jar.
Discover how to make your Kilner jar terrarium.
Sewing Kit
Taking the storage concept to a new level, keen creatives are transforming their Kilner jars into all-in-one sewing kits—pin cushions and all.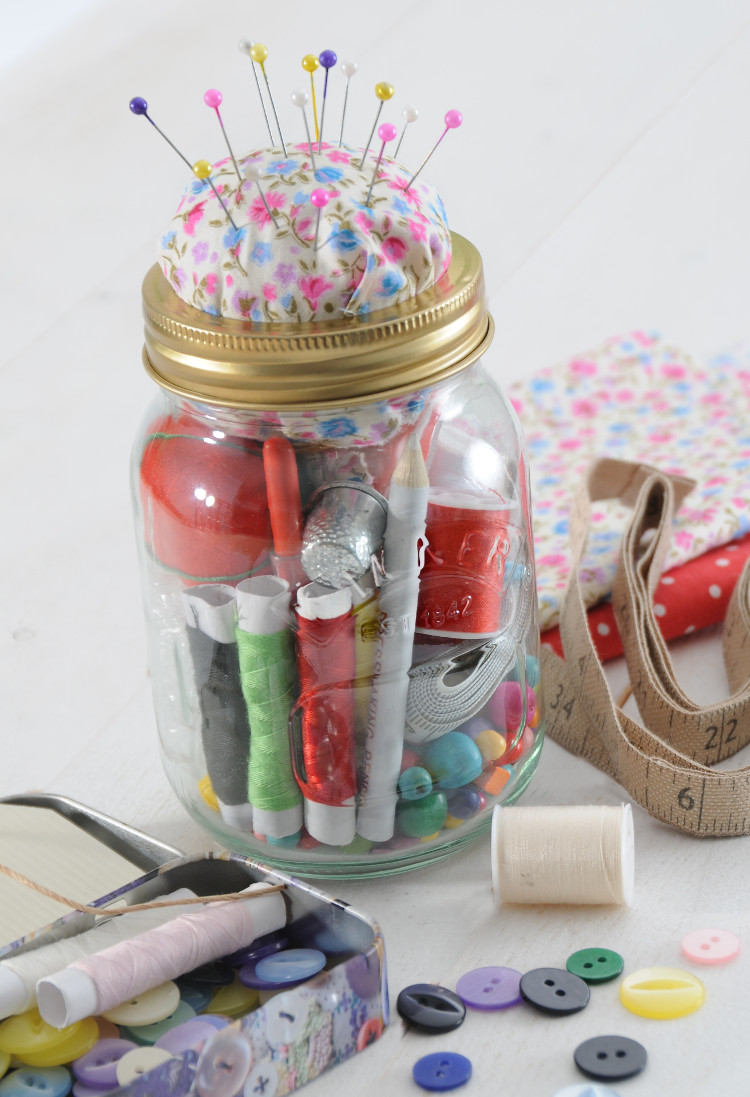 Wedding Accessories
Thanks to their versatility and quintessential British charm, Kilner's jars are being used more and more as decorative elements at weddings. Whether repurposed as a vase for your centrepiece, used as charming wedding favours or to house your favourite cocktails, with a little imagination the possibilities are endless.
Make Butter
Kilner has long been expanding its glassware into new directions, and one of its latest inventions is as a butter churner. Its simple design is incredibly easy to use, and the Kilner butter churner also allows you to get creative with your butter by adding garlic, herbs or other ingredients.
Candle Holder
Whether used with tealights or larger candles, the full range of Kilner jars can be easily transformed into candle holders. We find this works well with Kilner's classic clear glass jars but also with its coloured jars.
Herb Jars
Repurpose your older Kilner jars by turning them into herb jars. Not only do these jars look great in your kitchen, but they will also help transform your meals and add a pleasant fragrance to your kitchen.
Sloe Gin/Vodka
Kilner's signature airtight vacuum pressure seal makes its jars and bottles ideal for coming up with boozy concoctions at home. From sloe or damson gin to fruity vodkas, discover your favourite new tipple.