Always on the hunt for bespoke homeware, we wanted to introduce you to Smith & Goat. An independent brand that creates beautiful objects from the harsh material we know as concrete.
The Smith & Goat distinctive range softens the very industrial fabric into statement homeware pieces. Creating modern sinks to marble effect candle holders, it's one to have on your radar. We caught up with Amy, co-founder and wife of the brand, on everything to know about Smith & Goat…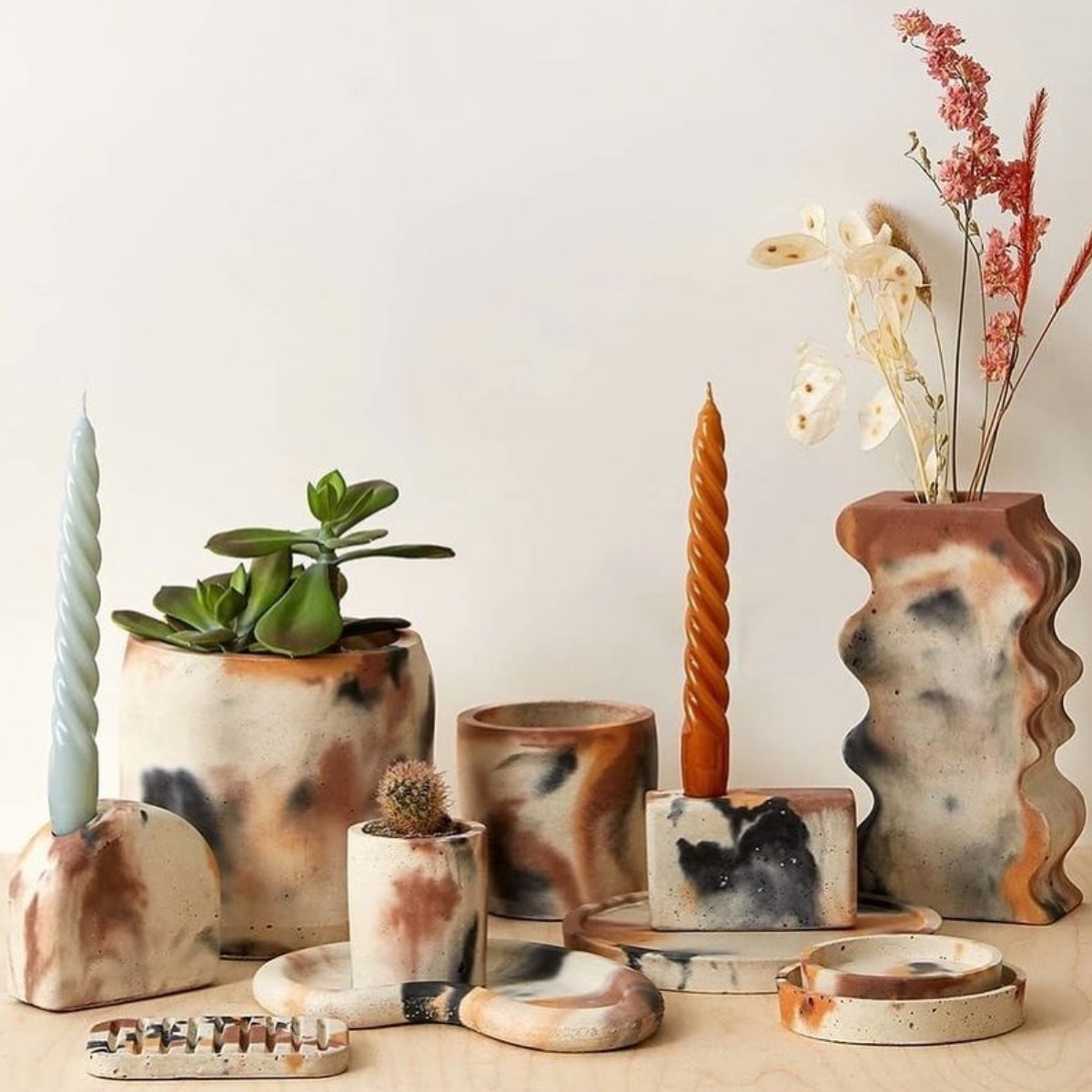 Thank you for taking the time to talk to us today! Please tell us about yourself?
We are Smith & Goat an independent, family-run business that makes beautiful objects from concrete. From plant pots and trays to sinks, tables and countertops we create it all. Reggie and I set up Smith & Goat and we now have a small team working alongside us living the concrete dream, both in the workshop and from a variety of coffee shops.
What's Smith & Goat's story – how did it start?
Around five years ago, Reg started making pots for our own plants (we became obsessed with plants like so many) in the garden shed and the business and passion for concrete grew from there. Over the years we've evolved organically to take on projects of all sizes, both residential and commercial and we spent the last few years in our E17 shop which we sadly closed this month to focus on finding ourselves a bigger home to showcase our work. It's been a steep learning curve with the concrete and being a small business – every day throws up different learning. We really love what we do and are so lucky to meet great people and work on amazing collaborations.  
Where did the idea to work with concrete come from?
We are both creatives and wanted to find a way to work together (possibly changed my mind now). Reg worked with concrete for many years being a landscaped gardener, but it was always as you would imagine, dark, brutalist and cold. However, we knew from our own experience how beautiful it can be by adding colour, shape, and creativity. People can't quite believe what can be made with concrete and we wanted to showcase the possibilities. You never know how it's going to behave so every piece created is unique in some way.
Can you describe the design process and how you get your two-tone effect?
Designing is a collaborative process, both within the business and from ideas that people bring to us. We love getting round a table and thrashing out ideas as a team, usually with some food and drink involved. The best ideas usually come late in the evening or the middle of the night. Once we have a design idea, we carve a negative from wood, which is then poured in silicone to make a mould before being cast in concrete. Depending on the weather most things dry overnight and are demoulded with a nice 'pop' sound, polished and sealed to a perfectly imperfect finish. The two-tone effect is our favourite and we create this by mixing up buckets of different pigments and blending them together when pouring the mould. Then we cross our fingers and hope people like it! There is a lot of trial and error along the way.