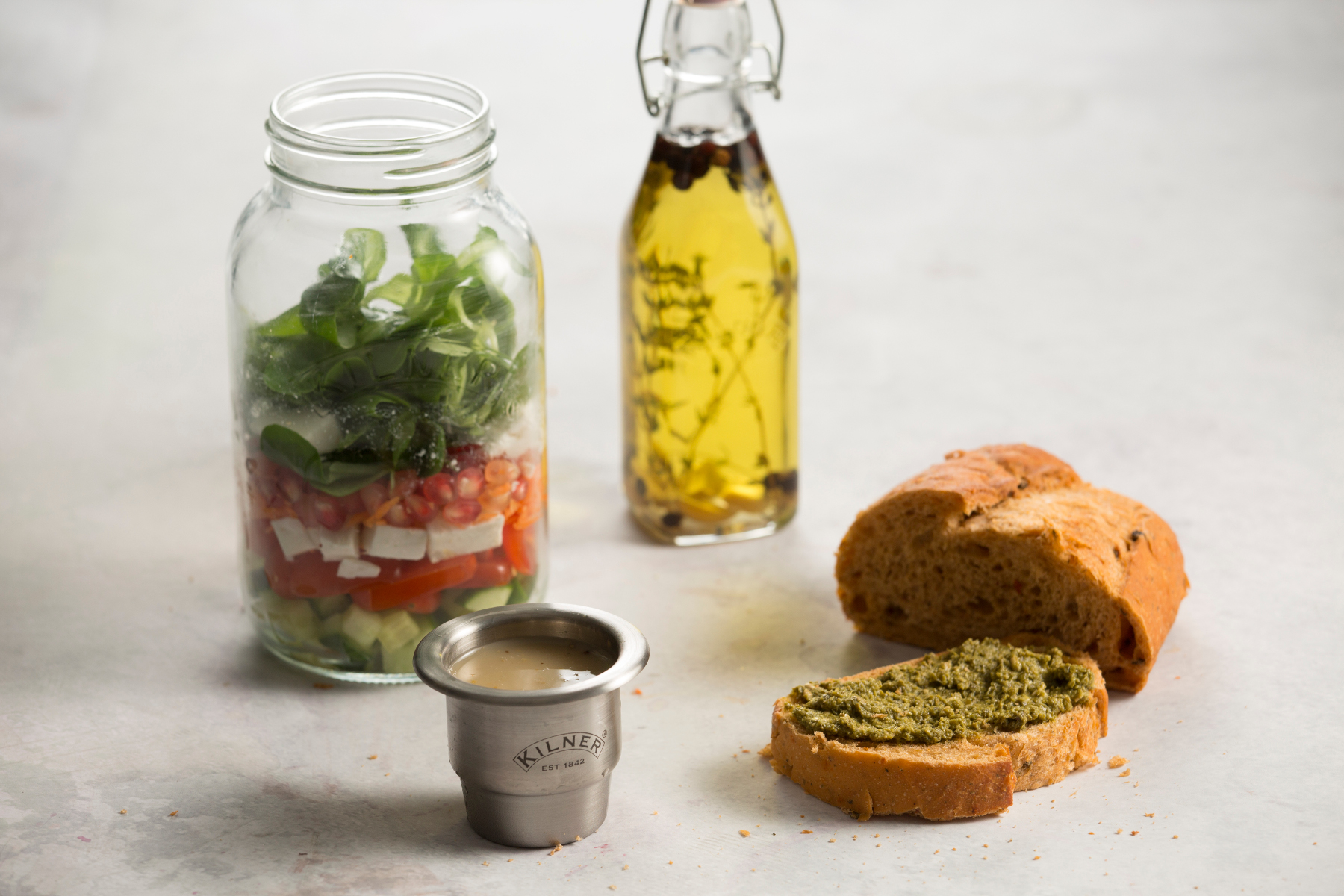 A lack of time in the morning or evening for many of us means rushed, drab lunches or a midday trip to the supermarket for a packaged sandwich of slimy chopped salad. The Hut has teamed up with our friends at Kilner to offer you five super quick, easy and delicious lunch ideas to give you something to look forward to when lunchtime comes around.
#1 Mango & Chilli Salad Jar

Ingredients
1 mango, peeled and chopped
½ fresh red Chilli, de-seeded
Squeeze of fresh lime juice
4 tablespoons of water
Salt and pepper to taste
Grated Carrot
Chopped Red Pepper
Chopped Cucumber
Blueberries
Radish
Watercress
Method
Take half of the prepared mango and add to the blender along with chilli, lime juice and water.
Season to taste and blend until smooth.
Add your required amount of dressing to the bottom of your freshly washed Kilner® 500ml preserve jar.
Layer the fruit and vegetables starting with the wettest ingredients first; mango, carrot, cucumber, blueberries and radish.
Top with the watercress.
---
#2 Prawn Satay Asian Noodle Salad

Ingredients
For the dressing:
200ml Coconut milk
Squeeze of fresh lime juice
120ml crunchy peanut butter
1 tablespoon soy sauce
60ml of vegetable oil
2-3 tablespoon sweet chilli sauce
1-2 tablespoon of rice vinegar
½ teaspoon each of ginger and garlic puree
For the salad:
Fine egg Noodles
Little gem lettuce leaves
Chopped baby sweetcorn
Cooked tiger prawns
Method
Boil the fine egg noodles and leave to cool once cooked.
Add all of the dressing ingredients to a blender and blend until smooth.
Add the require amount of dressing to a Kilner® 500ml clip top jar.
Add the cooled egg noodles and then layer the salad leaves and sweetcorn and top with the prawns and finish with wedges of lime.
---
#3 Pear & Stilton Salad Jar with Balsamic Vinaigrette

Ingredients
180ml Extra Virgin Olive Oil
60ml Balsamic Oil
½ teaspoon honey
Salt and pepper to taste
1 Sunblush Pear, cored and sliced
Rocket leaves
Pomegranate seeds
Chopped pecan nuts
Stilton, chopped and cubed
Method
Add the olive oil, balsamic vinegar, honey and salt and pepper to a freshly washed Kilner® 250ml jar and shake until mixed.
Add the desired amount of dressing to washed 500ml Kilner Preserve Jar.
Layer the fruit and vegetables starting with the pear, rocket, pomegranate, pecans, rocket.
Top with the stilton cheese.
---
And for dessert…
Quick Tiramisu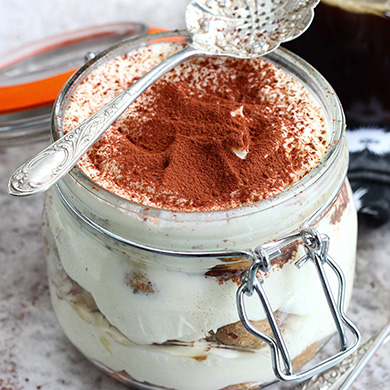 Ingredients
100ml espresso, cold
150g sponge fingers
400g mascarpone cheese
275g sweetened condensed milk
1 tsp vanilla extract
Dark chocolate
Method
Beat together the mascarpone cheese, condensed milk and vanilla extract until light and fluffy.
One at a time, soak the sponge fingers in the cold espresso and make a single layer into a 0.5L Kilner® jar.
Next spoon in a generous amount of the cream mixture, covering all the biscuits.
Repeat the process another three times until you've used up all the biscuits, espresso and cream.
Finish with a dusting of cocoa powder.
Place in the fridge for at least 3 hours before serving to make sure the biscuits soak in all the espresso and some of the cream mixture.
---
Eton Mess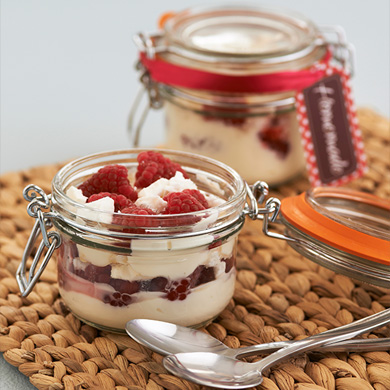 Ingredients
3 Meringue nests
6oz Raspberries
300ml Crème Fraiche
Method
Divide the crème fraiche evenly among the Kilner® jars.
Top with a layer of raspberries.
Break up the meringues and crumble over the top.
Close the lids and secure the clips. Chill in the fridge until you are ready to serve.
Label your tags and add ribbon to serve. Enjoy.
---