Tim Burton is a master of his craft. Famed for his dark and quirky-themed films – most of which are huge box-office successes, and several already considered as classics – Burton has rejected mainstream Hollywood stylistic and generic conventions while maintaining critical popularity and commercial success.
We've taken a look at Burton's magical talent and provided an overview of his key films to date. See below for some of the best Tim Burton films.
The Best Tim Burton Films: A Filmology
1988 / Beetlejuice
What's a yuppie ghost couple to do when their quaint New England home is overrun by trendy New Yorkers? They hire a freelance 'bio-exorcist' to spook the intruders. And everyone gets more than he, she or it bargained for! Director Tim Burton teams with Michael Keaton. The result? 'Keaton's Beetlejuice is one of the biggest, baddest wolves a ghost movie has ever unleashed, a polter-gas' (The Village Voice). He's a juggernaut of jokes, jolts and jive who hurls one-liners, spins into grotesque forms, gobbles insects and can't leave ladies (living or dead) alone. Keaton's wile work in this and Clean and Sober won him a 1988's National Society of Film Critics Best Actor Award.
Alec Baldwin, Geena Davis, Winona Ryder and Sylvia Sidney share starring honours with the movie's wondrous production design, Harry Belafonte soundtrack tunes and Academy Award-winning Best Makeup. So exorcise your right to fun. Say the 'B' word three times and have a wonderful Day-O!
1989 / Batman
1990 / Edward Scissorhands
1992 / Batman Returns
1993 / The Nightmare Before Christmas
Enjoy The Nightmare Before Christmas on DVD, Blu-ray and now in 3D Blu Ray.
1994 / Ed Wood
1996 / Mars Attacks!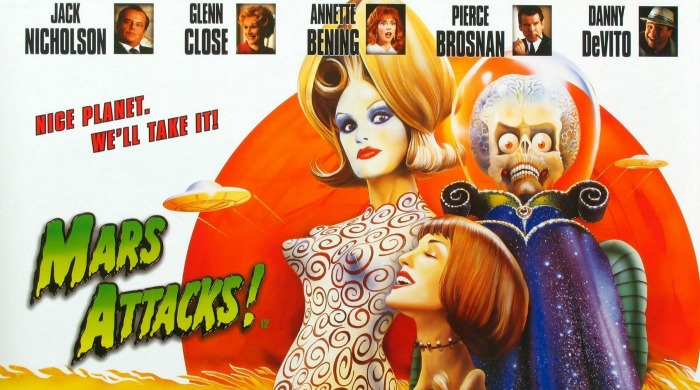 Shriek at mean, green invaders from the angry red planet! Armed with insta-fry ray guns, endowed with slimy, humungous brains – and enlivened with out-of-this-world but state-of-the-art special effects.
1999 / Sleepy Hollow
Set in 1799, "Sleepy Hollow" is based on Washington Irving's classic tale The Legend of Sleepy Hollow. Faithful to the dreamy custom-bound world that Irving paints in his story, the film mixes horror, fantasy and romance, and features an extraordinary cast of characters who dabble in the supernatural.
2001 / Planet of the Apes
2003 / Big Fish
2005 / Charlie and the Chocolate Factory
While Burton adds some amusing contemporary touches (like the musical Oompa Loompa routines), and an elaborate back story, he also preserves the charm of the original book. Overall, Burton's visual innovation succeeds in capturing the vividness of a child's imagination but whether this version trumps the beloved '71 film is for viewers to decide.
Buy Charlie and the Chocolate Factory on Blu ray.
2005 / Corpse Bride
Set in a 19th-century European village, this stop-motion animated feature follows the story of Victor (voiced by Johnny Depp), a young man whisked away to the underworld and wed to a mysterious Corpse Bride (voiced by Helena Bonham Carter), while his real bride Victoria (voiced by Emily Watson) waits bereft in the land of the living. Though life in the Land of the Dead proves to be a lot more colourful than his strict upbringing, Victor learns that there is nothing in this world – or the next – that can keep him away from his one true love. It's a tale of optimism, romance and a very lively afterlife, told in classic Burton style.
Buy the wonderful Corpse Bride on Blu-ray.
2007 / Sweeney Todd: The Demon Barber of Fleet Street
2010 /Alice in Wonderland
Alice learns about her destiny as well as the chilling reign the Red Queen has had on a once magical land. With Johnny Depp as the Mad Hatter, Helena Bonham Carter as the Red Queen, Anne Hathaway as the White Queen, Michael Sheen as the White Rabbit and Matt Lucas as Tweedledee and Tweedledum.
Which story would you like to see get the Tim Burton treatment?