With sunnier days on the way, we are starting to move away from heavy wholesome food to fresh, light, easy-to-cook options. Teaming up with the experts from Denby, here are some simple recipes to refresh your home menu. Starting with deliciously spiced chicken, perfect for the BBQ and tasty pasta dishes that are lighter for the warmer weather…
#1 Spiced BBQ chicken with hasselback potatoes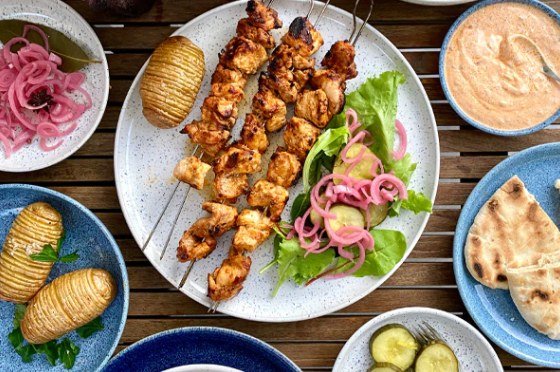 by @thecornerplot using Denby Studio Blue
Serves 4
ingredients:
8 chicken thighs (free range), deboned, skinned and quartered (or 4 chicken breasts)⁠
4 metal skewers or bamboo sticks (soaked in water for 20 mins)⁠
4 flatbreads or pitta bread⁠
Pack of baby lettuce leaves ⁠
marinade:
60 g Greek-style yoghurt ⁠
1 tbsp lemon juice⁠
2 tbsp olive oil⁠
2 garlic cloves, peeled and crushed⁠
2 tbsp olive oil⁠
1½ tsp ground cumin⁠
1½ tsp ground coriander⁠
¾ tsp sweet smoked paprika⁠
½ tsp chipotle chilli flakes (or ¼ tsp chilli flakes)⁠
1 tsp sea salt⁠
½ tsp black pepper⁠
method:
Mix together the marinade ingredients, add the chicken and stir to coat. Cover and leave to marinate for a couple of hours, ideally overnight, in the fridge.⁠
Skewer the chicken pieces, leaving a little space between each to allow them to cook through. ⁠
Heat up the barbecue, carefully oil the racks, and add the chicken. Leave to cook for about 6 mins, until charred. Don't be tempted to move them while they cook. Turn over, and cook for another 6 mins, until cooked through (juices should run clear, not pink).⁠
Place on a serving plate, cover with tin foil, and leave to relax for a few minutes while you heat the pitta bread on the barbecue. ⁠
Quick pickled red onion
200 ml apple cider vinegar
3 tbsp caster sugar
1 tbsp sea salt
2 bay leaves
2 tbsp coriander seeds
1 cinnamon stick
1 small dried chilli
5 peppercorns
1 large red onion, peeled and thinly sliced
Heat the vinegar, sugar, salt in a saucepan, until dissolved, then add the spices and leave to cool.
Add the onion and leave overnight or longer for the flavours to develop.
Rose harissa yoghurt
140 g Greek-style yoghurt
1 tbsp rose hariss
Mix together and place in a serving bowl.
Hasselback potatoes
12 Cyprus or Charlotte potatoes
Olive oil
Flaked sea salt
Place a potato between the handles of two wooden spoons on a cutting board and hold firm. Using a sharp knife, cut down every 2 mm to create thin, even slices (the handles prevent you from cutting through to the base, which you want to avoid).
Place the potatoes in a baking tray, drizzle over olive oil and add a few crystals of crunchy sea salt. Cook for 50 mins at 200 degrees / 180 degrees fan, basting occasionally with the oil.
The slices of potato will gradually open up, so pour the oil over the top to crisp. They are delicious on their own, or with the rose harissa yoghurt