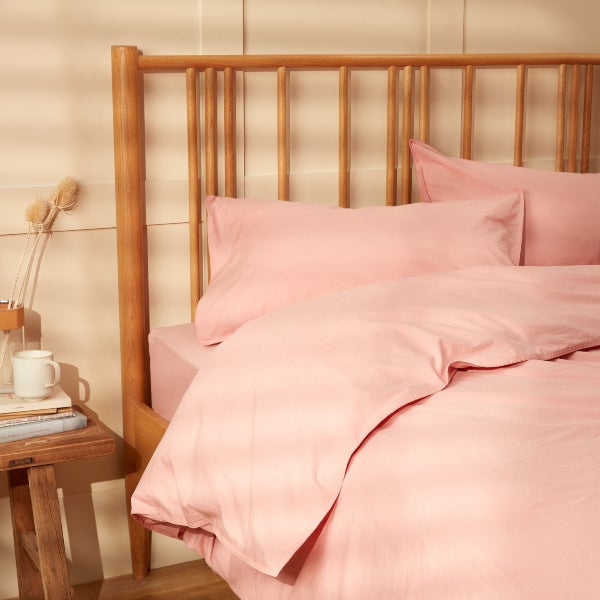 A Buyer's Guide to Bedding
As the thing we most look forward to getting into at night and the last thing we want leave in the morning, it's important you're choosing a comfortable and stylish addition for your bedroom. Explore our buyers guide to learn about the sizing, care and composition of bedding and make an informed decision on which bed linen is right for your home.
Sizes & Measurements
UK Standard Duvet Covers
Single - 200 x 135cm 
Double - 200 x 200cm 
King - 225 x 220cm 
Super King - 260 x 220cm 
China Standard Duvet Covers
Single - 200 x 150cm 
Double - 215 x 180cm 
King - 230 x 200cm 
Super King - 240 x 220cm 
UK Standard Fitted Sheets
Single - 190 x 90cm
Double - 190 x 135cm
King - 200 x 150cm
Super King - 200 x 180cm
Standard sheets are usually up to 26cm deep. 
China Standard Fitted Sheets
Single - 200 x 100cm
Double - 200 x 120cm
King - 200 x 150cm
Super King - 200 x 180cm
UK Standard Pillow Cases
Standard Pillow Cases - 75 x 50cm
Oxford Pillow Cases - 75 x 50cm (with a 5cm flap of material around the outside)
Thread Counts & Fabric Qualities
Choosing the Right Duvet & Pillow
Feather and down duvets, or otherwise known as naturally filled bedding, offer warmth, durability and weight to your sleep. Commonly sought after as a worthwhile investment, feather and down duvets provide long-lasting use and increase insulation for the colder nights. Many duvets have a mixture of down and feathers.
Feather Fillings
Not as sift and light as down fillings
Contain quills
More filling is required for the same warmth
Down Fillings
Come from the breast of the bird
Are wonderfully soft and fluffy
Provides maximum insulation with little weight
Alongside their natural breathability, duck feather and down pillows give great support and comfort to your head. They are known for their ability to keep shape and plumpness, alongside their durable ability.
Natural materials are well known for their longevity and on average last around three times longer than synthetic duvets.
Environmentally friendly choice as they are a by-product of the food industry and are biodegradable.
Down feather is full of tiny pockets that can trap in the air and provide an insulation-like feel, maintaining warmth.
Because of the insulating feel, many down duvets, therefore, require less filling in order to reach a high tog rating, allowing down duvets to be of a lighter nature if preferred.
If you suffer from allergies, microfibre filling may be more suitable for your needs. 
The Responsible Down Standard is an authority supported by duvet manufacturers that is committed to improving animal welfare and traceability in the feather and down supply chain. This means that the duvets and pillows do not contain feathers or down that have come from animals which have been subject to harm such as live plucking or forced feeding.
Light & lofty filling
Warm but breathable
Great for allergy sufferers as hypoallergenic
Machine washable
This bedding has been treated with state-of-the-art technology which is proven to prevent the growth of odour-causing bacteria, for lasting freshness.
NOMITE bedding allows people with dust mite allergies to enjoy natural bedding. The fillings are sealed in a totally woven fabric cover after an initial hygienic washing; acting as a barrier against dust mites.
Ensure the filling is of good quality – see above for our recommendations for fillings.
Ensure that the outer fabric of the duvet is comfortable, absorbent and will allow the body to breathe.
Cotton is our recommended fabric due to its ability to hold many times its own weight in moisture. It keeps the heat in on the cooler nights and allows it to breathe out during the warmer evenings.
If you suffer from allergies we recommend a Microfibre filling.
Mattress & Pillow Protectors
A mattress topper is an extension of your mattress. They usually measure between 4-8 centimetres thick and provide extra comfort and cushioned softness to your bed; usually enhancing sleep. Toppers are known to give old mattresses a new lease of life and are a great investment if you are not able to, or don't want to, splurge out on a new mattress.
A mattress protector prolongs the life of your mattress by creating a barrier to protect your mattress from stains, allergens and everyday use. They endure quality and are a great bedding investment to promote good hygiene, comfort and reliability.
Both a mattress topper and a mattress protector can be used at the same time or alone. 
We recommend using a mattress topper, protector and pillow protectors not only for their ability to shield your mattress and pillows from spilt liquids, daily wear and tear etc., but because of the increased comfort and support they provide. They add extra cushioning for a sound night's sleep.
Caring for Your Bedding
Yes. It is best to wash your bedding before you put it on. This is recommended to wash away any excess dye or chemical treatments that may have been used throughout manufacture.
Generally, it is suggested that you change your sheets once every two weeks. But for those who are conscious or have night sweats, it is suggested that you change them once a week. 
We recommend a 30-degree wash as this allows for an effective clean that is kind to both the materials and the environment. This will wash out any smells, stains or bacteria. 
Store in cool and dry places such as an airing cupboard.
It is recommended that you store in plastic bags or containers to avoid letting the dust settle.
Store folded to avoid creases in your bedding.
Leave to air properly before you fold and put away.
If left for a long time, rewash before putting on your bed. 
It is suggested that you wash your duvet every few months or at least once or twice a year. 
Duck Feather and Down Duvet
Washable up to 40 degrees in a large capacity washing machine
Tumble dry on a normal setting until completely dry
Do not dry clean

Due to it being a natural product, there might be a slight odour after washing, so it is recommended that it is left to air for 48 hours after washing.
It is recommended that you replace your duvet every 5 years. 
Every two to three years.
Shop our bedding collection here
added to your basket
Sorry, there seems to have been an error. Please try again.
Order Subtotal ( items in your basket)