For Max Payne, the tragedies that took his loved ones years ago are wounds that refuse to heal. No longer a cop, close to washed up and addicted to pain killers, Max takes a job in São Paulo, Brazil, protecting the family of wealthy real estate mogul Rodrigo Branco, in an effort to finally escape his troubled past. But as events spiral out of his control, Max Payne finds himself alone on the streets of an unfamiliar city, desperately searching for the truth and fighting for a way out.
Max Payne 3 Multiplayer Gameplay Trailer
Featuring cutting edge shooting mechanics for precision gunplay, advanced new Bullet Time® and Shootdodge™ effects, full integration of Natural Motion's Euphoria Character Behaviour system for lifelike movement and a dark and twisted story, Max Payne 3 is a seamless, highly detailed, cinematic experience from Rockstar Games.

In addition to an expansive single-player campaign, Max Payne 3 will also be the first entry in the series to introduce a thorough and engrossing multiplayer experience. In a unique twist, Max Payne 3 multiplayer delivers a compelling experience that dynamically alters maps and mode progression for all players in a match. Along with traditional multiplayer modes, Max Payne 3 will also include a deep reward and levelling system, persistent clans and multiple strategic load-out options.

Features:
Developed by Rockstar Games for a seamless, highly detailed, cinematic experience
Advanced Bullet Time® and Shootdodge™ and Final Kill-cam mechanics for stylish shooting action
Cutting edge aiming, targeting and animation processes for precise, fluid gunplay
A dark, twisted story chronicling the return of Max Payne, one of the most iconic characters in videogames
Tight integration between Natural Motion's Euphoria Character Behaviour System and a brand new iteration of the Rockstar Advanced Game Engine (RAGE) for lifelike movement and a new level of environmental awareness
A wide range of weapons rendered in incredible detail: hammers cock back, shells eject from the chamber and each bullet is individually modeled from the split second it's fired to the moment of impact.
Advanced particle physics and destructible environments set the stage for dramatic and chaotic gun fights
New to the series, a compelling and addictive multiplayer experience to match the dark and relentless atmosphere of the single-player game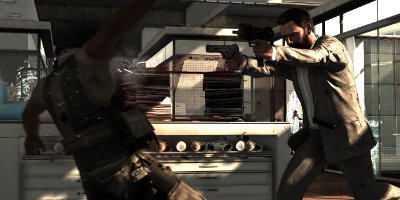 ELITE SQUAD (TROPA DE ELITE) is an intense and astonishing look at Rio de Janeiro's notorious favelas, the volatile slums on the edge of the city. The film is set in 1997 and presents an intimate look at the city's vast and intricate web of corruption.

Drug trafficking militias have virtual control within the favelas while the police run their criminal enterprises outside. The elite BOPE force (State Police Special Operations Battalion) combats drug trafficking -keeping order has its price though and their actions make it difficult to distinguish right from wrong and justice from revenge.

BOPE Captain Nascimento (Wagner Moura) is facing a crisis: in addition to the pressures of fighting within war zones, the Captain must find and train his own replacement so he can escape the day to day violence and be close to his wife who is about to give birth to their first child.

Two of the force's newest recruits, Neto (Caio Junqueira) and Matias (Andr Ramiro), are childhood friends: one is quick on the trigger to maintain order and the other refuses to compromise his ideals. Together they are the perfect replacement. Alone they may not have what it takes to survive.

Directed by Jos Padilha, (BUS 174), and written by Padilha, Academy Award nominated writer Bráulio Mantovani (CITY OF GOD) and Rodrigo Pimentel, comes the controversial film ELITE SQUAD (TROPA DE ELITE). It is based on accounts from Pimentel's 19 years as a military police officer and BOPE Captain.
The biggest film in South American cinema history, Elite Squad: The Enemy Within sees revered Lieutenant-Colonel Roberto Nascimento (Wagner Moura) and his second in command André Matias (Andre Ramiro) facing battles both on the streets and within the corrupt political system of Rio de Janeiro.
Following the bloody aftermath of a disastrously handled prison riot, Nascimento gets caught in a bloody political dispute that involves not only government officials, but also the deadly paramillitary groups known as the milicias.
Featuring scenes of breathtaking action and compelling drama, José Padilha's critically acclaimed blockbuster is based on a blend of intense research and real events, presenting a devastating vision of modern Rio and one man's fight against the system.
You must accept the license available online at rockstargames.com/eula . Non-transferable access to special features such as exclusive, unlockable, downloadable or online content, services, or functions may require single-use serial code, additional fee and/or online account registration (13+). Violation of EULA, Code of Conduct, or other policies may result in restriction or termination of access to game or online account. Access to special features may require internet connection, may not be available to all users, and may, upon 30 days notice, be terminated, modified, or offered under different terms. The content of this videogame is purely fictional, and is not intended to represent or depict any actual event, person, or entity. The makers and publishers of this videogame do not in any way endorse, condone or encourage engaging in any conduct depicted in this videogame. Unauthorized copying, reverse engineering, transmission, public performance, rental, pay for play, or circumvention of copy protection is strictly prohibited.