PlayStation®3 transports you to a world where entertainment has no boundaries. Go on untold adventures in eye-opening High Definition games, enjoy incredible Blu-ray Disc movies, free access to PlayStation®Network and more. The Game Is Just The Start…

Under the Hood
The PS3 features IBM's "Cell" processor and a co-developed Nvidia graphics processor that makes the system able to perform two trillion calculations per second. That makes the PlayStation 3 40 times faster than the PS2. Along with the traditional AV and composite connections, it also boasts an HDMI (High-Definition Multimedia Interface) port, which delivers uncompressed, unconverted digital picture and sound to compatible high-definition TV and projectors. The system is capable of 128-bit pixel precision and 1080p resolution for a full HD experience. This console also provides for a sound experience by supporting Dolby Digital 5.1, DTS 5.1, as well as Linear PCM 7.1. A pre-installed 320 GB hard disc drive allows you ample room to save games as well as download content from the internet.

Blu-Ray Is the New Way
Sony's PlayStation 3 games are encoded onto the Blu-Ray disc media format, which can hold six times as much data as traditional DVDs. This increase in capacity, combined with the awesome power of its processor and graphics card, promises mind-blowing games once developers have learned how to fully harness the new console's power. The PS3 will also support CD-ROM, CD-RW, DVD, DVD-ROM, DVD-R, DVD+R formats.
In addition, PlayStation 3 system software update version 2.20 and up includes BD Live support. With this you can now play discs that support Blu-ray Disc Profile 2.0 (BD-LIVE) and you can also connect to the Internet while playing discs that support this format so that you can obtain additional features. Features that are available vary depending on the software in use.

Sensational Controller
New gamers intuitively move the controller while playing, even though that movement has traditionally had no relation to what's going on in the game. Sony has picked up on this tendency and is using it to bring a new level of control to the PS3. Inside the controller is a high-precision sixaxis sensing system that accurately detects fine movements in pitch, roll, and yaw, as well as three dimensions of movement. This means that future PS3 games will be controlled by the movements of your hands rather than just your thumbs. For example, you might be able to steer a car by holding the controller like a steering wheel.

While the PS3 controller looks much like its Dual Shock predecessors, it will lack the force-feedback vibration since that would only interfere with the sensing system. It uses Bluetooth 2.0 wireless technology and can support wireless controllers. It's a hot-swappable system, so if your controller is running low on power, just pause your game and connect a USB 2.0 cable. You can continue playing while your controller recharges automatically.

Online
Play all your favourite games online and much more over the PlayStation Network. With the 320GB storage capacity of the PlayStation 3 Slim, you can also store more downloadable games, music, photos, videos and much more. PlayStation network members can also download free applications such as PlayStation Home, a ground-breaking 3D social gaming community available only on PS3 that allows users to interact, communicate and share gaming experiences, as well as Life with PlayStation, which offers users various news and information on your TV by connecting the PlayStation 3 to the network.

Purchase SSX today and receive Zoe's Elite snowboard and a bonus boost. (While Stocks Last)
SSX storms back onto the scene with punk rock princess Zoe Payne. Punkin' or rockin' it, jam down some of the most treacherous descents around the world on a Level 6 Elite snowboard while utilizing an exclusive special snowboard boost during your runs. Purchase your copy of SSX today!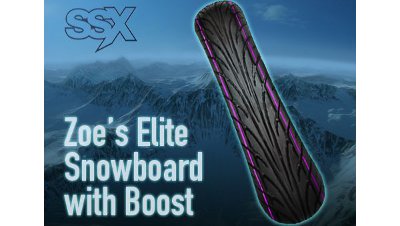 A modern day reinvention of one of the most critically acclaimed arcade franchises of all-time, EA SPORTS™ SSX will allow players to experience the franchise's signature fun and adrenaline-packed gameplay across iconic mountain ranges all over the world.

Using NASA topographical satellite data, we've mapped out a Massive World for players to explore. Throughout nine expansive mountain ranges, SSX packs reality-defying gameplay into every run letting players Race, Trick, and Survive down huge open mountains. In addition, Explore, Global Events and RiderNet - SSX's recommendation engine - headline an online feature set that will revolutionize social competition for gamers, making it fun and easy to compete with friends on your schedule.

Features:
Conquer the Planet's Mountains - From Antarctica to Africa and the Himalayas to the Alps, players will drop into nine of the most iconic mountains ranges on planet earth. Using NASA topographical data and our proprietary Mountain Man tool, each of these iconic mountain ranges have then been exaggerated to deliver a gameplay experience that is true to SSX
Race it - Way beyond your typical racing experience, SSX allows players to race down huge open mountains with multiple elevations and no invisible walls to hem the player in.
Trick it - Defying the laws of reality, SSX will enable players to pull off tricks that would make even the world's greatest snowboarders cringe. Forget a 1260° Double Mctwist, in SSX if you still have both feet strapped to the board while you're spinning 200 feet in the air then you're still a beginner. With a refined trick system and levels designed to deliver trick opportunities at every turn, filling your Tricky meter is a must
Survive it - A new gameplay element inspired by big mountain snowboarding, SSX asks players to survive some of the most treacherous descents on earth. Challenged by the power of Mother Nature, players will have to survive avalanches, white outs, freezing cold temperatures and much more, as they make their way down these natural boss battles.