Fancy winning yourself a £100 voucher to spend at TheHut.com? Yes? Well it's easy, here's how: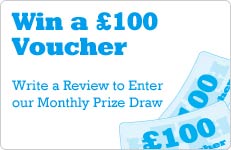 How do I win?…
Write a review on any product on TheHut.com which you have tried and tested. Each month your review will be entered into a random prize draw for a £100 voucher to spend on TheHut.com! That's pretty straight forward right?
A Winner will be chosen at the beginning of each month for the previous month and will be contacted via email.
Your first name and the review will be published to this blog and announced on our Facebook and Twitter page. No surnames, email addresses or home addresses will be published.
Where do I leave my review?…
1. Visit TheHut.com
2. Find the product you would like to review on our site and click the link to open up the product page.
3. On the right hand side under the 'Add to Basket' button you will see the 'Write a review' link. Click this.
4. Complete the form with as much information that you think is useful and relevant.
Remember: When you write a review it should be to help other people decide whether or not they should buy the product, so please make it as interesting and informative as possible. Terms and conditions apply.
That's it! So good luck…
…………………………………………………………………………………………………………………………………………………
Wall of Fame
May winner: Varinderpal for his review of Fight Night Round 4
June winner: Karen for her review of Time Traveller's Wife
July winner: Colin for his review of Cowon iAudio D2+ 16GB DAB MP3 Player
August winner: Yas for her review of Blackadder – The Complete Collection
September winner: Tom for his review of Alan Partridge – The Complete Collection
October winner: Nicki for her review of  Hunter Womens Original Tall Wellington Boots
November winner: Natalie for her review of Monster High Doll Clawdeen Wolf
December winner: Emm for her review of Donkey Kong Country Returns
January winner: Johan for his review of Forza 3 Ultimate Edition
February winner: Jane for her review of the View Quest iPhone Speaker.
March winner: Ben for his review of Demon's Souls PS3
April winner: Martin for his review of Kerry Ellis 'Anthems'
May winner: This could be you…