Nat Geo Quiz! Wild Life makes a very pleasant change from the normal kind of quiz games that grace the three home gaming consoles. Instead of the standard subjects of movie and pop music trivia, as the title suggests Nat Geo Quiz is a game all about geography and wildlife, and not only does it have a very impressive number of different gameplay modes and options, it also features over ninety minutes of outstanding video footage, all taken from the National Geographic archives. Although obviously these videos are are only in HD on the Xbox 360 and Playstation 3, all of the footage is so beautifully filmed that Wii gamers won't be missing too much.
The best part of the game is obviously that, as well as being fun for all the family (and easy to pick up and play, even if you're using the complicated-looking Xbox 360 and Playstation 3 control pads) it is also filled to the brim with fascinating nature and geography tidbits, and because of the gently competitive nature of the main quiz, players are inspired to learn things that may help them in later rounds. It is definitely recommended to parents who may not only be keen on making sure that the young ones learn a little something during their gaming time, but also those who may be looking for something that the whole family can enjoy together.
The main bulk of the game is made up of multiple-choice quizzes on a variety of different subjects, but there are also picture quizzes, anagrams and slide and jigsaw puzzles, the latter two of which are clearly aimed at players who choose to play alone. There is also a very involving 'quest' mode that sends you across the globe in search of ten perfect answers in a row – the completing of which will open up new locations on the map to explore. The package is rounded out by a Top Trumps-style card game mode, and a gallery option, in which you can just sit back and enjoy some of the gorgeous photography that litters the main quiz mode.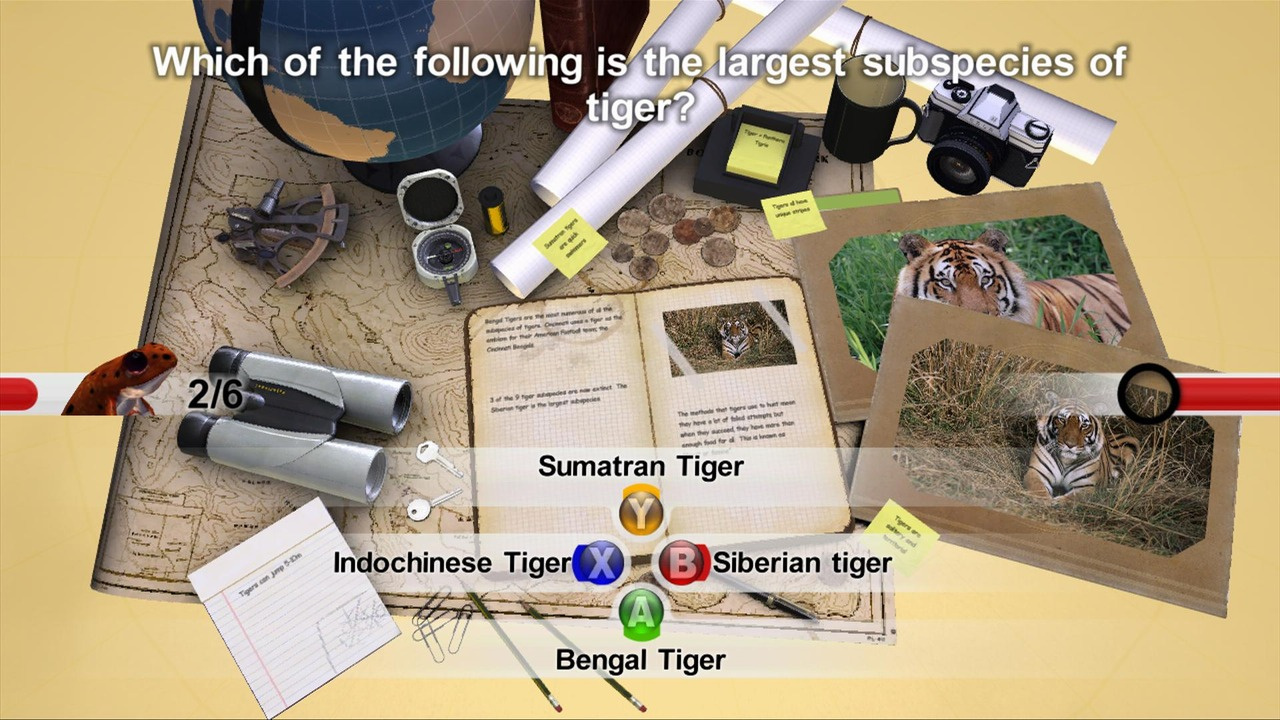 As great as the single-player games are, the real fun is to be had when playing with others, and the game supports up to four players at once, regardless of which version of the game you choose – but be warned that you will need to have four controllers too. Everyone is welcome, and you are able to change the difficulty level (from the standard selection of easy, medium and hard) to the one that suits your audience the best. The camp and occasionally sarcastic invisible quiz-master may not be to everyone's taste, but younger players are sure to get a few laughs out of his comments, particularly if they are aimed at Mum or Dad.
If you've ever played one of those excellent Scene It! film quiz games on Wii, Xbox 360 or Playstation 3, you'll pretty much know what to expect. Nat Geo Quiz! Wild Life is a polished and very informative piece of 'edutainment', and is absolutely perfect fodder for a rainy afternoon family get-together. The experience is very similar to a good board game, but the constant stream of fascinating nature facts and figures single this out as one that even hardened videogame haters will enjoy. As with the Scene It! games, there is plenty of content on the disc, with hundreds of questions, images and bits of video, and the presentation is clean and crisp. It's definitely one for all the family.
Watch the game trailer here: