Are you a good Gossip or do you need a recap of the Goss from Gossip Girl? Don't worry if you're not yet a Queen Bee we have a complete guide to Gossip Girl so far as we get set for even more Gossip Girl drama this season!
1) Finish the quote "You're nobody until…."
A) …you become somebody"
B) …you're being gossiped"
C)…you're talked about"
D) …you become an upper east sider"
2) What is Blair's dark secret?
A) She has an eating disorder
B) She can't read
C) She's gay
D) She's really poor
3) Why did Eric Van der Woodsen go to rehab?
A) He was using drugs
B) He was an alcoholic
C) He cuts himself
D) He's a chocoholic
4) Where did Dan see Serena at the first episode?
A) Grand Central
B) Subway
C) The Grand Plaza
D) Brooklyn
5) What was Blair's dad's boyfriend's name?
A) Fernando
B) Roman
C) Guilliermo
D) Domenico
6) What was Dan's present to Serena at Christmas?
A) A Christmas tree
B) A sprig of mistle toe
C) A necklace
D) A diamond ring
7) Jenny Humphrey steals the designer made dress of Hazel's mother, which designer made the dress?
A) Valentino
B) Dior
C) Hilfiger
D) Armani
8 ) Blair Waldorf loses her virginity to whom?
A) Nate
B) Carter
C) Chuck
D) Eric
E) Archer
9) At the Ivy Week party, Blair announces to the party that…?
A) Serena is pregnant
B) Eric is gay
C) Serena cheats in school
D) Serena is being treated in a mental facility
E) She wants to go to Brown
10) Nate Archibald kisses how many girls in the first season of Gossip Girl?
A) 2
B) 1
C) 4
D) 5
E) He kisses no one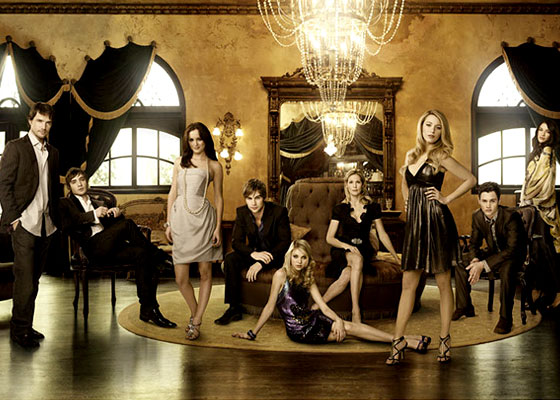 How well did you do? Are you a Gossip Queen Bee?
Glossary
A is for Awards the show has won so many including Teen Choice & Young Hollywood! Everyone just loves the Gossip!
B is for Blog – Gossip Girl's blog is widely read by the characters in the show
C is for Chuck Bass – the bad boy of the Upper East Side
D is for Dan- the geeky kid from Brooklyn secretly wanting to be accepted by the Upper East Siders!
E is for Eva – Chuck's ex girlfriend – an ex after Blair successfully breaks them up!
F is for Fall – in Fall 2011 the 5th season aired in the US
G is for Georgina Sparks a beloved character …(that's all the gossip we are giving you!) You'll have to gossip between yourselves to find out why she is important!
H is for Headbands – Blair's signature hair accessory… she must have hundreds!
I is for It girl – Serena returns to the Upper East Side from a mysterious stay in a boarding school in Connecticut
J is for Juliet Sharp she's a secretive girl with a serious agenda against Serena
K is for Kiss – season two ends with a well-received kiss between Blair and Chuck (and about time too)
L is for Louis Grimaldi…..Prince Louis Grimaldi is Blair's fiancé who she meets in Paris
M is for Manhattan where the social elite live and the drama takes place
N is for Novel – the series was based upon the book series written by Cecily von Ziegesar
O is for OMG (check out the OMG promotion surrounding season 2)
P is for Paris where the 4th season begins with Serena, Blair and Chuck
Q is for 'Queen Bee' Blair Waldorf  everyone simply wants to be her
R is for reality – Jenny Humphrey is Dan's younger sister who desperately tries to become the next Queen Bee – this goal eventually makes her realise the true values of life!
S is for Serena Van De Woodsen; popular, pretty but she doesn't know what she wants in life; which man, which career but who does?
T is for Tyra Banks who was a guest star playing Ursula Nyquist
U is for the Upper East sSide – we soooo would love to live there!
V is for Victor, Victrola the name of episode 7 season 1 which attracted millions of viewers when things were heating up for Serena & Dan and they finally admit they are crazy about each other!
W is for Writers Guild of America. During 2007-2008 a strike led to only 13 episodes being produced in the series rather than 22 originally planned. After the strike was over another 5 episodes were announced which gave us 18 episodes of gossip…phew!
X is for XOXO (that's kiss hug kiss hug)
Y is for YouTube which a sneak peek of Gossip on! (Be warned don't look if you don't want the Gossip early)
Z is for Zuzanna Szadkowski the actress who plays Blair's maid Dorota and assists Blair in her decisions
Now if you can tell us the one secret that will never be told…who the Gossip Girl actually is then we'll be very impressed. XOXO