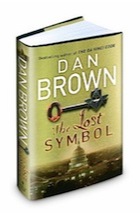 The latest novel from Dan Brown, The Lost Symbol, has received mixed reviews from critics around the world so you may be thinking why bother with it. But if you've read Brown's previous books, Angels and Demons or The Da Vinci Code then you'll no doubt want to continue following the adventures of Robert Langdon. It's another page turner, linking clues to answers and will keep you hooked throughout the journey, but it's likely it won't deliver anything extraordinary. Depends what you are expecting!
The Telegraph says of the book: "The downside of this not being quite the literary train wreck expected is that there is less distraction from the familiar hokum which, precisely because it is so familiar, looks ever-less like ingenious puzzle-spinning and ever-more like a wearisome party trick. Like divorce and civil war, The Da Vinci Code famously divided families. The Lost Symbol might well reunite them. They could all find it simply bland." Some say the plot is more believable. Some like the fact it's based in America and not Europe. Why don't you let us know what you think?
So what happens in The Lost Symbol? Here's a short summary:
"It was the Capitol Building, Washington DC. Harvard symbologist Robert Langdon believes he is here to give a lecture. He is wrong. Within minutes of his arrival, a shocking object is discovered. It is a gruesome invitation into an ancient world of hidden wisdom. When Langdon's mentor, Peter Solomon – prominent mason and philanthropist – is kidnapped, Langdon realizes that his only hope of saving his friend's life is to accept this mysterious summons.
It is to take him on a breathless chase through Washington's dark history. All that was familiar is changed into a shadowy, mythical world in which Masonic secrets and never-before-seen revelations seem to be leading him to a single impossible and inconceivable truth."
Sometimes I wish I could get through a good book in less than a day as there's nothing more annoying than finishing a book and it turning out to be really dull or not even making it to the end as it's taken you too long to read and you forgot what you were reading about. I bet these guys don't have that problem:
And to help you decide whether to invest in Brown or not, The Guardian's Peter Conrad says of the latest blockbuster that it is the literary equivalent of Coca-Cola and will no doubt sell as well! Click here to buy Dan Brown's The Lost Symbol for just £6.24.