Moroccanoil has a buzz around it like no other, with millions of users, bloggers and salon professionals all flocking to get their hands on this hair care miracle. However, even though the brand is so widely known and coveted, there are a great number of people out there that don't know how to use Moroccanoil products to get the best results out of them.
The brand's fame came with the Moroccanoil Original Hair Oil Treatment, but Moroccanoil have a wide range of other hair care products just waiting to transform your hair. Here's everything you need to know…
For the best results, use these products on wet or dry hair, following our top tips provided below. Choose from the Moroccanoil Original Treatment (ideal for normal hair), the Moroccanoil Light Oil Treatment (better for oily or greasier hair), or the Moroccanoil Intense Curl Cream (ideal for curly hair), as the three best-selling products from the range.
How To Use Moroccanoil On Wet Hair
Applying hair oil to wet hair is the most common way to use your Moroccanoil treatment.
Step 1: With the Moroccanoil Hair Oil, work through the ends of your hair. Be sure to avoid your roots as this will make your hair look greasy.
Step 2: Work the Moroccanoil through the hair, then dry and style like you normally would. The treatment will speed up the drying process and make your hair much more manageable.
Step 3: Voila! Your hair is left feeling silky smooth.
How To Use Moroccanoil On Dry Hair
Using Moroccanoil on dry hair can make styling your hair easier and produces better results. Use 2-5 pumps of the Moroccanoil Original Hair Oil Treatment of your choice for smooth results.
Step 1: Work the treatment into your ends, whilst avoiding roots to prevent an oily finish.
Step 2: Style your hair like you normally would, noticing that the argan oil in Moroccanoil takes hold of frizz and fly always to leave you with sleek and healthy looking hair.
How To Use Moroccanoil On Curly Hair
The Curl Enhancers range from Moroccanoil uses the special ingredient Argan oil to define and volumise your curls. Argan oil is rich in vitamins, antioxidants and UV protecting properties, so it's the best thing for caring for your curls. The Intense Curl Cream works on wet or dry hair to provide medium hold, define curls and add lift like never before.
Step 1: Use a small amount in your hands and rub them together, this will make sure you don't leave any lumps in your hair.
Step 2: Run your hands through your hair, focusing on the ends and layers as these will be where the most curly parts of your hair will be.
Step 3:  The Moroccanoil Intense Curl Cream leaves no residue, doesn't leave hair greasy and lightly defines your curls.
Step 4: This cream can also be used as a touch up product, working on dry hair just run through and add lift, volume and shine to your curls or waves.
Benefits of Using Moroccanoil
Moroccanoil was inspired by the transformative power of argan oil. Naturally occurring with a high content of antioxidants, essential fatty acids and vitamin E, argan oil has become known as liquid gold for its ability to naturally boost and moisturise both skin and hair. Moroccanoil combines the power of argan oil with its own unique formula to create a product offering a whole host of cosmetic benefits:
Prevents Split Ends: Argan oil in the product is absorbed into the hair shaft to strengthen the hair strand and reduce the likelihood of split ends.
UV-Protection: Argan oil is also a powerful UV protector and will help shield your hair from the effects of the sun.
Frizz Control: Products such as Moroccanoil's Frizz Control spray are specially formulated for all hair types to control frizz. Infused with argan oil and Vitamin E with weather-resistant properties, Moroccanoil works to keep hair calm and manageable in damp or dry environments.
Hydrated, Revitalised Hair with Increased Elasticity: Moroccanoil was inspired by the transformative power of Argan oil. Rich in vitamins, minerals and antioxidants, Argan oil helps Moroccanoil hydrate and soften your hair while also increasing elasticity and restoring shine and health to dull, lifeless hair.
Speeds up Blow-Drying Time: Moroccanoil detangles the hair to improve manageability
Superior Conditioning: Moroccanoil can be used with dry or wet hair to condition dry ends
Even Colouring: Moroccanoil helps even out the hair's porosity, allowing colour to be applied more evenly. You can also add Moroccanoil to your colour mixture for ultimate protection, shine, elasticity and maximum absorption of colour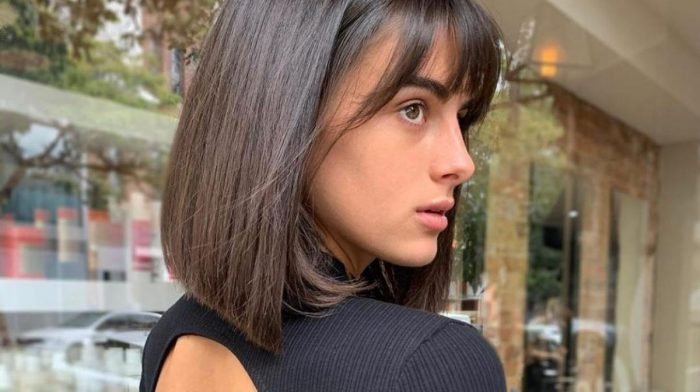 Join us as we speak with the experts at Christophe Robin, for all the styling tips and product recommendations you need to get the best from your bangs.